Who Is Jeremy Meeks? 'Sexy' Felon's Mugshot Sparks Adoration, Memes And Some Backlash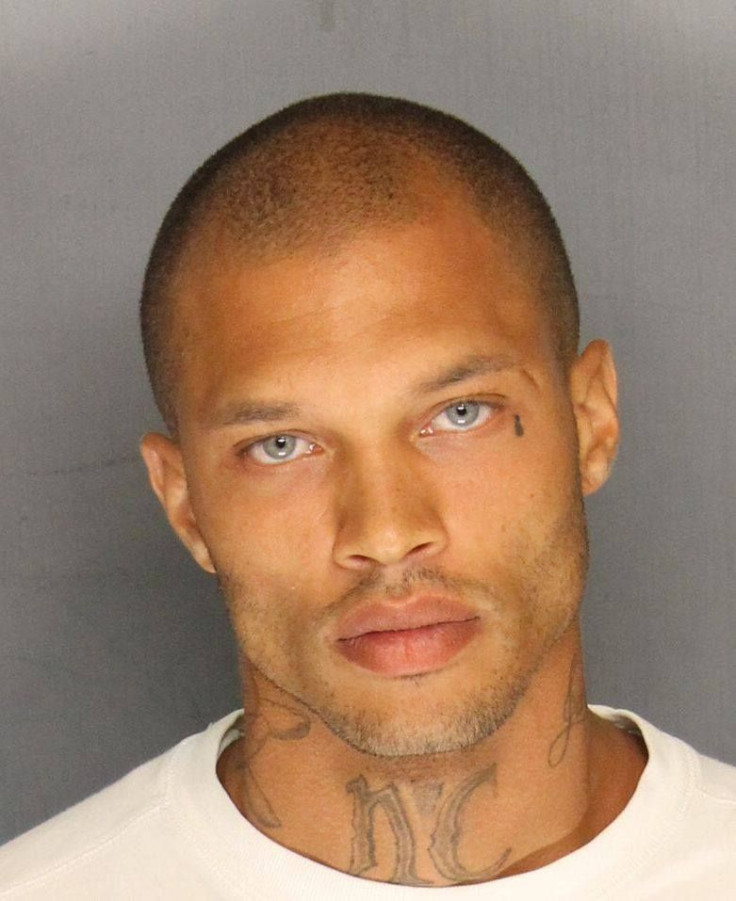 Thanks to the Stockton, California, police force's Facebook page, Jeremy Meeks has become the object of affection for thousands of social media users.
Following a major gun sting on Wednesday, the Stockton police took to their Facebook page to boast of their latest success. But their decision to include the mugshots of the criminals they busted had quite the unexpected outcome.
The mugshot of 30-year-old Jeremy Meeks quickly captured the hearts and "likes" of thousands of Facebook users. Since being posted on the page, it has received more than 60,000 likes and 7,000 shares. The photos of an additional three criminal suspects nabbed in the bust were included in the post. But none of the other images received as much attention as that of the blue-eyed, chiseled-faced Meeks.
Though he's a convicted felon and a married father of two, Facebook users have left a barrage of comments on the photo, calling out Meeks for his good looks and model potential. And much to the surprise of Stockton police, the obsession with Meeks continues to grow.
The mugshot has spawned several memes, with Meek's image photoshopped to make it appear he is posing for brands like Calvin Klein and Hugo Boss. In some of the memes, his tattoos have been removed.
Several people have spoken out against the Meeks mania, claiming he shouldn't be getting such positive attention with the charges he is facing.
However, the majority of comments continue to praise him for his "gorgeous" face and "hottie" status.
Meeks was arrested on felony weapons charges and is currently being held on $900,000 bail, reports Business Insider. A spokesman for the Stockton Police Department went as far as to describe Meeks as "one of the most violent criminals in the Stockton area."
But Meeks' past and present don't appear to be of any concern to the growing number of fans captivated by the Internet's most ridiculously handsome felon.
Oh, and if you don't typically go for guys with rap sheets, Meeks allegedly has a brother whom social media users have deemed an adequate, non-jailed replacement until his suddenly famous brother is once again free.
© Copyright IBTimes 2023. All rights reserved.