Who Is Kate Bishop? Hailee Steinfeld Eyes Marvel's 'Hawkeye' Disney+ Show
Disney+ is adding some new superheroes to the Marvel Cinematic Universe. The latest unconfirmed casting news is that Hailee Steinfeld is in talks to play Kate Bishop on "Hawkeye." That excites comic book fans, but those who are unfamiliar might want to know more about Steinfeld's character.
Kate Bishop is also Hawkeye. She is the daughter of Eleanor, who died when she was young, and Derek Bishop, a Manhattan millionaire who became distant from his daughters after his wife's death.
In the Marvel Comics, she joins the Young Avengers as a teenager after running into them while they were on a mission. Some bad guys were invading a cathedral during Kate's sister Susan's wedding. They took her and the wedding guests hostage, but the Young Avengers didn't exactly save the day. They got taken hostage too, and Kate was the one to save the day.
Afterwards, Kate met Cassie Lang at the hospital, and they went to the Avengers Mansion. They wanted to join the team, which was convenient timing since the Mansion was soon attacked. Kate grabbed a bunch of random gear from other Avengers for the fight, including Black Widow's utility belt and Hawkeye's bow.
They couldn't be official Avengers, though. Captain America wouldn't train a bunch of teenagers without parental permission. Instead, Kate used her family's money and connections to get everything the Young Avengers needed, from weapons to a home base.
Kate stood up to Captain America after Patriot was injured and reasoned that he should've agreed to train them. Later, Jessica Jones delivered Hawkeye's bow to Kate with a note from Captain America. Hawkeye was believed dead at this time, and Cap wanted her to take the mantle since she stood up to him the way only Clint had before.
Of course, as is typical with Marvel, Clint wasn't as dead as they believed. However, he had some run-ins with Kate and gave her his name and bow himself. He eventually recruited her as a partner fighting crime in Brooklyn in Matt Fraction and David Aja's "Hawkeye" comics before she went off to become a private investigator in California when she headlined her own "Hawkeye" series by Kelly Thompson. She later joined the West Coast Avengers.
It's her time in the New York with Clint Barton that many fans believe will be the basis for Disney+'s Hawkeye series. When Jeremy Renner, who plays the original archer, was brought out to announce the "Hawkeye" TV show at San Diego Comic-Con in July, the logo art used matched the comics.
Marvel is keeping details top secret, as per usual, so it isn't clear exactly what source material will be followed or how the Disney+ series could alter Kate's origin story.
However, if Steinfeld signs on to play the female Hawkeye (Variety she's still in talks), it won't be her first time as a Marvel superhero. She voices Gwen Stacy/Spider-Woman/Spider-Gwen in "Spider-Man: Into The Spider-Verse."
She also has some other impressive credits. In addition to starring in big franchise sequels like "Bumblebee" and the "Pitch Perfect" follow-ups, she has received praise for work in lower-budget films like "Edge of Seventeen." She also earned an Oscar nomination for her first feature film, "True Grit."
"Hawkeye" won't premiere on Disney+ for quite a while. It's one of the last Phase 4 projects, set to come out in fall 2021. Four other Marvel Studios TV series will premiere first: "The Falcon and the Winter Soldier" in fall 2020, "Loki" in spring 2021 and "WandaVision" in spring 2021.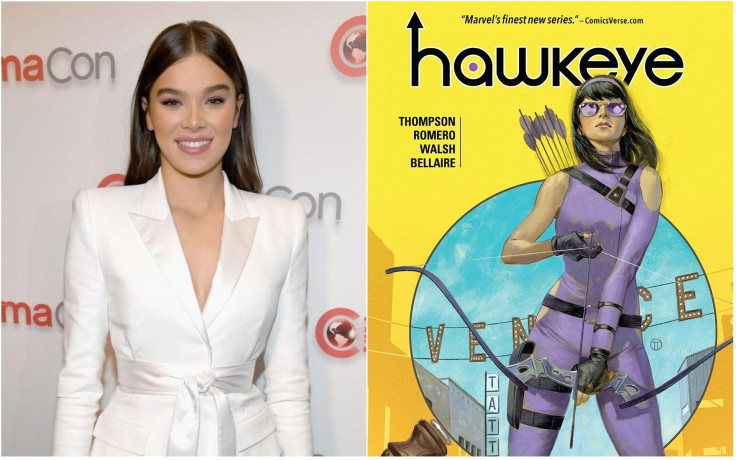 © Copyright IBTimes 2023. All rights reserved.