Who Is Kimberly Corban? Obama Confronts Conspiracy Theories At 'Guns In America' Town Hall [VIDEO]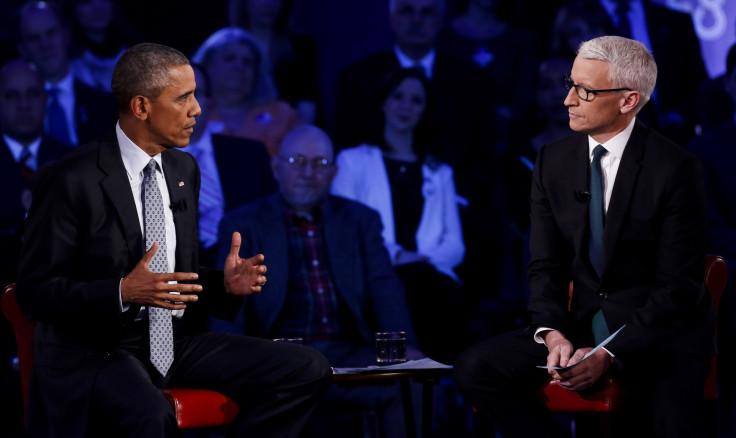 Kimberly Corban told the president Thursday night that she needed a gun. Taking the microphone at a live town hall meeting hosted by CNN, Corban recounted her experiences after being raped in college. Now, as a mother of two who refuses to be victimized again, Corban said she required a firearm to keep her kids safe and expressed concern his new gun control plans could prevent that.
President Barack Obama listened as Corban spoke, gave his condolences and then corrected her. "There's nothing we're proposing that makes it harder for you to purchase a firearm if you need one," he promised, going on to detail his executive orders aimed at expanding background checks for would-be gun owners.
Corban was one of a handful of Americans who spoke directly to Obama on Thursday at "Guns in America," an hourlong, nationally televised event at George Mason University in Fairfax, Virginia. Just two days after announcing a set of measures to make citizens safer, Obama had the chance to personally interact with advocates on both sides of the gun debate. Along with Corban, he conversed with Taya Kyle, widow of the late Navy SEAL Chris Kyle; Cleo Pendleton, mother of a 15-year-old killed by gun violence; Paul Babeu, a Republican sheriff in Arizona; and more.
The town hall presented a rare opportunity for the president to address the nation, be confronted by critics and tackle rumors in an informal setting. Though it's unclear whether Obama's Thursday night appearance persuaded anyone to shift their position on gun control, the intimate show proved that civil dialogue about the heated issue was possible.
The meeting was proposed by CNN after a Dec. 2 mass shooting that left 14 dead in San Bernardino, California. On Tuesday, Obama unveiled a set of executive actions on gun control. He proposed increasing mental healthcare services, improving gun safety technology and forcing all gun retailers to register with the government.
Moderator Anderson Cooper opened the show Thursday by noting that the National Rifle Association, which has its headquarters just miles away from the university, declined to participate. Obama, frustrated, said he'd tried to meet with the group before but required that any conversation be based on facts and truth as opposed to "imaginary fiction."
Obama's stance on gun control has proven divisive in recent months. In a CNN/ORC poll released in October, 52 percent of respondents said they opposed tighter restrictions on guns. More recent data showed Americans backed Obama's intiatives but didn't believe they would work.
Republicans were most likely to defend their right to bear arms, which the U.S. has seen in the 2016 presidential race. Candidates like Sen. Ted Cruz, R-Texas, and business mogul Donald Trump released statements accusing the president of trying to take away citizens' rights. Former Florida Gov. Jeb Bush said Obama's plans "trample on the Second Amendment."
Citing data that 30,000 Americans a year die from guns, Obama during the town hall started early with his rebuttals. He stated clearly that while he had never owned a gun, he was not against the Second Amendment. "I respect people who want a gun for self-protection, for hunting, for sportsmanship, but all of us can agree that it makes sense to do everything we can to keep guns out of the hands of people who are trying to do others harm," he said.
Obama remained on the defensive for most of the night, appearing to carefully consider comments from people like Kris Jacob, vice president of the American Firearms Retailers Association, but also stubbornly staying on message. When Jacob asked Obama why he was focusing on preventing criminals from purchasing weapons instead of supporting law enforcement efforts to keep them off the streets in the first place, the president blamed Congress for shrinking the budget of the Bureau of Alcohol, Tobacco, Firearms and Explosives.
The most contentious moment of the night came after a question from Mark Kelly, the former astronaut husband of former U.S. Rep. Gabby Giffords, D-Ariz., who was shot in the head at a 2011 political event. Kelly asked Obama how the government would hypothetically go about confiscating the nation's 350 million guns, as some conservative groups fear.
Obama flatly called that notion a conspiracy, even when Cooper called him out for the blunt description. "Are you suggesting the notion that we are creating a plot to take everybody's guns away so we can impose martial law is a conspiracy? Yes, it is a conspiracy," Obama said. "I mean, look. I'm only going to be here for another year. I don't know — when would I have started on this enterprise, right?"
.@POTUS addresses the "conspiracy" that "we are creating a plot to take everybody's guns" https://t.co/AFzFmmsvGC https://t.co/p611SWIrgk

— CNN (@CNN) January 8, 2016
The night had lighter moments as well, like when the president joked about the age of the Rev. Michael Pfleger, an anti-violence advocate in Chicago, or his incorrect grammar after he said "shrank." But most of the town hall was a solemn discussion about what to do about gun violence. Although CNN preselected the guests who would speak, and both the network and the White House stood to benefit from participating in the event, the meeting seemed relatively genuine.
This was especially true at the end of the show, when Tre Bosley, whose brother was fatally shot 10 years ago in Chicago, asked Obama for advice about growing up near poverty and gangs. Obama maintained his personal tone as he talked about his own childhood. "If I screwed up, I wasn't at risk of getting shot," he said. "That's how all kids should be growing up, wherever they live."
The president concluded by acknowledging he wouldn't win the fight against guns all at once. But he assured Bosley, the 100 people in the room and the thousands of viewers at home he wasn't giving up.
"This is not a proposal to solve every problem," Obama said. "It's a modest way of us getting started of improving prospects of young men and young women like you."
FOR FREE to continue reading
✔️ Unlock the full content of International Business Times UK for free
offer available for a limited time only
✔️ Easily manage your Newsletters subscriptions and save your favourite articles
✔️ No payment method required
Already have an account?
Log in
© Copyright IBTimes 2023. All rights reserved.