Obama Gun Control Press Conference: Watch A Live Stream Of The White House Announcement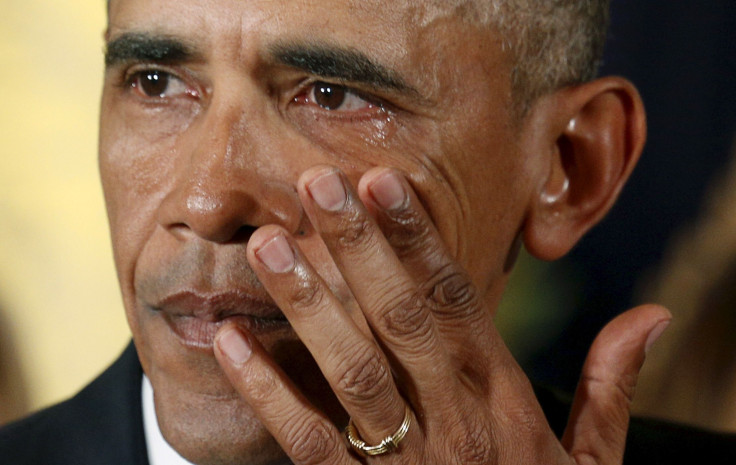 UPDATE: 12:35 p.m. EST — President Barack Obama wiped away tears as he spoke Tuesday at a news conference announcing executive actions on gun control. Obama addressed critics and invoked American citizens' constitutional rights as he outlined his plans to make the nation safer.
"Our right to worship freely and safely — that right was denied to Christians in Charleston, South Carolina. It was denied to Jews in Kansas City. It was denied to Muslims in Chapel Hill and Sikhs in Oak Creek. They had rights too," he said, adding that victims were robbed of rights in places like Littleton, Colorado, and Lafayette, Louisiana.
He brought up the massacre at Sandy Hook Elementary in Newtown, Connecticut, multiple times. "Every time I think about those kids it gets me mad," Obama said.
His executive actions include initiatives to help diagnose and treat mentally ill people, improve gun technology so kids can't access the weapons, and ensure the background check system is comprehensive. With a nod to the 2016 presidential race, Obama called on viewers to take political action and "demand a Congress brave enough to stand up to the gun lobby's lies."
"We need voters who want safer gun laws and who are disappointed in leaders who stand in their way to remember come election time," he added.
Some Republican leaders called Obama's plan unnecessary, while Democratic presidential front-runner Hillary Clinton said she would build on his efforts.
House Speaker Paul Ryan released a statement blasting Obama's announcement of his executive order to restrict American gun ownership. His full statement is below:
"From day one, the president has never respected the right to safe and legal gun ownership that our nation has valued since its founding. He knows full well that the law already says that people who make their living selling firearms must be licensed, regardless of venue. Still, rather than focus on criminals and terrorists, he goes after the most law-abiding of citizens. His words and actions amount to a form of intimidation that undermines liberty.
"No matter what President Obama says, his word does not trump the Second Amendment. We will conduct vigilant oversight. His executive order will no doubt be challenged in the courts. Ultimately, everything the president has done can be overturned by a Republican president, which is another reason we must win in November.
"We know that the president wants to spend this year offering distractions from his failed record. We will not allow this strategy to take us off course from giving the American people a clear choice with a bold policy agenda."
UPDATE: 12:11 p.m. EST — President Barack Obama took aim at Congress Tuesday in a speech announcing executive action on gun violence. He criticized lawmakers for rejecting a 2013 bill that would have expanded background checks for people trying to buy firearms, then indicted them for limiting research into gun violence such as the recent mass shooting in San Bernardino, California.
"Even after San Bernardino, they refused to make it harder for terror suspects, who can't get on a plane, to buy semiautomatic weapons. That's not right. That can't be right," Obama said. "The gun lobby may be holding Congress hostage right now, but they don't have to hold America hostage."
He revealed he planned to force anybody selling firearms to be licensed and require background checks or be subject to criminal prosecution. Obama also planned to expand the background check system.
Republicans blasted Obama during the speech on Twitter for taking aim at Second Amendment rights.
UPDATE: 12:02 p.m. EST — Speaking Tuesday at a news conference to announce executive action on gun control, U.S. President Barack Obama assured Americans he supported the Constitution's Second Amendment, the right to bear arms. But he said he thought he could reduce gun violence while preserving that right.
"This is not a plot to take away everybody's guns," Obama said. "You pass a background check, you purchase a firearm. The problem is, some gun sellers have been operating under a different set of rules."
The president noted that people buying weapons online or at gun shows do not undergo background checks, then cited several Republican lawmakers who had supported expanding such a system in the past. He lamented partisanship, asking "How did we get here?"
UPDATE 11:52 a.m. EDT — At a Tuesday news conference announcing executive action on gun control, U.S. President Barack Obama was introduced by Mark Barden, the father of 7-year-old Daniel, who was killed in 2012 at Sandy Hook Elementary School in Connecticut. Barden noted that he'd introduced the president before, in 2013, after a bill failed to close a loophole in the background check system for firearms.
"We are better. We're better than this," Barden said.
Obama and Vice President Joe Biden entered the press conference shortly after 11:40 a.m. EST. Obama opened by mentioning the 2011 shooting of Rep. Gabby Giffords, D-Ariz., and cited locations of mass shootings in the U.S. since then, including Aurora, Colorado; Newtown, Connecticut; Santa Barbara, California; and Charleston, South Carolina. "America is not inherently more prone to violence, but we are the only advanced country on Earth that sees this kind of mass violence erupt with this kind of frequency," Obama said.
Original story:
U.S. President Barack Obama is scheduled Tuesday to give details of a plan to toughen the nation's gun control laws through a series of executive actions. Following a year of several high-profile mass shootings, Obama said he will wield the authority of his office this year to reduce the national rate of gun violence without action by Congress.
The president was expected to hold a press conference in the East Room of the White House at 11:40 a.m. EST. Watch a live stream of Obama's remarks in the player below or click here.
The White House released Monday an outline of the president's executive actions, on which he consulted with the nation's top law enforcement leaders, including Attorney General Loretta Lynch of the Department of Justice and James Comey, director of the FBI. Before leaving for his holiday vacation, Obama asked the leaders to recommend actions he could take without asking Congress to send him a bill to sign.
The president's executive actions seek to clarify existing laws that require gun sellers — meaning anyone who makes a living by selling firearms online or at gun shows — to register as a licensed dealer and conduct background checks on all customers. Determining who qualifies as a seller will be based on a how transactions are processed and whether space is rented at gun shows, among other criteria. There will be criminal penalties for those who try to subvert the new requirements, according to the White House.
Obama's gun control plan includes added resources for the FBI, which runs its own background check system, and an additional 230 enforcement agents. The administration also plans to increase access to mental healthcare information in background checks for those who are banned from owning guns for mental health reasons.
The executive actions signaled the president's loss of patience over the lack of legislation regarding gun violence and gun control from Congress, advocates have said. Three years ago, Obama tried to include sweeping changes after the mass shooting at Sandy Hook Elementary School in Newtown, Connecticut. Congress would not get behind a proposal that would have closed loopholes allowing tens of thousands of guns to be sold online and at gun shows without background checks.
Gun Laws by State | Graphiq
© Copyright IBTimes 2023. All rights reserved.