Who Is Lana Marks? Iran Allegedly Targeting US Ambassador In Retaliation For Soleimani Assassination
KEY POINTS
U.S. Ambassador Lana Marks is allegedly being targeted by Iran in retaliation for the assassination of Iranian Gen. Qassem Soleimani
Soleimani was killed by a U.S. drone strike near an Iraqi airport in January
Iran's Foreign Ministry vehemently denied the plot
According to a new report, Iran was plotting to kill the U.S. ambassador to South Africa in an act of retaliation for the death of Iranian Gen. Qassem Soleimani from a U.S. drone strike in January.
Iran has since denied the allegations, saying the report was "biased" and said it was rooted in "anti-Iran propaganda" pushed by the Trump administration.
Two government sources told Politico on Sunday U.S. intelligence knew of a "general threat" against Ambassador Lana Marks since the spring, but the plot became "more specific" over the last month. The sources said the plot would likely involve the Iranian embassy in Pretoria, South Africa, as well.
But who is Lana Marks?
Marks is a South African-born American businesswoman best known for the Lana Marks fashion brand and its luxury handbags. Her handbags typically cost north of $100,000 and are regularly seen in the hands of celebrities during award shows and formal events.
Arguably her brand's most famous public endorsement came during the 2007 Academy Awards when Helen Mirren accepted the Best Actress Oscar while clutching a Lana Marks handbag. Other celebrities seen with Lana Marks handbags at similar events include Reese Witherspoone, Charlize Theron, and Chinese actress Li Bingbing.
Marks was nominated by President Donald Trump to be the U.S. ambassador to South Africa in 2018 and was unanimously approved by the U.S. Senate in September 2019. She began her tenure as ambassador in January 2020, replacing the outgoing Jessica Lapenn.
Around the same time she began, Soleimaniwas killed by a drone airstrike near Iraq's Baghdad International Airport on Jan. 3. The Trump administration said the attack was a preventive measure as it learned Soleimani was allegedly plotting to attack one or more U.S. embassies, but did not provide evidence. The attack also sparked controversy about the drone strike's legality as it was not approved by Congress or the Iraqi government.
"He was a monster. And he's no longer a monster. He's dead," Trump said during a January press briefing. "He was planning a big attack and bad attack for us. I don't think anyone can complain about it."
Shortly after Soleimani's assassination, Iran fired multiple missiles at an Iraqi military base housing U.S. forces. No one was killed during the missile strike but over 100 U.S. military personnel were wounded in the attack, with several diagnosed with traumatic brain injuries.
Despite the attack, intelligence reports said Iran was still looking into direct retaliation for Soleimani's assassination. Politico's sources said while Marks has few to no connections to the Iranian government, her 20-year friendship with Trump is what likely made her a target.
The Iranian Foreign Ministry has since vehemently denied these allegations and said it was simply part of Trump's "counter-intelligence campaign against Iran."
"It was predictable that the United States regime would resort to anti-Iran accusations and falsification ahead of the U.S. presidential election, coupled with that (US) regime's pressures to abuse the United Nations Security Council's mechanisms with the purpose of intensifying pressure on the people of Iran," Foreign Ministry spokesman Saeed Khatibzadeh said in a press release.
"However, such measures and news fabrication that would possibly continue in the future will undoubtedly get nowhere and will add to the long list of Washington's continuous defeats in the face of the Islamic Republic of Iran."
"As announced repeatedly, the Islamic Republic of Iran will press on with international legal action at all levels in connection with the criminal and cowardly assassination of General Soleimani, and will neither forgive nor forget the act of terrorism."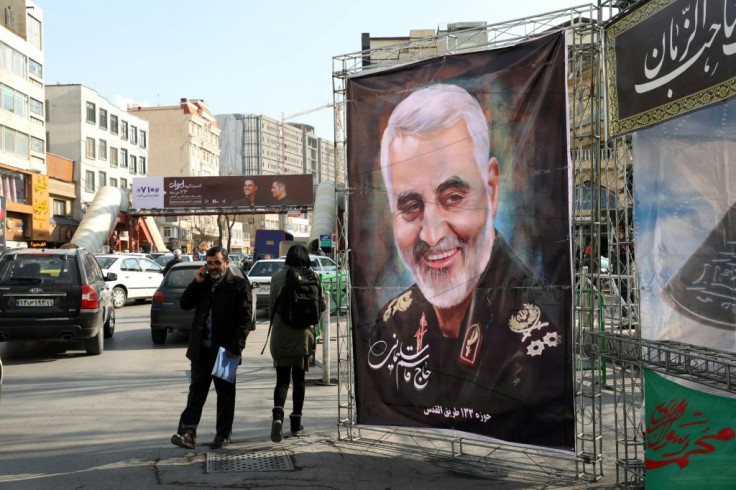 © Copyright IBTimes 2023. All rights reserved.
FOLLOW MORE IBT NEWS ON THE BELOW CHANNELS