Who Is Marc Mezvinsky, Chelsea Clinton's Husband? 10 Facts About Hillary's Son-In-Law
As Chelsea Clinton takes the stage to introduce her mother and Democratic Party nominee Hillary Clinton Thursday evening, Chelsea Clinton's husband Marc Mezvinsky will be in the wings watching.
Mezvinsky, 38, has remained out of the spotlight during the majority of the campaign season. Here are 10 facts to know about Mezvinsky ahead of his wife's major speech.
1. The couple first met in 1993 when they were teenagers at a retreat in Hilton Head, South Carolina. They started dating in 2005.
2. The couple both attended Stanford University in California. Mezvinsky graduated a year ahead of Clinton.
3. The two were married in 2010 in Rhinebeck, New York, in an interfaith ceremony presided over by a rabbi and Methodist reverend. The wedding wasn't a huge celebrity affair but several big names did attend including former Secretary of State Madeline Albright and former Democratic National Committee Chairman Terry McAuliffe. Vera Wang designed Chelsea Clinton's dress.
4. Mezvinsky is Jewish. Chelsea Clinton has not converted but has been seen attending services with her husband.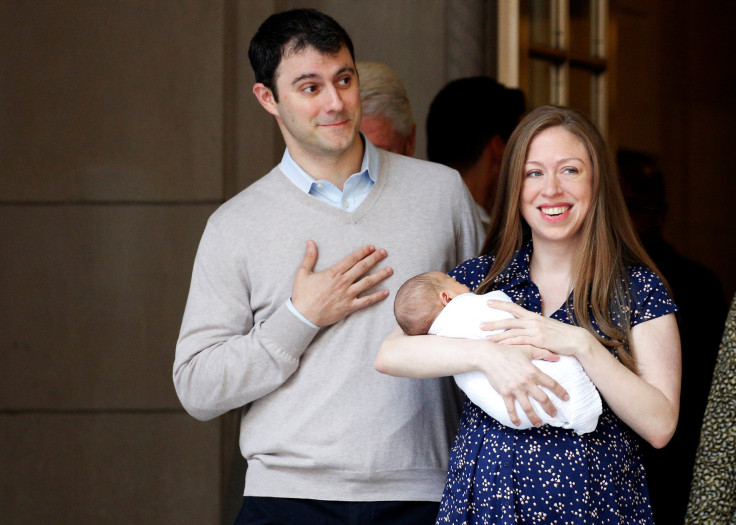 5. Like his in-laws, Marc Mezvinsky's parents were also in politics. His father Edward Mezvinsky served as a Democratic congressman from Iowa and in the U.S. House of Representatives. Marc Mezvinsky's mother Marjorie Margolies served as a Democrat representing Pennsylvania in the House of Representatives.
6. Edward Mezvinsky was found guilty of fraud in 2001 and served time in prison. Records show that he asked Bill Clinton for a presidential pardon. The pardon was never granted and it remains unclear if Clinton ever saw the letters related to the case, Politico reported.
7. Marc Mezvinsky works as an investment banker. He worked at Goldman Sachs for eight years and then went to work in private equity.
8. Mezvinsky founded the hedge fund Eaglevale Partners in 2011 along with two former Goldman Sachs colleagues. Eaglevale Partners closed its Greece focused Hellenic Opportunity fund after losing over 90 percent of its value, the New York Times reported in 2016.
9. The couple lives in New York City. Their first home in the city was a $4 million condo on Fifth Avenue. They now live in an apartment valued at $10.5 million.
10. Clinton and Mezvinsky have two children together. Their daughter Charlotte is 22 months old and their son Aidan was born less than two months ago.
© Copyright IBTimes 2023. All rights reserved.