Who Is Melania Trump? 13 Facts About Donald Trump's Wife And Potential First Lady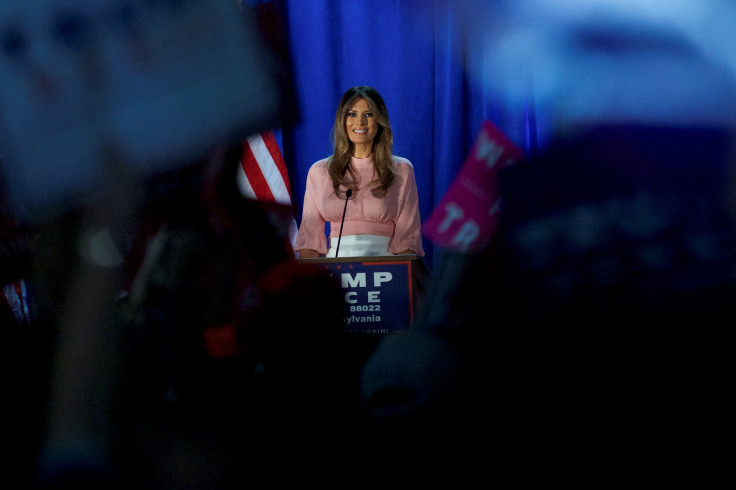 Republican nominee Donald Trump and his wife Melania broke the internet on Election Day when they went to cast their votes in midtown Manhattan. The real estate mogul was caught peeking into the former model's ballot as she cast her vote.
Melania Trump mostly stayed away from her husband's campaign trail, save a few high profile appearances. She said during the campaign that if the real estate mogul was elected to power, she would campaign against cyberbullying as first lady.
As Trump takes the lead in the presidential race, here are 13 facts about Melania Trump, potentially the next first lady:
1. She speaks five languages — Slovenian, English, French, Serbian and German.
2. Raised in communist Yugoslavia, if her husband wins, she would be the first first lady to come from a communist nation.
3. She would be the least popular spouse of a presidential candidate since Hillary Clinton, according to a Washington Post/ABC poll. Her popularity is reportedly lower than nearly any other recent candidate's spouse during an election year.
4. Melania gives the real estate mogul advice on politics. "I give him my opinions, many, many times," she told CNN. "I don't agree with everything that he says but, you know, that is normal. I'm my own person, I tell him what I think. I'm standing very strong on the ground on my two feet and I'm my own person."
5. She doesn't approve of the Republican nominee's tweeting. When she was asked which habit of her husband's she would rather he give up, Melania said with little hesitation: "The tweeting."
6. Bill and Hillary Clinton were among the 350 guests who attended her wedding with Trump in 2005. Her sister Ines served as the maid of honor.
7. She served as the American Red Cross' Good Will Ambassador from 2005 to 2009.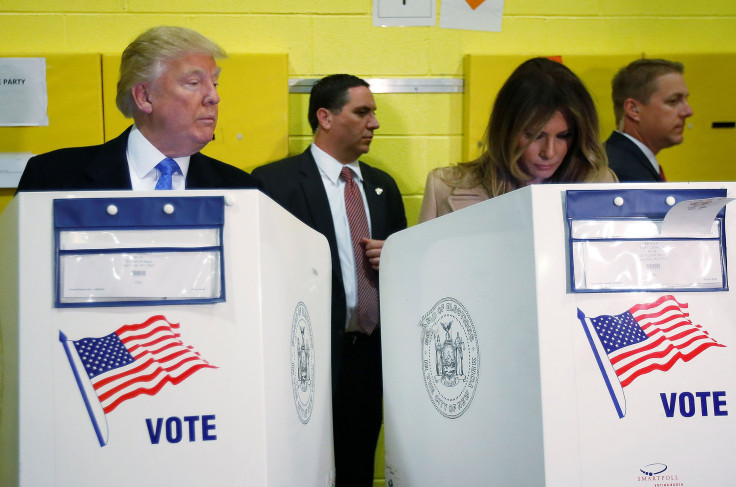 8. In her first speech to voters at the Republican National Convention in July, a portion of her address bore a striking resemblance to the one made by first lady Michelle Obama in 2008. Twitter exploded with memes and jokes about the incident, with #FamousMelaniaTrumpQuotes trending on the microblogging site within a couple of hours after the alleged plagiarism came to light.
9. Melania always stood by her statement that she entered the country legally. However, documents obtained by the Associated Press revealed the former model was paid for 10 assignments worth $20,056 between Sept. 10 and Oct. 15, 1996, a period during which she was not legally allowed to work in the country.
10. Melania called the sexual assault allegations against her husband "lies." "I believe my husband. I believe my husband," she said in an interview with CNN.
11. She admitted she was shocked at the language Trump used in the 2005 Access Hollywood tape. "No. No, that's why I was surprised, because I said like I don't know that person that would talk that way, and that he would say that kind of stuff in private," she said. "I heard many different stuff — boys talk. The boys, the way they talk when they grow up and they want to sometimes show each other, 'Oh, this and that' and talking about the girls. But yes, I was surprised, of course."
12. She also said her husband's transition from reality TV to politics was very difficult for him. "It's very hard, especially for him — when he decided to run for the presidency, because he did so many stuff in his life… And we knew that — that, you know, tapes will come out, people won't want to go against him," she said.
"But my husband is real. He's raw. He tells it like it is. He's kind. He's a gentleman. He supports everybody," the former model added.
13. Melania said she doesn't want sympathy. "I'm very strong… Don't feel sorry for me. Don't feel sorry for me. I can handle everything," she said.
© Copyright IBTimes 2023. All rights reserved.
FOLLOW MORE IBT NEWS ON THE BELOW CHANNELS