Who Is Melania Trump? Watch RNC Speech By Donald Trump's Wife, A Slovenian Model Who Avoids Public Speaking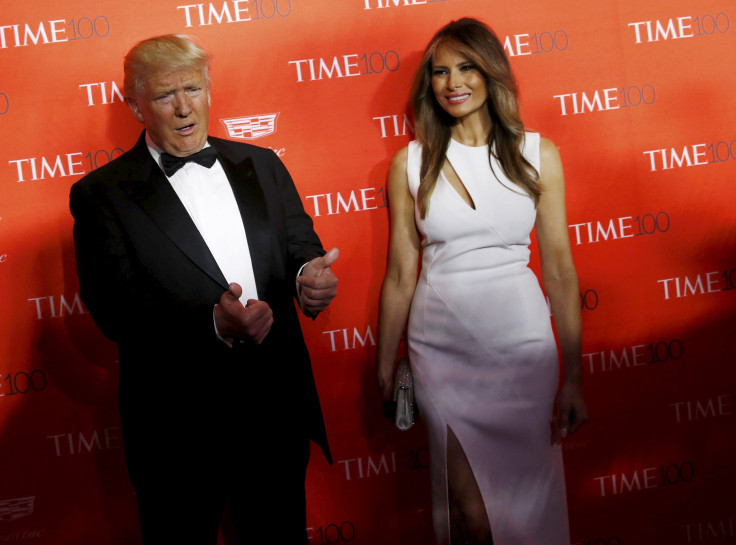 Melania Trump was poised to step outside her husband's long shadow Monday night during a speech at the Republican National Convention in Ohio that represented a rare potential opportunity to learn more about the woman who could serve as the nation's next first lady.
Unlike her outspoken husband, the Slovenian former model has general shied away from the public eye since Donald Trump entered the 2016 presidential race last year, avoiding regular media interviews, campaign speeches and even Twitter, her husband's beloved social media platform where he sends out daily musings about the state of the nation, world and, on occasion, his lunch order. Melania Trump speaks with a heavy accent and her longest speech on the campaign trail so far came in at a mere nine minutes, CNN reported.
"I don't try to change him," she has said of her husband. "He is an adult. He knows the consequences."
Melania Trump will be introduced by her husband Monday night at the convention. She is the second to last speaker in a series of speeches that were scheduled to start at 7:50 p.m. A live stream of the event can be seen here.
Before Melania Trump's speech in Cleveland, reporters were speculating whether she would address her husband's low support among women and help him some more likeable and normal. That job has so far fallen to Ivanka Trump, Trump's daughter from his marriage to Ivana Trump who has often stepped in to serve in a first lady-like role, softening her father's brash personality and defending his policy views at campaign events and media interviews.
Melania Trump is known for her opulent lifestyle, beauty and poise. She famously donned a $200,000 custom Christian Dior dress at her wedding, and has launched her own anti-aging cosmetics and luxury jewelry brand. She calls herself a "working mom," and served as the American Red Cross' Good Will Ambassador from 2005-2009.
Spouses can play a significant role on the campaign trail. In 2012, Ann Romney helped her husband, former Massachusetts Gov. Mitt Romney, come across as a loving spouse and father during the Republican National Convention. Former President Bill Clinton is considered a considerable asset for the Hillary Clinton campaign because of his high approval ratings and knack for winning over large crowds, but he was also criticized by political analysts for going off-script too often during her failed 2008 presidential bid.
It's unclear what tactic Melania Trump will take Monday night. Donald Trump has said his wife has urged him to be more "presidential" on the campaign trail, but she has also defended him time and again. She has said her immigrant background, for example, helps her understand her husband's promise to deport millions of undocumented immigrants.
"I followed the law," Melania Trump said in February. "I never thought to stay here without papers.'"
Melania and Donald Trump married in 2005. It was his third marriage. She was immediately labeled a "gold digger" for her romance with the New York business mogul.
"People say all sorts of stuff, and they will talk, but you just need to live your life," she has said of the rumors.
On Monday night, Melania Trump faces a new test. Her speech will likely aim to address critics who say her thick, foreign accent and elitist reputation will turn off Americans who tend to favor relatable first ladies. If Donald Trump makes it to the White House, Melania Trump would be only the second first lady born outside of the U.S. The first was President John Quincy Adams' wife, Louisa, who was born in London more than 200 years ago to an American father.
"She can't talk, she can't give a speech, she doesn't go to events, she doesn't (seem to) want to be involved," Donald Trump's ex-wife Ivana Trump has said of Melania Trump.
© Copyright IBTimes 2023. All rights reserved.
FOLLOW MORE IBT NEWS ON THE BELOW CHANNELS