Who Is Paula Jones? 10 Facts About Bill Clinton Sexual Harassment Accuser Who Wants To Attend Presidential Debate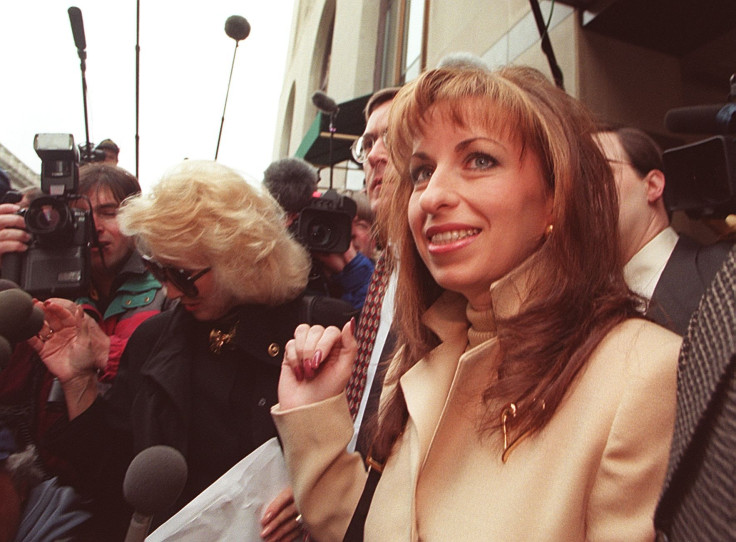 The campaign attacks during this presidential election cycle have been expectedly pointed, as Republican nominee Donald Trump and his Democratic counterpart Hillary Clinton exchange sharp barbs on topics ranging from national security to the economy. But one aspect of the reciprocated attacks that is arguably off-topic is the personal life of former President Bill Clinton, who's alleged marital discretions have come increasingly under scrutiny ahead of Monday night's first presidential debate.
The latest example is Paula Jones — the woman who accused President Clinton in 1994 of sexual harassment — reportedly recently expressing interest in attending Monday night's debate. Her comments come just one day after another woman romantically linked to former President Clinton was invited to the debate by Trump in an apparent effort to draw attention to Hillary Clinton's personal relationship with her husband and how that could factor in her potential presidency.
Below are 10 things to know about Jones heading into Monday night's debate.
1. She's on Team Trump.
"I am a big Trump supporter, I think he would be our next best president since Ronald Reagan... I would have liked to have sat up there with all of the women and maybe make Hillary nervous," Jones told the "Inside Edition" news magazine TV show ahead of Monday's debate. "She can't be trusted," Jones said of the Democratic candidate. "She is for herself."
2. She settled her lawsuit against former President Clinton, but she hasn't forgotten about it.
Former President Clinton settled Jones' sexual harassment case against him by paying her $850,000 in 1999, which was officially characterized as not being an admission of guilt, the Associated Press reported at the time. Considering that settlement, Jones is incredulous at how anyone could take him seriously when he campaigns for his wife.
"I can't believe he's still going out there and showing his face," Jones told the "Inside Edition" interviewer. "How can you go out there and talk to people like nothing has happened?"
3. Republican vice presidential candidate Mike Pence was no fan of Jones.
The Indiana governor wrote in a 1998 blog post that he thought Jones' allegations were somewhat self-serving and didn't take the American people into account, BuzzFeed News reported. "Preserving some modicum of respect for the presidency and for the institution of marriage is of greater consequence than Paula Jones need for immediate redress, no pun intended," Pence wrote at the time.
4. Jones fears Bill Clinton's potential return to the White House.
Citing how she said the former president was "sexually harassing women," Jones said last year the Clintons have "a terrible history," Politico reported. "He does not have a right to be in the White House to serve the people the way he treated women, sexually harassing women," she said at the time.
5. Her sexual harassment case was ultimately dismissed.
A judge ruled in 1998 that even if Jones' allegations against former President Clinton were true, it did not amount to sexual harassment, the New York Times reported at the time. "There are no genuine issues for trial in this case," Judge Susan Webber Wright of Federal District Court determined of the claims stemming from an encounter between the two in 1991.
6. Jones and another former President Clinton accuser collaborated on an anti-Clinton website.
Jones and Gennifer Flowers, the woman who after some deliberation ultimately turned down Trump's invitation to Monday night's debate, in 2008 created a website that provided their personal thoughts on former President Clinton, the Arkansas Democrat-Gazette reported. "It's a way we can get our story out there in our own words, without someone making their own interpretations or corrections," Jones said.
7. Voters still care about Jones' allegations.
During a campaign stop in last December in New Hampshire, Hillary Clinton was asked about her thoughts on rape victims by a woman who invoked Jones' name, CNN reported.
"Secretary Clinton, you recently came out to say that all rape victims should be believed. But would you say that Juanita Broaddrick, Kathleen Willey and Paula Jones be believed as well?" the woman asked while referencing two other women who have alleged Bill Clinton sexually assaulted them. "Well, I would say that everyone should be believed at first until they are disbelieved based on evidence," the candidate responded.
8. She has willingly been a political tool for Republicans.
Jones was paid in 1998 to be a part of a North Carolina Republican's local election campaign because, as the candidate said, ''Paula Jones, is an all-American, middle-class wife and mother whose only crime was to be seen and approached by Bill Clinton,'' the New York Times reported at the time. Jones accepted the invitation from Steve Arnold, a candidate for the Guilford County Board of Commissioners, for an undisclosed fee along with "an all-expenses-paid vacation in the North Carolina mountains for her, her husband, Steve, and their two children." It was not immediately clear whether Arnold won that election.
9. Trump has used Jones' name as a political ploy on the campaign trail.
Perhaps offering a glimpse of what's to come during the presidential debates, Trump said that talking about women who have accused Bill Clinton of sexual harassment is "fair game." The Republican presidential nominee said bringing up the topic is completely relevant.
"Well if you look at the different situations, of course you could name many of them, I could get you a list and I'll have it sent to your office in two seconds," Trump said in December on NBC's "The Today Show." "But there certainly were a lot of abuse of women, you look at whether it's Monica Lewinsky or Paula Jones, or any of them, and that certainly will be fair game."
10. Bill Clinton mocked her before paying Jones' settlement.
A friend and biographer's notes from a 1997 conversation with the former president showed Bill Clinton called Jones names when asked about her lawsuit against him, the Free Beacon reported. "[Clinton] said they had now changed Paula Jones's hair style, made her look less like a floozy, and that she didn't seem to have any visible income but was always driving a new car," Taylor Branch said of the notes that ultimately became his book, "The Clinton Tapes."
FOR FREE to continue reading
✔️ Unlock the full content of International Business Times UK for free
offer available for a limited time only
✔️ Easily manage your Newsletters subscriptions and save your favourite articles
✔️ No payment method required
Already have an account?
Log in
© Copyright IBTimes 2023. All rights reserved.