Who Is Renate Schroeder Dolphin? Brett Kavanaugh Character Testifier Withdraws Her Support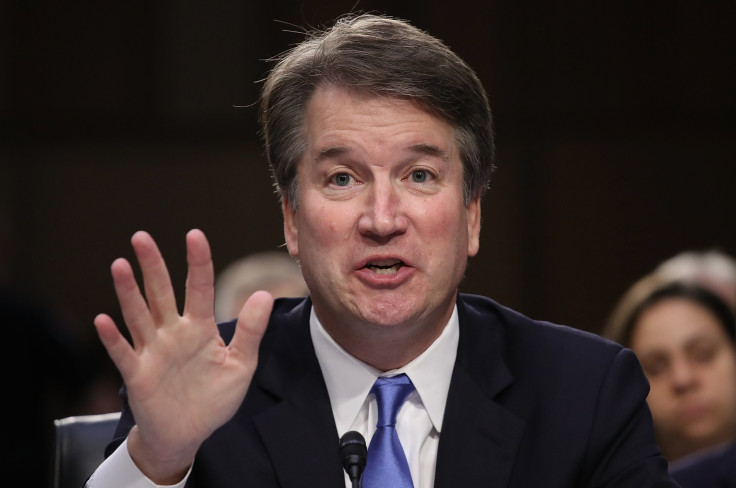 One of the 64 women who stood up in support of Supreme Court Nominee Brett Kavanaugh after he was accused by Christine Blasey Ford of sexual assault, recently discovered she was referred disparagingly in his 1983 Georgetown Preparatory School's yearbook.
The woman, Renate Schroeder Dolphin, said that prior to the discovery, she had no clue she was referenced by the term "Renate Alumnius," or simply "Renate" 14 times throughout the yearbook by Kavanaugh and his high school classmates as part of boasting about their sexual conquests.
"I learned about these yearbook pages only a few days ago," Dolphin said in a statement, according to the New York Times. "I don't know what 'Renate Alumnus' actually means. I can't begin to comprehend what goes through the minds of 17-year-old boys who write such things, but the insinuation is horrible, hurtful and simply untrue. I pray their daughters are never treated this way. I will have no further comment."
If Kavanaugh indeed had a sexual encounter with Dolphin, who attended a Catholic girls' school nearby at the time, then his claim during a Fox News interview Monday that he remained a virgin during his high school days would be proved false.
Not much is known about Dolphin except the fact that she currently lives in New Canaan, Connecticut, and is a member and secretary for the Health & Human Services Board of the town.
Dolphin was one of the scores of women who signed a Sept. 14 letter to Senate Judiciary Committee vouching for Kavanaugh's character, saying, "He has behaved honorably and treated women with respect."
Dolphin later revealed to Buzzfeed she was not one of the women who put the letter together. Instead, she received it "from a friend of ours from high school years" after which she proceeded to sign it.
In a statement to CNN, Kavanaugh's lawyers, Beth Wilkinson and Alexandra Walsh, defended their client's relationship with Dolphin.
"Judge Kavanaugh and Ms. Dolphin attended one high school event together and shared a brief kiss good night following that event," the statement read. "They had no other such encounter. The language from Judge Kavanaugh's high school yearbook refers to the fact that he and Ms. Dolphin attended that one high school event together and nothing else."
However, Dolphin said there was no truth to the statement released by Kavanaugh. "I think Brett must have me confused with someone else, because I never kissed him," she said.
Apart from "Renate Alumni" Kavanaugh's classmates also used terms like "Renate's Suicide Squad," "chairman of the Bored of the Renate Club" while referencing to Dolphin.
Two of Kavanaugh's Georgetown prep classmates confirmed that the 13 graduating seniors who referred to Dolphin in their personalized yearbook pages were doing so in sexual context.
One of them, Sean Hagan, said Kavanaugh and the others "were very disrespectful, at least verbally, with Renate," adding, "I can't express how disgusted I am with them, then and now."
Another classmate, who preferred to remain anonymous, said Kavanaugh and his classmates wanted to memorialize their supposed conquests with the yearbook references and Dolphin was often their subject of boasting.
Dolphin said she was aware that the Georgetown football team at the time, of which Kavanaugh was a part of, would recite a poem that went like this: "You need a date / and it's getting late / so don't hesitate / to call Renate." She said she told the team to stop reciting the poem because she found it offensive.
© Copyright IBTimes 2023. All rights reserved.