Who Is Stephen Bannon? Breitbart Co-Founder Is Trump's New Campaign CEO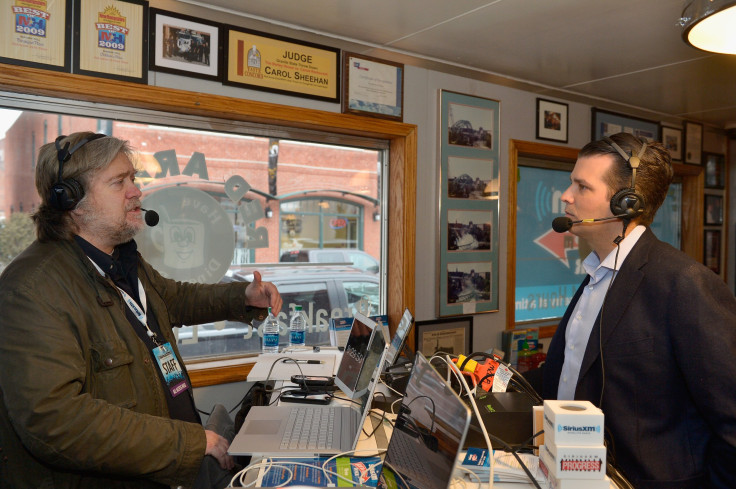 Overnight the Trump campaign made a seismic personnel shift. Reports flooded in Wednesday that Stephen Bannon, co-founder of Breitbart News, was set to take over as campaign CEO for Republican nominee Donald Trump.
The news was first reported by the Wall Street Journal and soon a number of outlets had published the news. Senior Trump adviser Kellyanne Conway was moved to campaign manager and while Paul Manafort is still on board as campaign chair, the move was widely seen as a demotion.
Manafort has come under fire for his ties to Russia, including a new report Wednesday from the Associated Press in which sources allege he "helped a pro-Russian governing party in Ukraine secretly route at least $2.2 million in payments to two prominent Washington lobbying firms in 2012."
Bannon takes the reigns from Manafort and is presented with a large challenge: turning around a campaign that is largely floundering and well behind in the polls. Trump trails Democratic nominee Hillary Clinton by 6.1 points, according to the Real Clear Politics average of polls.
In a long October profile of Bannon in Bloomberg, the news outlet described him as "the most dangerous political operative in America," which Trump trumpeted as a good thing in the press release announcing the hire. According to Bloomberg, the ex-Goldman Sachs banker used the internet-y phrase "honey badger don't give a s---" as the motto for the far-right website, meaning Bannon ran toward controversy.
That's apparently a purposeful shift for the Trump campaign. The Washington Post reported that aides told the paper: "Trump's turn away from Manafort is in part a reversion to how he ran his campaign in the primary with then-campaign manager Corey Lewandowski. Lewandowski's mantra was 'let Trump be Trump' and Trump wants to get back to that type of campaign culture."
"I have known Steve and Kellyanne both for many years. They are extremely capable, highly qualified people who love to win and know how to win," Trump said in a statement.
Bannon has no experience with campaigns, but under his direction Breitbart has covered Trump very favorably. In fact, about this time last year Buzzfeed reported that many staffers at Breitbart believed billionaire Trump had paid for good coverage. Later, reporter Michelle Fields left the company in March saying it did not support her after she alleged she was physically assaulted by then-Trump campaign manager Corey Lewandowski. As she left, alongside editor-at-large Ben Shapiro, a source told Politico, "Nobody wants to stand with Bannon."
In his new role, Bannon will oversee the campaign staff and operations, according to the press release announcing the move. In the past he has made films (about former Alaska Gov. Sarah Palin and on the Clintons' wealth), served in the military and founded the nonprofit Government Accountability Institute. Bannon is expected to take a leave of absence from running Breitbart.
© Copyright IBTimes 2023. All rights reserved.