Who Is Stephen Miller? Donald Trump's Advisor Gains Power After Kellyanne Conway's Embarrassing Blunders
It seems President Donald Trump could have a new favorite television personality to represent him and his White House administration. Stephen Miller, policy director to the president and a staunch believer in Trump's widespread voter fraud claims, has risen to power on national airwaves and cable TV shows in the wake of Trump advisor Kellyanne Conway's repeated blunders and lies and "Saturday Night Live" skits mocking her frequent TV appearances.
Miller took over Conway's typical Sunday duties of going on the morning news networks, defending the president's tweets and controversial executive orders in a series of contentious interviews, including one with ABC's George Stephanopoulos that ultimately ended with the news anchor requesting Trump's advisor "start by providing evidence to back up your claims."
The 31-year-old has reportedly been kept close to Trump, providing him real-time analysis on the media's coverage over his first four weeks in the White House and advising the administration on options for its travel restrictions on seven Muslim-majority nations after the order was blocked by three U.S. federal judges.
Meanwhile, Miller sharply critiqued the media for its reporting on Trump's executive order and a potential White House shakeup Sunday, describing the ongoing legal battle on the president's controversial policies as an "ideological disagreement about the law and the constitution."
"The bottom line is the president's powers, in this area, represent the apex of executive authority," Miller told Stephanopoulos Sunday. "We have multiple tools across multiple fronts to ensure that we are preventing terrorist infiltration of our country and to ensure that those who enter our country share our values and support our people, something supported overwhelmingly by the vast majority of the American public."
Miller served as Attorney General Jeff Sessions' communications director when the conservative senator worked in the Alabama Senate after gaining notoriety as a Republican firebrand from California who spoke out against his high school's liberal policies. Miller reportedly works as a speechwriter and political operative, who was in part responsible for introducing his former boss Sessions to Trump's White House administration before he was nominated as the next attorney general.
"Steve is a true believer in every sense of the word, not just in this message of economic populism but in President Trump as a leader," Jason Miller, Trump's former transition advisor, told the New York Times. "Steve's fiercely loyal and has a better understanding of the president's vision than almost anyone."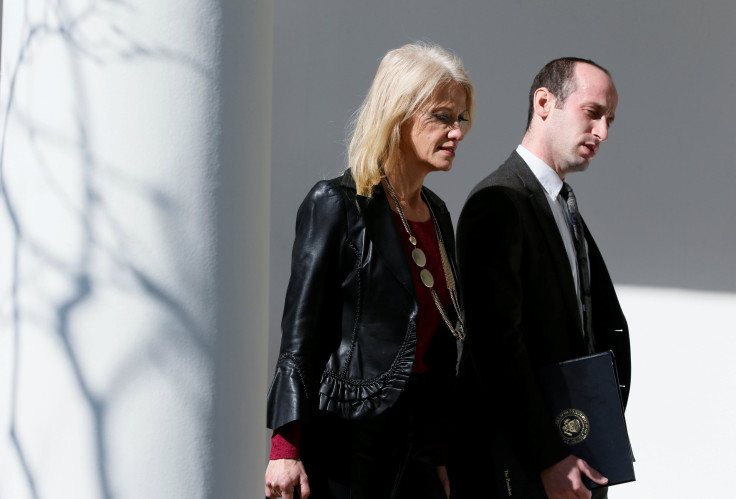 Trump sent a congratulatory tweet to Miller Sunday afternoon, thanking him for appearing on multiple media outlets in place of Conway. "Congratulations Stephen Miller – on representing me this morning on the various Sunday morning shows," the president wrote. "Great job!"
The president has remained largely silent on Conway's repeated blunders over recent weeks, in which the senior advisor cited a false massacre when discussing former President Barack Obama's limiting the Iraqi refugee program and broke the law while promoting his daughter's clothing line. Trump did, however, defend Ivanka Trump and her brands, retweeting his personal account's tweet supporting the fashion designer from the POTUS account after Nordstrom dropped her line for sales reasons.
What this all means for Conway remains unclear, though a reported White House shakeup could include anyone from her to Sean Spicer, the administration's press secretary. Both Trump employees have been mocked repeatedly by Saturday Night Live for their performance during public and televised events – something which reportedly agitates the president greatly.
© Copyright IBTimes 2022. All rights reserved.
FOLLOW MORE IBT NEWS ON THE BELOW CHANNELS