How To Stop The President: Nearly 1 Million People Demand Trump's Impeachment With Petition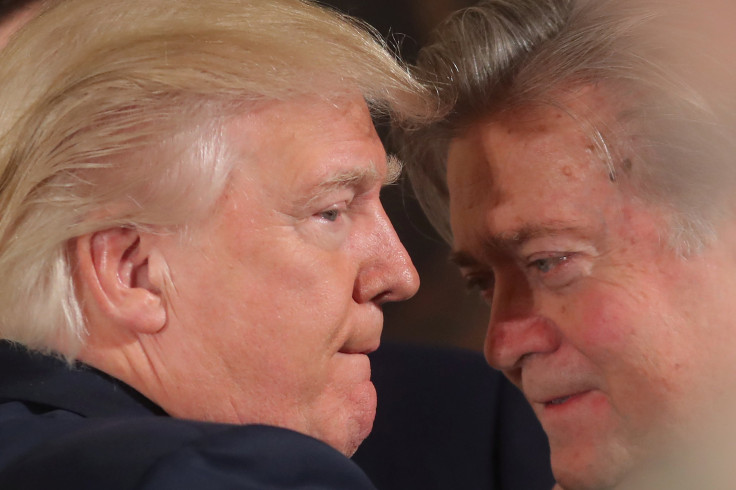 Millions of Americans have responded to the new White House by joining "the resistance": an online and in-person community organizing protests and demonstrations across the country, that's now leading the call to impeach the 45th president of the United States. President Donald Trump's first three weeks in office brought along a slew of executive orders, from deregulating America's financial markets, to restricting travel from seven Muslim-majority nations and repealing former President Barack Obama's landmark healthcare initiative, the Affordable Care Act.
The petition demanding the federal government begin Trump's impeachment process for his potential international conflicts of interest reached over 850,000 signatures by Monday morning. The campaign, titled Impeach Trump Now, is spearheaded by Former 2016 Democratic presidential candidate and Harvard Law professor Lawrence Lessig, along with Harvard professor Tamara Piety, and was created by Free Speech For People and RootsAction.org after Trump failed to step away from his businesses after his inauguration to instead "profit from the presidency at public expense," according to a statement published on ImpeachDonaldTrumpNow.org.
"As of January 20, 2017, President Trump's refusal to divest from his business interests has placed him in direct violation of the US Constitution's Foreign Emoluments Clause and on a collision course with the Constitution's Domestic Emoluments Clause and with the federal STOCK Act," the impeachment petition site states. "The President must be held accountable under the law, through the impeachment process, for these serious violations and for this unprecedented level of corruption of the Oval Office."
The Harvard law professors' petition was not the first one to demand Trump's impeachment, and the president hasn't even been in the White House for a full month. Despite the embattled Democratic Party failure to block any of Trump's cabinet appointees from being approved by the Republican majority, liberals and activists across the country are continuing their opposition efforts, most recently blocking Secretary of Education Betsy DeVos' first visit to a Washington, D.C., public school over the weekend.
As Trump's fiercest opponents positon themselves to be clear frontrunners in the 2020 presidential race for the Democratic ticket, nearly a million Americans have already clearly stated they want the president out of the White House well before then.
The Impeach Trump Now campaign plans on delivering its petition to Congress Thursday.
© Copyright IBTimes 2023. All rights reserved.