Who Is Tim Cook's Stalker? Woman Claims To Be Apple CEO's Wife
KEY POINTS
The 45-year-old woman claimed she had twins with Tim Cook
The woman allegedly drove to Cook's home in California and demanded to speak with him
The woman also threatened to burn down Cook's property in one message
A 45-year-old woman from Virginia accused of harassing and stalking Apple CEO Tim Cook since last year has repeatedly claimed that he is the tech mogul's wife, according to a court filing.
In Apple's application for a restraining order, the tech company accused the woman of "erratic, threatening and bizarre behavior" and included copies of photos, emails and tweets as proof. Some of the tweets included posts where the woman, who is using the last name "Cook," claimed she had twins with the Apple CEO.
She claimed she was Cook's wife more than a dozen times in tweets posted on Halloween 2020.
The filing, first made public by Mercury News, also claimed that the woman had sent approximately 200 threatening and highly disturbing emails between October 2020 and mid-November 2020. One of the emails included photos of her holding a loaded snub-nosed revolver and ammunition.
"My new gun will never return it at this time before I shoot!" the woman said in the email.
The situation escalated in October 2021 when the 45-year-old woman drove from McLean, Virginia, to Cook's home in Palo Alto, California, and demanded that she speaks with him. She was initially sent away by security but returned minutes later. The woman was stopped by local police officers.
Apart from the stalking, the woman also opened several fraudulent corporations with "highly offensive corporate names" in California, New York and Virginia where Cook was listed as a corporate officer or director. Some of the companies still exist in New York even as Cook's representatives move to shut them down.
Earlier this month, the 45-year-old continued to send threatening messages to the Apple CEO through a Twitter account. One message involved her threatening to burn down Cook's property.
A judge with the Santa Clara County Superior Court has since granted the Apple CEO a temporary restraining order against the woman, whose identity was not released by authorities. The order prohibits the woman from owning guns, going near Cook's home or entering any Apple offices. She is also prohibited from tagging or contacting Cook on social media.
The restraining order will expire on March 29, when a hearing is scheduled to discuss whether to extend the order.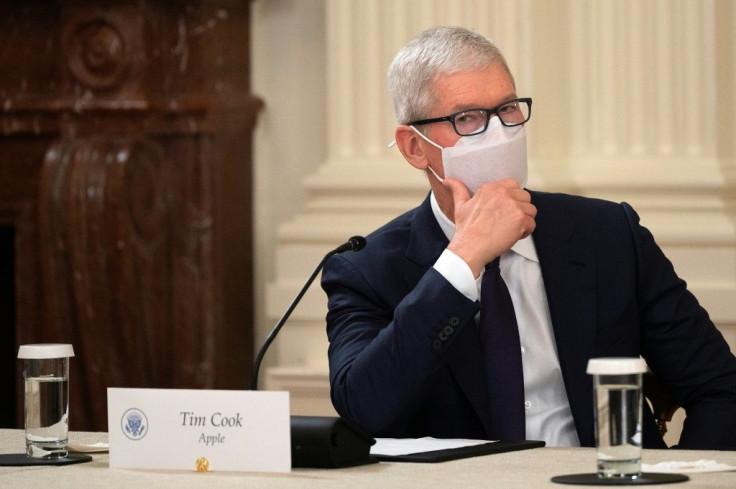 © Copyright IBTimes 2023. All rights reserved.