Who is Tyler the Creator? Rapper Shocks at 2011 MTV VMA [PHOTOS AND VIDEO]
Under-the-radar artist Tyler, the Creator was a surprise win at the 2011 MTV Video Music Awards on Sunday. The 20-year old provocatuer seemed genuinely shocked by his Best New Artist win, claiming in his profanity-riddled acceptance speech that he had nothing prepared (we believe him).
Though Tyler, the Creator is considered to be somewhat unknown, his most popular video -- Yonkers, in which Tyler the Creator eats a bug and then vomits -- had over 19 million hits on YouTube Monday. His Twitter account, under the [censored] handle @f*cktyler, boasts over 468,000 followers.
Tyler, the Creator is the leader of the alternative rap collective Odd Future Wolf Gang Kill Them All, or OFWGKTA, commonly referred to as simply Odd Future. Odd Future's violent imagery, profanity-laced lyrics and unmelodic recording style has earned the group the label horror-core, something Tyler, the Creator resents. They always say we make horror-core music, but I hate ?that sh*t, he told Thrasher Magazine. People want to put us in a box, ?but every horror-core rap group I've looked ?up sucks.
Tyler, the Creator made reference to his brother Earl in his acceptance speech, an Odd Future member who goes by the name Earl Sweatshirt and who has been the subject of media intrigue in the last several months. Speculation about Earl's whereabouts caught the unlikely attention of The New Yorker, which ran a piece in May reporting that seventeen year-old Earl Sweatshirt had been sent to boarding school in Samoa and that he is the son of celebrated South African poet Keorapetse Kgositsile. (Earl's given name is Thebe Kgositsile.)
Tyler, the Creator was actively tweeting in the hours leading up to and following his surprise VMA win. At around midnight Sunday, he tweeted: @justinbieber Personally Congratted Me. That Was Awesome As F*ck.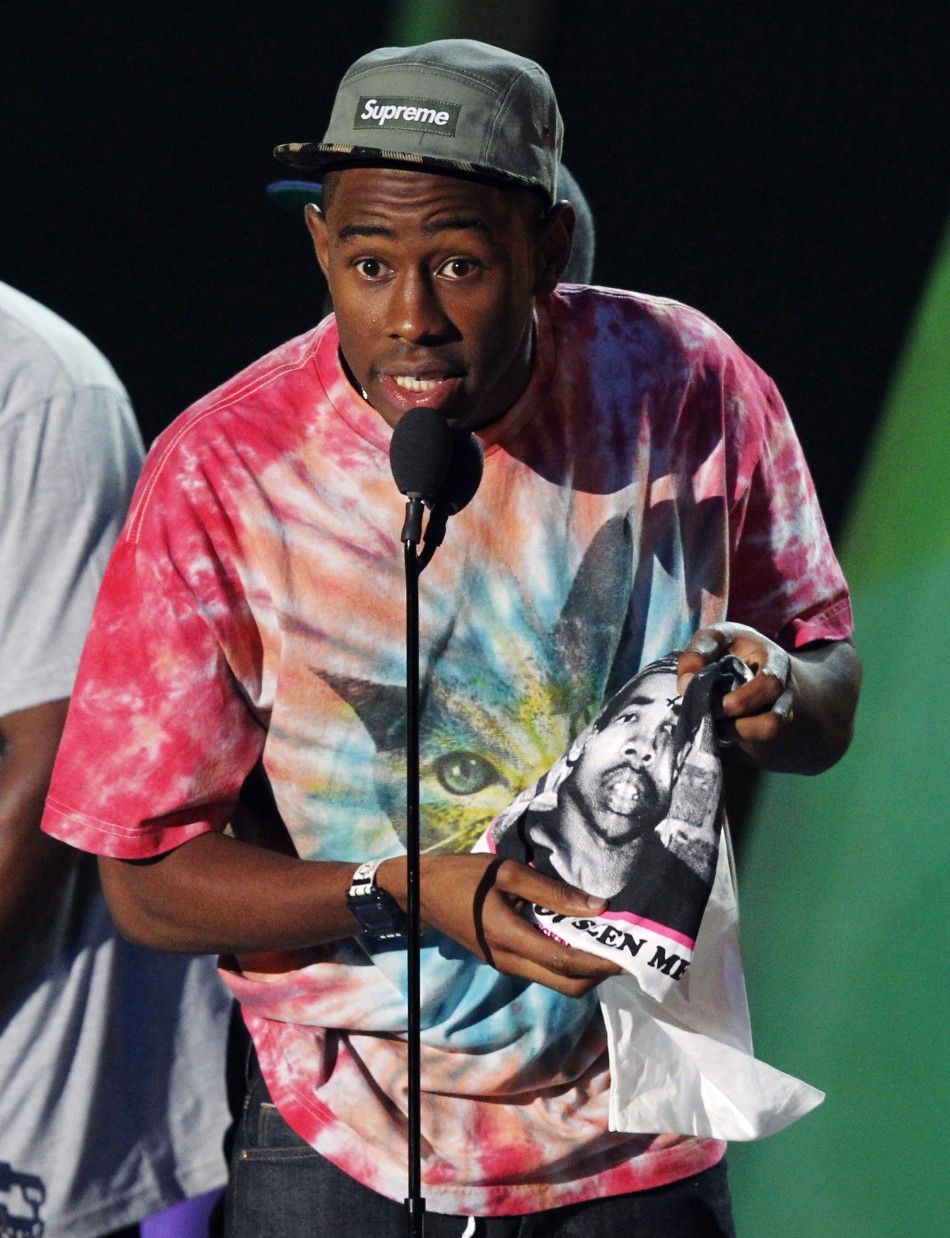 © Copyright IBTimes 2023. All rights reserved.