Who Is Winning Early Voting? Donald Trump, Hillary Clinton Push For Votes Ahead Of Election Day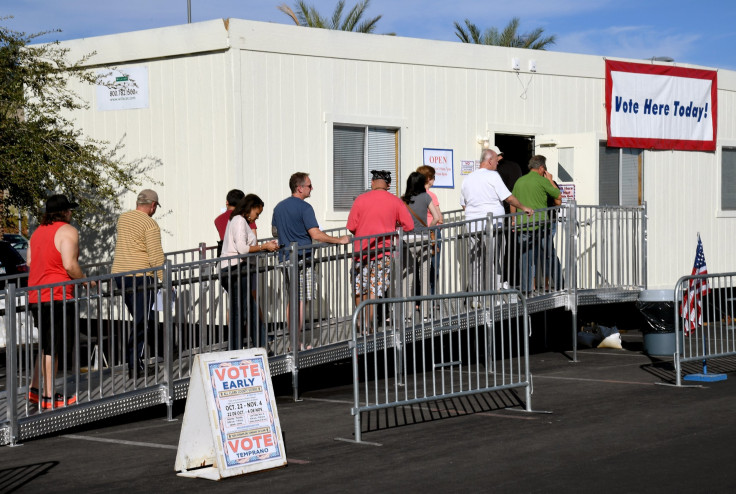 While Election Day isn't until Nov. 8, as of Thursday millions of Americans have already voted in the presidential race between Democrat Hillary Clinton and Republican Donald Trump. States across the nation have early voting and early analysis has good news for both candidates.
A CNN analysis of the more than 7 million ballots cast during early voting had the Democrats looking good in North Carolina, Nevada and Arizona, when compared with 2012 figures. In Arizona, the network had registered Democrats up by 4,116 votes over Republicans, a major improvement over 2012, when President Barack Obama trailed by more than 20,000 at this point. Registered Democrats led by 15,000 votes in Nevada and by 100,000 in North Carolina, a slight uptick over their respective leads at this point in 2012. Democrats have also significantly cut into the lead for Republicans in Florida early voting, when compared to 2012, according to CNN.
These results are especially important because Florida, Arizona, Nevada and North Carolina are battleground states that could help swing the election. Real Clear Politics averages of polls showed Clinton held a small lead in each state.
Clinton, however, trails in polling in the swing state of Ohio, according to Real Clear Politics' average, which has Trump up by 1.1 percentage points. Trump reportedly has an early voting edge in Ohio, as well. Early voting requests for black voters in the state was down 10 percent, while it was up 3 percent for white voters, Fox News reported. Trump has polled very poorly among black voters. There's more good news for Trump in Iowa: Early turnout among Democrats is well behind 2012's numbers, New York Magazine reported.
While up to 40 percent of the country might end up voting early, data-driven website FiveThirtyEight cautioned against reading too much into the early results. Early votes and the final results don't historically look very similar. That's because early voting is counted only by party-identification — which is unreliable — and the folks who vote early are not representative of the total electorate, FiveThirtyEight reported.
So while early voting might hint at which side has more enthusiasm or a better ground game, the real answers will likely come in about 12 days.
© Copyright IBTimes 2023. All rights reserved.
FOLLOW MORE IBT NEWS ON THE BELOW CHANNELS