Who's That Girl? Fans Have To Check Who Is Playing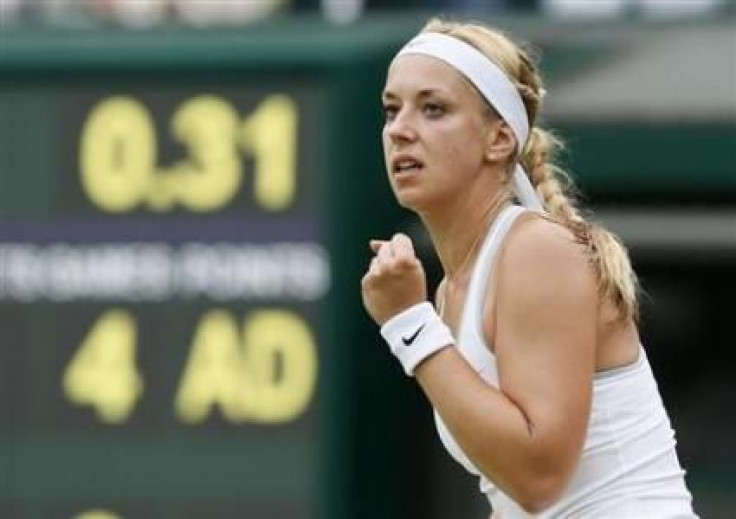 Clutching tickets won in a raffle, acquired through the local tennis club or bought at a charity auction, the fans huddled together on a chilly Center Court all agreed - the Wimbledon women's quarter-finals were low on star names.
But the diehard aficionados ready to queue all night outside the grounds were delighted to find it took them only three hours to get in to watch what Britain's Times newspaper scornfully called "the women you've never heard of."
Five-times champion Serena Williams is out. Maria Sharapova has gone. In the last eight, household names are hard to come by as only three of the top 10 seeds made it into the last eight.
Williams' unexpected downfall in the fourth round prompted American great John McEnroe to quip: "Serena's exit has kept this crazy tournament as crazy as it's ever been!"
With one of the quarter-final line-ups now boasting a showdown between Sabine Lisicki and Kaia Kanepi, fans were feeling a little underwhelmed.
"It has lost its edge. We are slightly disappointed," confessed Daniel Francis, on Center Court with his mother Breda with their tickets won in an auction.
But, eager to put a positive spin on a thoroughly British experience, he said: "I suppose it is good to see the underdogs just like we do in football with the FA Cup."
Jenny Gibbs, enjoying her Center Court debut as a spectator, said: "I must say I was disappointed it wasn't men's tennis. That at the moment is so much better."
Dorothy Richardson agreed: "I am disappointed we are not going to see the stars."
Fourth seed Agnieszka Radwanska is the highest ranked survivor. Name a famous Belgian tennis player and most would pick Kim Clijsters or Justine Henin. Few would choose Kirsten Flipkens, one of the last eight at Wimbledon 2013.
Fans of British number one Andy Murray were fanatical enough to queue from Friday to Monday for a chance to see their hero in action. Such devotion does not stretch to the women's game.
"Seeds are falling like flies," said Michael Ly, a tennis fan from Melbourne, Australia. Delighted that it took so little time to get in, he said: "This is a once in a lifetime thing to do."
Jonathan Down could not believe his luck in the queue. "We got Center Court tickets as there is much less interest."
But Sue Barker, former French Open winner and now a BBC presenter, argued that change was positive.
She told Reuters: "I would love to see Serena and Maria through but times change and times have to change. It's lovely to see new faces and get some new stories."
Men's number one seed Novak Djokovic also welcomed the new-look second week after Roger Federer and Rafa Nadal suffered shock early exits.
"It's good for change in a way because top players are always expected to reach the final stages of major events," he said.
"I think it's interesting also to see new faces for the crowd, for (the) tennis world in general."
But fan Dave Chisholm, quaffing Pimms up on Henman Hill, was not so sure. Sitting with friends on a picnic table looking up at the giant screen put up beside the grassy knoll named after former British number One Tim Henman, he said: "I think we are going to go off and see some of the men's doubles instead."
(Reporting by Paul Majendie, editing by Mitch Phillips and Pritha Sarkar)
© Copyright IBTimes 2023. All rights reserved.