Who's In The Miami Republican Presidential Debate? Donald Trump, Ted Cruz Headline 12th Debate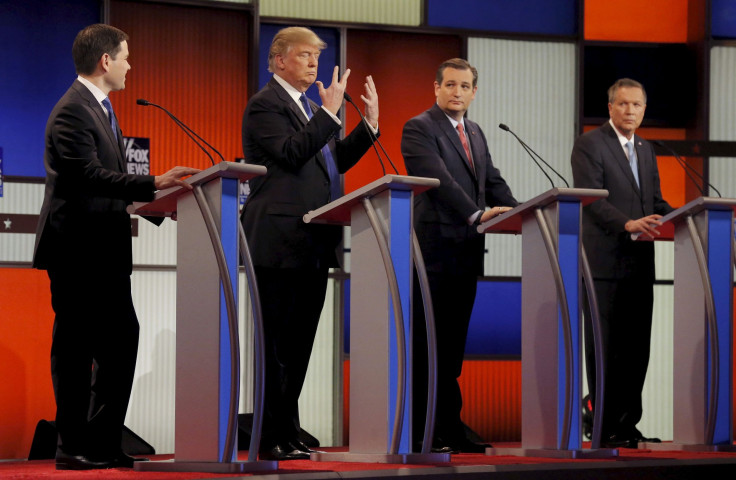 After their last presidential debate in Detroit proved to be a blockbuster for cable news, the Republican candidates will be at it again Thursday in Miami, ahead of the all-important Florida primary. The stakes couldn't be higher for Florida Sen. Marco Rubio, who trailed front-runner Donald Trump by several points in recent polls of Rubio's own constituents.
Rubio and Trump are expected to be joined by Texas Sen. Ted Cruz and Ohio Gov. John Kasich at the University of Miami-hosted event. CNN will broadcast the debate, with help from organizers Salem Radio and the Washington Times, a Washington daily known for having a strong conservative bent. CNN anchor Jake Tapper was announced as the event's moderator.
Rubio is fresh off a victory last Sunday in Puerto Rico's primary, which delivered the 44-year-old politician's campaign 23 presidential primary delegates. But he was not expected to fare well in Tuesday's Michigan and Mississippi contests.
Florida's Republican primary, scheduled for March 15, carries 99 delegates — all to be awarded to winner of the popular vote. Rubio has been able to narrow Trump's lead in Florida, but it may not be enough.
2016 Presidential Primary and Caucus States | InsideGov
A Monmouth University poll released Monday shows Rubio behind Trump, 38 percent to 30 percent. Two weeks ago, a Quinnipiac poll had Rubio behind Trump, 44 percent to 28 percent. There had also been talks within Rubio's campaign that he might end his White House bid before the primary in his home state, given his unimpressive showing on Super Tuesday, CNN reported.
The GOP presidential rivals are meeting one day after a Democratic presidential debate, also held in Miami. U.S. Sen. Bernie Sanders of Vermont and former Secretary of State Hillary Clinton participated in an event hosted by Univision and the Washington Post at the Miami Dade Community College. Rubio and former Florida Gov. Jeb Bush announced their 2016 campaigns at the college. Bush has since dropped out of the race.
© Copyright IBTimes 2022. All rights reserved.
FOLLOW MORE IBT NEWS ON THE BELOW CHANNELS