Why 'Bachelor' Peter Weber Slammed Madison Prewett For Lack Of 'Respect'
There are three sides to every story: his, hers, and the truth, and, in this case, it's Peter Weber's word against Madison Prewett's.
On Tuesday, Madison's dished all about the former "Bachelor" and his rumored new flame Kelley Flanagan during a guest appearance on Kaitlyn Bristowe's "Off The Vine" podcast, but not everyone agrees with her version of the truth.
Underneath the Bachelornation.scoop Instagram account, which shared clips of the interview, Peter tagged his 24-year-old ex, and commented, "You'd think you'd have a little more respect for this situation given we both know there's more to the story."
READ: Why 'Bachelor' Star Hannah Ann Says Peter Weber's Manhood Is Like Cauliflower
In the clips, Madison explained how she was practically blindsided by the news that the 28-year-old pilot and the Chicago-based lawyer were spending time together after pictures of the pair goofing off surfaced in late March.
"We were best friends, actually," Madison said of her relationship with Kelley, adding that they were "inseparable" and known as the "dynamic duo" on the ABC reality series.
"I was definitely hurt and thrown off by that whole situation," she continued. "What was really confusing to me is that two days before [Peter] was spotted in Chicago he was calling me and texting me and being like 'I miss you lets get back together.'"
Madison revealed that when the couple was publicly spotted, she didn't hear from Peter for a few days and when he did reach out, he didn't seem to clarify anything.
"Again, he had texted me two days before, and so when he texted me after it had been out for a couple of days and just kind of sent me this like long, long text just kind of explaining himself, but not really. Kind of sharing the current situation... I was very kind back... I told him, 'What I'm saying, what I'm confused about Peter is two days ago you were telling me how much you love me and wanted to get back together and now you're with the one person that was like my best friend,'" she shared of their conversation.
"It just feels a little hurtful. And, and they did that on my birthday. On my birthday," Madison added. "I think we definitely handle breakups very differently, and I'm not saying one's better than the other, but I mean, that situation definitely caught me off-guard."
Although Peter and Kelley's relationship caught Maidson "off-guard," it's not as far-fetched of an idea to grasp. Viewers of "The Bachelor" know that the two had met prior to appearing on the ABC show. In an interview with Nick Viall earlier this month, Peter gave listeners more background into how they reunited after the series finished filming.
"There's a lot of stuff that people don't know," he began. "My relationship with Kelley has been... serendipitous. You go all the way back to the very beginning—us running into each other before any of this stuff started. Obviously, the show happened and it didn't work out for us."
"She's always been supportive of me," he gushed. "Long story short, I wasn't working so I thought I'd go out there [to Chicago] and spend some time with her, take her mind off some [family] things."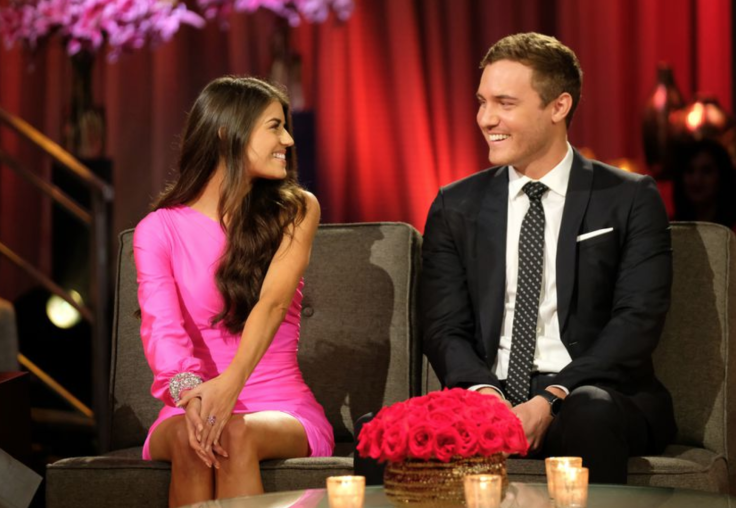 © Copyright IBTimes 2023. All rights reserved.