Why Johnny Depp Refuses To Look At Amber Heard During Her Testimony In Defamation Trial
KEY POINTS
Amber Heard was asked about Johnny Depp's refusal to look at her while on the stand Monday during their ongoing trial
Depp promised his ex-wife that she "would never see his eyes again," one of the actor's lawyers said
Depp's lawyer played audio of one of the exes' last encounters, in which Heard asked to hug the actor to say goodbye
Amber Heard was grilled in court over Johnny Depp's refusal to look at her during her testimony in the former couple's ongoing defamation trial.
Those following the trial, which has been live-streamed since it began in Fairfax, Virginia, in April, have observed that the "Pirates of the Caribbean" star has been looking down the entire time Heard was on the stand.
On Monday, one of Depp's lawyers, Camille Vasquez, brought up her client's refusal to look at Heard while cross-examining the "Aquaman" actress, People reported.
"Mr. Depp hasn't looked at you once this entire trial, has he?" Vasquez asked, to which Heard replied: "Not that I've noticed, no."
Heard acknowledged that she has looked at Depp "many times" throughout the ongoing trial, before confirming that she "knows exactly why" Depp won't look back at her.
"He promised you you would never see his eyes again, is that true?" Vasquez asked. However, Heard told the court, "I don't recall if he said that."
Depp's lawyer then played audio of one of the former couple's last encounters, in which Heard asked to hug Depp to say goodbye.
Despite having filed for a restraining order against him at the time, Heard "summoned" Depp to meet at a hotel in San Francisco in 2016. The actor previously testified that he showed up at the hotel in hopes that Heard "would retract her lies" about him, his attorney said.
"He's kept that promise, hasn't he?" Vasquez asked, referring to Depp refusing to look at Heard, to which the actress responded, "As far as I know, he cannot look at me."
"He won't look at you, right Ms. Heard?" said Vasquez, with Heard replying, "He can't."
David Sherborne, a lawyer who represented Depp when the actor sued the British tabloid The Sun over an article that called him a "wife beater," also previously talked about the recording. He noted that the restraining order said Depp should not come within 100 yards of Heard but that the actress allegedly turned up on her own to ask for a hug.
"The tape recording was made by her, not him," Sherborne claimed. "He wasn't aware of it."
A spokesperson for Heard previously issued a statement about how Depp appeared to be conducting himself in court, saying the actor "does not have the courage to even look at Ms. Heard."
"If Mr. Depp was truly innocent, why has he repeatedly apologized to Ms. Heard and promised to put the 'monster away for good,'" Heard's spokesperson told People earlier in May, adding that one of Heard's "disappointments" is the actor's "inability to distinguish fact from fiction — a malady which appears to have spread to his legal team."
"That same team is so panicked they are fighting tooth and nail to prevent compelling evidence and photos from being introduced," said the spokesperson. "Small wonder Mr. Depp does not have the fortitude or courage to even look at Ms. Heard at all throughout the proceedings — as he could not in the U.K. trial — and, instead he doodles and snickers."
Depp is suing Heard for $50 million over a 2018 Washington Post op-ed in which she called herself a victim of domestic violence. Though he wasn't named in the piece, the actor alleged that it ruined his career and cost him his roles in the "Pirates of the Caribbean" franchise and the "Fantastic Beasts" movie series.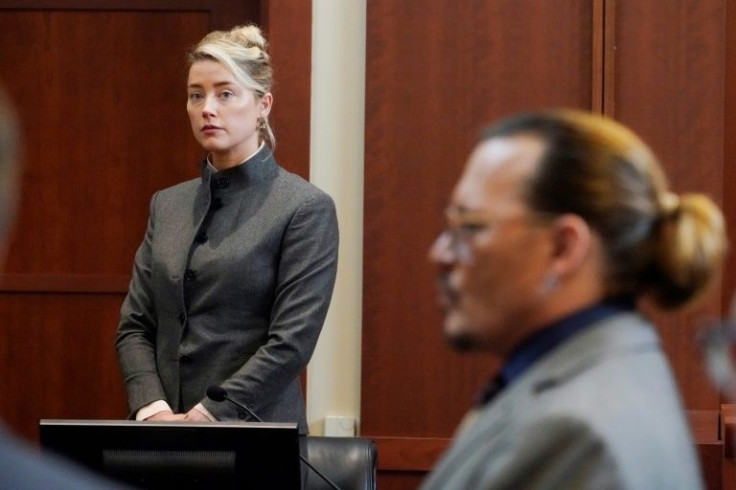 © Copyright IBTimes 2022. All rights reserved.
FOLLOW MORE IBT NEWS ON THE BELOW CHANNELS