Why Kate Middleton Stood In Front Of Meghan During Trooping The Colour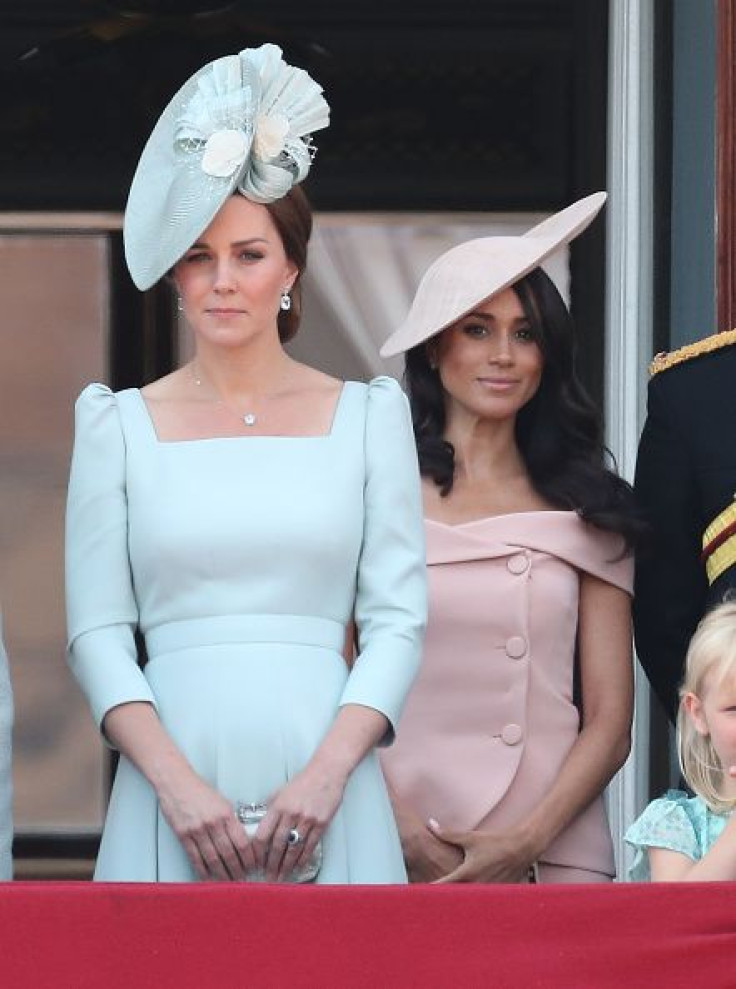 Kate Middleton stood in front of Meghan Markle during Trooping the Colour because of their husbands' rank.
On Saturday, the royal family gathered together to celebrate Trooping the Colour, which is deemed as Queen Elizabeth's second birthday. During the event, the Duchess of Cambridge could be seen standing in front of the Duchess of Sussex. According to Joe Little, managing editor of Majesty magazine, their positions were determined by their ranks.
"She was not as prominent perhaps as some people might have expected, but there's a pecking order," Little told People. "There was no slight intended, but William being the older, more senior brother would go out first with his wife. She was central rather than the alternative of being in the front row and along the balcony to the left or right."
Meanwhile, a palace source said that Markle's position "would have come from her." The insider added that "there's no one laying this out, telling her where to stand. And there were a lot of kids who everyone would want at the front."
In related news, Little said earlier that Markle's pink off-the-shoulder dress during the event didn't break royal protocol. In fact, he praised Prince Harry's wife's stunning look.
"It was deemed by some people to be a bit revealing, but personally I couldn't see any harm in it," Little said about Markle's getup. "She looked great. There are no rules for the birthday parade, but I'm not sure it matters."
On the other hand, Myka Meier does not echo his thoughts. She noted that Trooping the Colour event is seen as a formal event, and Middleton and Princess Diana never wore short sleeves for the occasion.
"In the past, we have seen female royals wearing conservative dress, much like that which you would see at a British wedding: wearing closed-toe shoes, stockings, hats and dresses or skirts with a modest hemline and with sleeves," Meier explained.
Markle is set to accompany Queen Elizabeth II in her visit to Chester. The royals were invited to officially unveil a new bridge in Widnes, Cheshire and open the Storyhouse Theatre.
© Copyright IBTimes 2023. All rights reserved.