Why Mobile Carriers Want You Paying For Your Own Smartphone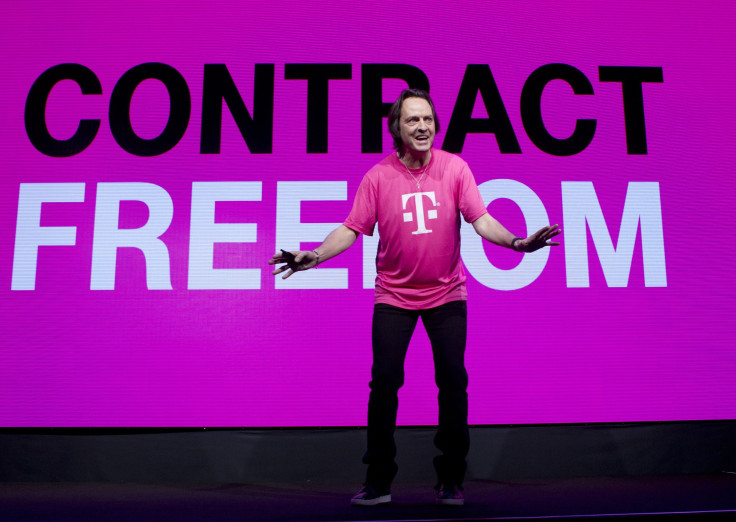 Mobile carriers are pulling out all the stops to gain customers and revenue. Amid deals and cost-cutting services to make their networks more attractive, the four major U.S. players, Verizon Communications, AT&T, Sprint Corp. and T-Mobile have all recently unveiled installment plans. The plans let customers pay for the latest devices over time, and they're catching on.
Such plans usually split the cost of a device into monthly installments over one or two years, which are paid in addition to a service plan.
T-Mobile has notably restructured its entire business model based on equipment payment plans, while AT&T reported in its recent third-quarter earnings that it has seen significant customer acquisition through its AT&T Next program.
Analysts say the market is ripe for such plans, which at this point are an alternative to the standard two-year contract, service that requires an upfront, though heavily subsidized, payment for the phone.
Installment plans offer benefits for both the carriers and consumers, and could become the dominant payment structure for mobile networks. "I expect these types of installment plans are going to completely replace two-year contracts," said Weston Henderek, director for Connected Intelligence with NPD Group.
"You'll see a time when the two-year contract will still technically be available. [Networks] will keep the two-year contract in the billing system just in case someone wants it that way. But all the marketing, all the advertising, all the store reps will be completely focused on the installment plans."
Primarily, customers are attracted to the no money out-of-pocket pricing that comes with installment plans. Over time, these plans can be less costly than two-year contracts. Such plans also can offer early upgrade options, which allow subscribers to get new devices before the end of their contracts. "The success of T-Mobile would indicate that consumers don't just understand EIPs [equipment installment plan], but they love the idea," said Daniel Gleeson, senior analyst with IHS Technology.
But equipment installment plans are not without their caveats. Pricing breakdown can be tricky and customers can end up owing much more than they expected. Buyers will also have to undergo and pass a credit check, with requirements varying by carrier and plan.
One stipulation of installment plans is that the remaining cost of the device becomes due if a customer decides to end a contract early, which could be substantial. "If you leave relatively early you could owe a lot more with the device financing than you would ever with early termination fee," said Recon Analytics analyst Roger Entner.
Additionally, the option to upgrade early is often an extra charge on top of a customer's installment plan and service plan. T-Mobile does this with its Jump Program, which allows subscribers to upgrade early for a $10 fee. Sprint charges an extra $5 within its Easy Pay plan to allow subscribers to upgrade early. Sometimes, customers can get confused and think the "upgrade early" fee is the price of the installment plan.
Verizon's Edge program does not charge an early upgrade fee, but requires customers to have paid for 75 percent of their device's price before they can upgrade. AT&T's upgrade structure is built into its installment plans, in that customers can upgrade every 18 months or 12 months after paying off the full cost of their device.
For carriers, equipment installment plans can make their bottom lines look better. With the traditional subsidy, they take a loss on the cost of devices to give consumers a discount, and must report that loss in their earnings. Installment plans take away that loss. "With installment plans customers are really paying for the cost of the device. Sure there's zero percent financing, but it still looks a lot better from a financial reporting point of view," Henderek said.
Equipment installment plans also allow carriers to market cheaper services plans, since they are no longer intertwined with phone prices. With two-year contracts, carriers would recoup their subsidy losses by increasing the price of a customer's service plan. However, with the cost of service plans added to the total cost of an installment plan, there is a discount, albeit minimal. For example, AT&T indicates over the course of a year, the full cost of its service under AT&T Next 12, device price included, is $1105.80 and its Next 18 service is $1170, while a two-year contract is $1199.99.
Verizon and AT&T are seeing the benefits of using equipment installment plans. Verizon Edge and AT&T Next push their newest, fastest and most data hungry smartphones. Both networks reported lower than expected third-quarter profits last week amid substantial price competition from T-Mobile and Sprint.
While AT&T has been extremely receptive to installment plans, with approximately 50 percent of its new contracts coming through its Next Program, Verizon has been the most resistant. This is largely because the carrier most aggressively pushes its two-year contracts and does not have a forgiving discount structure, leaving little incentive for Verizon customers to switch over to installment plans. Adoption of Verizon Edge is less than 15 percent of the network's total subscribers, which will likely continue to trail behind other carriers as installment plans become more popular.
T-Mobile and Sprint aim to use their Simple Choice and Easy Pay plans to gain market share. Currently, T-Mobile is the fourth largest network in the nation with 50 million subscribers, coming in just behind Sprint's 53 million, but both have less than half of Verizon's 104 million subscribers and AT&T 116 million. T-Mobile has gained more than 17 million new subscribers since March 2013, more than Verizon, AT&T and Sprint in the same period. The carrier is expected to report an increase in profits during its earnings call Tuesday.
"It is doubtful that T-Mobile could have made such a breakthrough without EIP," Gleeson said. "Using EIPs and other initiatives, T-Mobile positioned itself as offering a radically different choice compared to its rivals … despite T-Mobile's actual product being inferior to its competitors in terms of coverage."
Meanwhile, despite several of its efforts with discounted plans, Sprint has been losing customers. New CEO Marcelo Claure said in September Sprint is willing to lose some profitability to bolster customer growth. Recently, Sprint established an equipment installment plan specifically for the iPhone 6 and 6 Plus, which includes the option to upgrade to the latest iPhone each year. The carrier is expected to report that its losses have been cut in half during its earnings call next Monday.
As carriers enter the fourth quarter, each will be depending on the lucrative holiday season as well as the first full quarter of iPhone 6 availability. This is likely where equipment payment plans become even more prominent. The plans already benefit from heavy marketing. Consumers can expect to see more ads and more retail representatives steering subscribers or potential subscribers in the direction of installment plans. But consumers still have the last word, since it is for their dollars that carriers are vying. For now, the choice of mobile plans remains a matter of personal taste.
"If you want to upgrade your phone every year or even faster, or only when it breaks, the equipment financing makes sense," Enter said. "If you like the normal two-year upgrade cycle, the contract, despite it all is actually the better solution."
Correction: As of Tuesday, T-Mobile reported a total of 52.9 million customers. This piece was published prior to T-Mobile's earning's call and referenced second quarter data.
FOR FREE to continue reading
✔️ Unlock the full content of International Business Times UK for free
offer available for a limited time only
✔️ Easily manage your Newsletters subscriptions and save your favourite articles
✔️ No payment method required
Already have an account?
Log in
© Copyright IBTimes 2023. All rights reserved.