Why Scalia Wouldn't Like Merrick Garland: Supreme Court Nominee Considers Intent To Inform Legal Decisions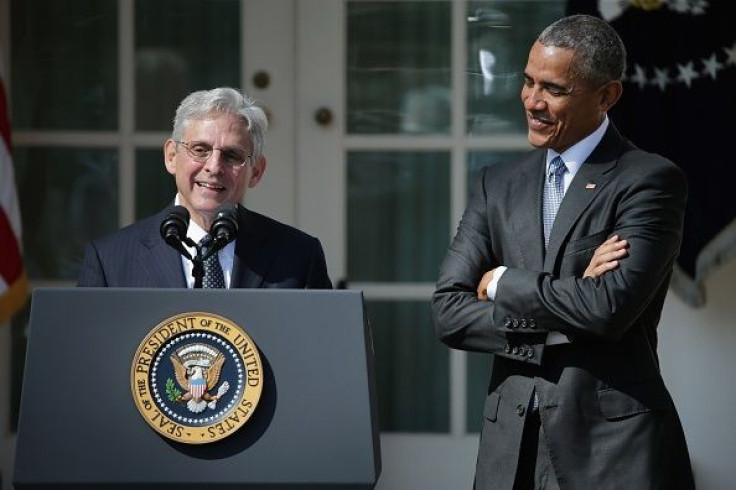 In 1998, U.S. Supreme Court nominee Merrick Garland heard the case Grand Canyon Air Tour Coalition v. Federal Aviation Administration, which revolved around a statute limiting Grand Canyon air traffic to restore the "natural quiet" of the area. Commercial flight operators claimed the law was too restrictive, and one of the questions in the lawsuit was the interpretation of "natural quiet."
Since the text was unclear, Garland looked to what the original intent of the law was: to reduce noise. As a result, he sided with the FAA, recalled Albert Lin, a former Garland clerk and a University of California-Davis law professor.
"It's not self-evident what natural quiet is, so you have to figure out what natural quiet is," Lin said. "Using the intent or purpose of the statute to inform one's interpretation of the term is a logical way of figuring out what a non-self-defining term like 'natural quiet' means."
For Garland, looking at the history of a statute to discern its purpose is often just as important at looking solely at the language of a statute itself. Some of his former clerks and colleagues have said looking at legislative history is one of Garland's underlying judicial philosophies that could shape his service on the Supreme Court if he is appointed by the Senate. While using legislative history to extract meaning is a mainstream legal philosophy, some conservative leaders have argued against the approach, saying that the U.S. is governed by laws, not the intended purpose of those laws.
Garland, chief judge of the U.S. Court of Appeals for the District of Columbia Circuit, was nominated by President Barack Obama to succeed the Justice Antonin Scalia, who died last month. Many have called Garland a centrist, but little is known about his positions on social issues because he rarely made rulings on hot-button issues like abortion and the death penalty while serving on the appellate circuit. Much of his judicial history involved regulatory challenges.
Some media outlets and legal experts have said he would make the court more liberal, while others have called him conservative, referencing his history of being tough on crime. But with cases before the Supreme Court on issues ranging from the Affordable Care Act's contraception mandate to challenges to public sector unions, Garland's use of legislative history may lead to decisions that court watchers might never have dreamed of on a court with Scalia, who consistently criticized the use of legislative history in legal interpretation.
Legislative history can refer to many documents, including committee reports and debate transcripts, which are produced when a law is being challenged and may help clarify why it was adopted. In some cases, the language of a law itself isn't very clear, so when interpreting these laws, judges look to these documents to understand the law's meaning or purpose.
While Garland uses legislative history to interpret the purposes of a law, those who know him say looking at legislative history to determine purpose often plays only a part in his legal decisions. He is also known to look deeply at the actual text of a law.
Eric Berger, a former Garland clerk and current associate dean and law professor at the University of Nebraska, said Garland pays incredible attention to detail, often going through drafts of opinions before making them official and parsing through legal language with a fine tooth comb. Garland would use a law's history to find the purpose of a law if it wasn't clear in the first place.
"He's very thorough," Berger said. "He's going to look very careful at everything that can be seen as relevant, but that doesn't mean he will use everything in making his decision. He may look at some pieces of evidence and see they're not relevant."
This philosophy puts Garland at odds with the justice he would replace. Scalia was an outspoken critic of looking at legislative intent when looking at the law, even writing a book on the subject, and current Justice Clarence Thomas, who was close to Scalia, has also been known to interpret law as originally intended.
"[Garland is] much more inclined to look at legislative history than Justice Scalia," said Robert Klonoff, a professor at Lewis and Clark in Portland, Oregon, and who once worked at the private practice firm Arnold & Porter with Garland. "Scalia looked at the language and the original intent only, and was not open-minded."
While Scalia objected to using the history of a statute to understand the meaning or purpose of a law, he didn't represent the majority of judges, said Bill Eskridge, a law professor at Yale University. Legislative history and legislative text are two pieces of the same instrument when it comes to interpreting law, he said.
"Like almost all of the federal appellate judges, Merrick Garland, like all the best ones, is a careful student of statutory structure, and at the same time looks at, analyzes and understands legislative history as a tool for understanding statutory text, the statutory plan and the statutory structure," Eskridge said.
FOR FREE to continue reading
✔️ Unlock the full content of International Business Times UK for free
offer available for a limited time only
✔️ Easily manage your Newsletters subscriptions and save your favourite articles
✔️ No payment method required
Already have an account?
Log in
© Copyright IBTimes 2023. All rights reserved.