Why Super Bowl MVPs Like Joe Flacco Are Always 'Going To Disney World'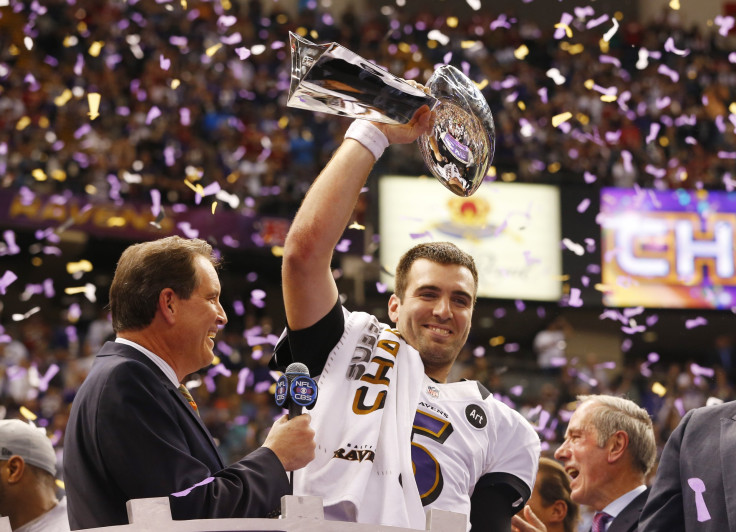 "You just won the Super Bowl. What are you going to do next?" the announcer asked Super Bowl MVP Joe Flacco Sunday night. His answer, of course: "I'm going to Disney World!"
It's no coincidence that every Super Bowl champ has the same post-season vacation plan. Those five words are, perhaps, the most notable travel advertising slogan in history and are ingrained in American pop culture.
While companies dream up imaginative Super Bowl ads to reinvent themselves each year, Disney has held tight to its enduring tradition, captured within seconds of the final whistle. The ad, barely changed in 26 years, appears each Super Bowl Sunday with a brief reel of highlights and shots of Disney World, all set to the song "When You Wish Upon a Star."
This year was no exception, as Flacco helped the Baltimore Ravens seal a 34-31 victory over the San Francisco 49ers in Super Bowl XLVII.
"The world just saw quarterback Joe Flacco lead the Baltimore Ravens to a Super Bowl win tonight in New Orleans, so the only question now is what Flacco is going to do next," Disney's Sports Media Director Darrell Fry wrote on the Disney Parks Blog Sunday night. "Unless you have been stuck inside Space Mountain the last 20 years, the answer is pretty obvious: He's going to Disney World!"
Flacco yelled the iconic words into cameras as confetti rained down from the rafters of New Orleans' Mercedes-Benz Superdome. Within an hour, Disney had released the footage.
True to his words, Flacco's reps whisked him away to Orlando, Fla., Monday morning to lead an afternoon parade down Main Street, USA, in Disney World's Magic Kingdom.
Flacco -- who amassed 287 yards passing, including three first-half touchdowns -- became the 26th Super Bowl MVP to head a commercial and parade for Disney ever since New York Giants quarterback Phil Simms (the color commentator for CBS during Sunday night's game) said the five magic words back in 1987. MVPs Joe Montana, Emmitt Smith, John Elway, Tom Brady and Eli Manning have two Disney ads apiece, while Flacco's teammate Ray Lewis was denied the spot in 2001, because he was under suspicion of murder during the year leading up to the Ravens' 2001 Super Bowl win.
Disney has expanded its "I'm Going to Disney World" campaign to other major televised events, including various sports championships, Miss America pageants and the crowning of American Idols.
Former Disney CEO Michael Eisner credited his wife, Jane, for coming up with the slogan in his 1998 memoir, "Work in Progress." The company reportedly offers the athletes and stars $30,000 for participating in the ads and appearing at the theme park thereafter.
© Copyright IBTimes 2023. All rights reserved.