Why Trump Is 'Beyond Angry' With His Impeachment Trial Defense Team
Watching the impeachment proceedings from his new residence in Florida, former President Donald Trump was outraged with the performance of his defense team, sources say.
Attorney Bruce Castor offered a 45-minute defense of the former president Tuesday as lawmakers debated whether a private citizen could face impeachment after leaving office. Castor acknowledged the prosecution's argument was "well done" and forced the defense to alter its strategy.
The Senate voted 56-44 in favor of the constitutionality of the trial. Six members of the GOP crossed party lines to vote with Democrats, and they apparently weren't the only ones unimpressed by the defense's arguments.
Two sources told Fox News that Trump, watching from his Mar-a-Lago resort in Florida, was "furious" and "beyond angry" with Castor's performance. The former president is said to be in self-isolation at the resort, with his top advisors and family members urging him to keep quiet during the Senate trial.
Already banned from his favored platform, Twitter, those in his inner circle are worried that a former president known for fighting back could jeopardize his fate in the Senate. Instead, The Washington Post reported, Trump is leaning on Reps. Matt Gaetz, R-Fla., and Jim Jordan, R-Ohio, to speak on his behalf.
Gaetz, from his Twitter account, doubled down on the idea that Democrats were politicizing the Jan. 6 riots at the Capitol building that led to an article of impeachment filed against Trump for the second time during his presidency.
Trump, however, was not the only one unhappy with Castor's presentation on Tuesday. Sen. Bill Cassidy, R-La., changed his position on the proceedings after hearing from House impeachment managers.
"If anyone disagrees with my vote and would like an explanation, I ask them to listen to the arguments presented by the House Managers and former President Trump's lawyers," Cassidy said in a statement. "The House managers had much stronger constitutional arguments. The president's team did not."
The former president was convicted in the House of one count of impeachment for inciting an insurrection on Jan. 6. To be convicted in the Senate, a two-thirds majority, 67 members, would need to vote "yay."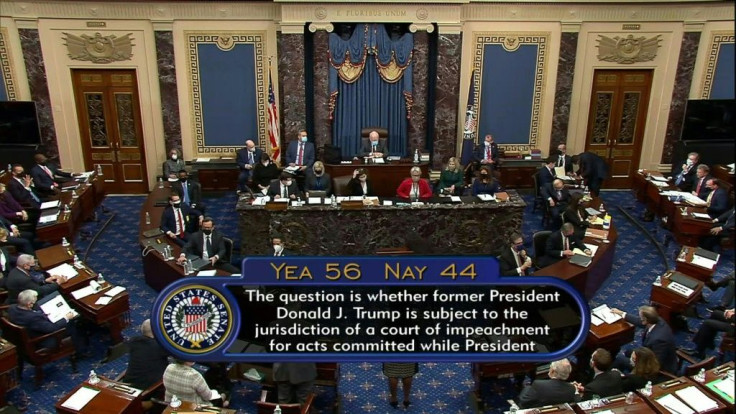 © Copyright IBTimes 2023. All rights reserved.