Why Was James Comey Fired? FBI Director Called It 'Fairly Funny Prank' Before Receiving Termination Letter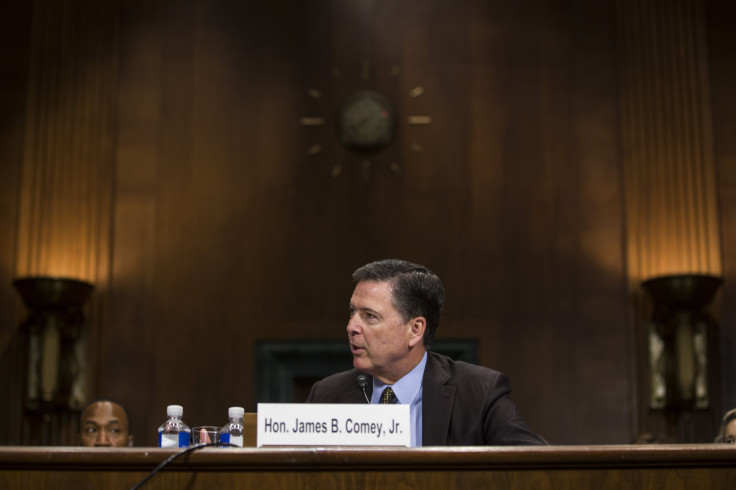 President Donald Trump fired FBI Director James Comey over his handling of the inquiry into Hillary Clinton's emails, the White House announced Tuesday.
A White House Statement released by the Office of Press Secretary said: "Today, President Donald J. Trump informed FBI Director James Comey that he has been terminated and removed from office. President Trump acted based on the clear recommendations of both Deputy Attorney General Rod Rosenstein and Attorney General Jeff Sessions."
The statement also said the "search for a new permanent FBI Director will begin immediately."
Currently, the acting FBI director is Andrew McCabe, who was Comey's deputy before he was fired Tuesday. Attorney General Jeff Sessions is expected to name an interim FBI director in a few days while the administration continues to search for a permanent replacement.
Read: FBI Director James Comey To Talk Russia, Trump Wiretap Before House Intelligence Committee
Comey was fired after he provided inaccurate information about Hillary Clinton's emails to Congress last week. His dismissal came days after he testified on Capitol Hill May 3 about Clinton's use of a private email server as secretary of state and the bureau's investigation into Russian dealings with the presidential elections.
Comey incorrectly testified former Clinton aide Huma Abedin had "forwarded hundreds and thousands" of emails to her husband's laptop, including some containing classified information.
However, the FBI said in a two-page letter Tuesday to the Senate judiciary committee only "a small number" among the thousands of emails found on the laptop had been forwarded to Abedin's husband's laptop, while some others had been mostly backed up from electronic devices.
Comey received the news of his dismissal while he was addressing FBI agents in Los Angeles and a television in the background flashed the news of his firing. Initially Comey thought it was a "fairly funny prank" until his staff asked him to step into a nearby office.
He then confirmed the news he had been fired. Soon after the incident, a letter from Trump was delivered to the FBI's headquarters.
In the letter addressed to Comey, the president wrote: "While I greatly appreciate you informing me, on three separate occasions, that I am not under investigation, I nevertheless concur with the judgment of the Department of Justice that you are not able to effectively lead the bureau."
"It is essential that we find new leadership for the FBI that restores public trust and confidence in its vital law enforcement mission," Trump continued.
Attorney General Jeff Sessions' letter to the president was also released Tuesday, where he stated he has "concluded that a fresh start is needed at the leadership of the FBI."
"It is essential that this Department of Justice clearly reaffirm its commitment to longstanding principles that ensure the integrity and fairness of federal investigations and prosecutions. The Director of the FBI must be someone who follows faithfully the rules and principles of the Department of Justice and who sets the right example for our law enforcement officials and others in the Department," Sessions wrote
Trump's dismissal of Comey was criticized by Democrats and some said the president fired him because the FBI was investigating alleged links between Moscow and the Trump campaign. Even Republicans voiced their concerns about Trump's sudden firing of the FBi director.
A letter from Deputy Attorney General Rod Rosenstein was also released Tuesday calling Comey "an articulate and persuasive public speaker about leadership" but that Rosenstein "cannot defend the Director's handling of the conclusion of the investigation of Secretary Clinton's emails, and I do not understand his refusal to accept the nearly universal judgment that he was mistaken."
"Almost everyone agrees that the Director made serious mistakes; it is one the few issues that unites people of diverse perspectives," Rosenstein wrote in his letter.
© Copyright IBTimes 2022. All rights reserved.
FOLLOW MORE IBT NEWS ON THE BELOW CHANNELS