Will 'Halt And Catch Fire' Get Cancelled Or Renewed? Season Finale Numbers Look Grim For Season 2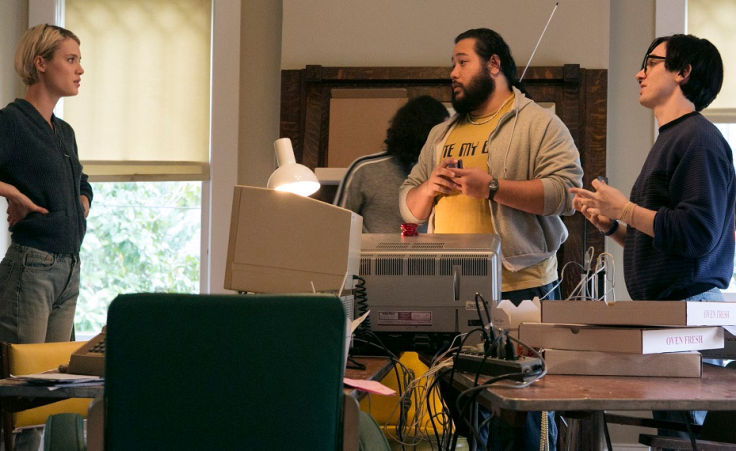 Fans have yet to receive word on whether or not AMC will renew the computer drama "Halt and Catch Fire." The show's premiere season ended Sunday night with the "1984" finale. However, the ratings for the final episode do not bode well for the tech-centered series.
The season finale of "Halt" drew only 574,000 viewers, according to TV Line. That's a sharp drop off from its premiere audience of 1.2 million. For some context, fellow AMC show "Turn," whose renewal has already been announced by the network, drew 1.6 million viewers for its own season finale.
AMC appears to be in a bind with "Halt and Catch Fire." The networks flashy promos and the show's edgy style and synth-pop music choices (the first promos featured "Sweet Dreams" by The Eurythmics) seemed to promise a groundbreaking show for the future, a promise that AMC, much like "Halt's" characters with their computer, might be reluctant to give up on. This could especially be true as critical acclaim for the show has picked up following its stronger later episodes (while, ironically, viewership has declined).
AMC has been here before with their programming. "Breaking Bad" famously skyrocketed in popularity during its later seasons, buoyed by strong word of mouth and the onset of Netflix binge watching. However, even the Season 1 finale of "Breaking Bad" managed to pull in 1.5 million viewers, well above "Halt's" 574,000 (though with a less fragmented audience in 2008). The creators of "Halt" hope AMC extends them the same patience as it did to "Breaking Bad."
Viewers can catch up on "Halt and Catch Fire" (or watch for the first time) on AMC's website, which has all ten of the first season's episode available for streaming. In the meantime, fans can only speculate as to what a Season 2 might hold and wait on AMC's decision.
Do you think the ratings have doomed "Halt and Catch Fire?" Tweet your thoughts to @Ja9GarofaloTV.
© Copyright IBTimes 2023. All rights reserved.