Will Jeff Sessions Be Replaced? Trump Speaking To Various People About It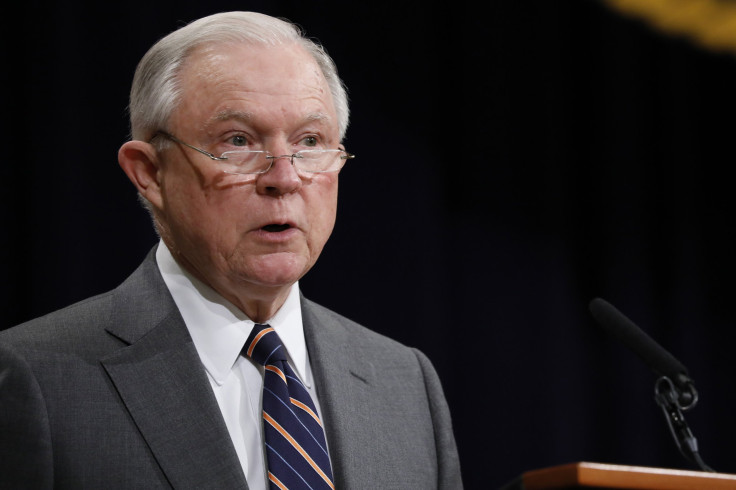 President Donald Trump recently discussed his keenness to replace Jeff Sessions as attorney general to Session's own chief of staff, The Washington Post reported Wednesday.
According to people briefed on the conversation, the discussion between the president and Matthew G. Whitaker was not clear as there is still no clarity if Whitaker would take over the capacity on an interim basis or be promoted to a more "permanent capacity." The intentions of the president were not definite, they said.
The conversation reportedly occurred last month when Deputy Attorney General Rod Rosenstein, who appointed special counsel Robert Mueller to probe possible Trump campaign collusion with Russia during the 2016 election, offered to resign after reports indicated he had spoken about wiretapping the president.
Whitaker, at the time, was lined up to replace Rosenstein in an "acting capacity." Solicitor General Noel Francisco was suggested to oversee the probe.
Trump showed his disapproval of Sessions after the latter recused himself from overseeing the Mueller's investigation in 2017.
"The Russian Witch Hunt Hoax continues, all because Jeff Sessions didn't tell me he was going to recuse himself...I would have quickly picked someone else. So much time and money wasted, so many lives ruined … and Sessions knew better than most that there was No Collusion!" Trump tweeted in June.
There are also rumors of South Carolina Sen. Lindsey Graham replacing Sessions doing the rounds now. Some say UN Ambassador Nikki Haley, who will leave her post later this year, is reportedly looking to take Graham's seat as he moves to replace Sessions. However, in an interview with Fox News on Wednesday, he completely denied them saying he is happy with his current position.
He had earlier said in August that Trump is looking at replacing Sessions after the midterm elections in November and though he personally likes Sessions, Trump deserved an attorney general he had "faith in."
Trump has also publicly expressed his dislike on several occasions. In an interview with Hill.TV in September, Trump attacked Sessions by offering a severely critical assessment of his performance in office.
"I don't have an attorney general. It's very sad," he said.
While referring to the Russian inquiry, Trump added he is not happy with numerous things not just this. Trump also suggested he appointed Sessions out of blind loyalty.
"I'm so sad over Jeff Sessions because he came to me. He was the first senator that endorsed me. And he wanted to be attorney general, and I didn't see it," Trump said.
He, however, did not offer a firm answer when asked about Sessions' future. "We'll see what happens. A lot of people have asked me to do that. And I guess I study history, and I say I just want to leave things alone, but it was very unfair what he did. We'll see how it goes with Jeff. I'm very disappointed in Jeff. Very disappointed," he added.
However, The Washington Post quoted White House officials as saying that Rosenstein and Sessions are safe until the midterm elections as going against them at this time could be damaging to Republicans in close races. But, the Justice Department expects them to be fired "in short order" after that. It is, however, unclear if Whitaker would be a part of the plan.
© Copyright IBTimes 2023. All rights reserved.