Will Mark Cuban Run For President As A Republican Or Democrat In 2020?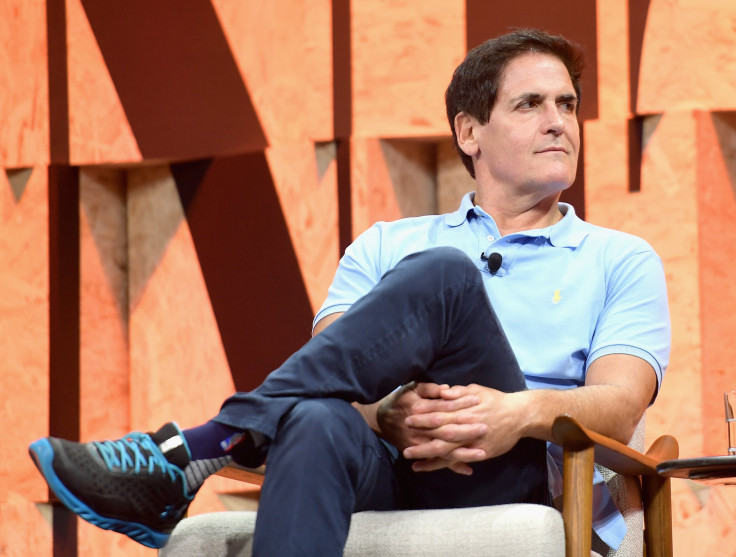 The ascendency of Donald Trump from billionaire real estate mogul to reality television star to Republican longshot candidate to President of the United States has laid the groundwork for wealthy businessmen who could potentially run in 2020.
Facebook founder Mark Zuckerberg, media mogul and former New York Mayor Michael Bloomberg, hedge fund manager Tom Steyer, JPMorgan Chase CEO Jamie Dimon, media mogul Oprah Winfrey and former Starbucks CEO Howard Schultz are just some of the names that have been linked to a possible presidential run.
But perhaps the most ubiquitous possible candidate is Mark Cuban. During the 2016 campaign, Cuban was seen on just about every news channel discussing politics and serving as an opposition force to Trump.
The seeds have long been planted for Cuban to at least test the presidential waters, though he firmly rejected the idea at first. When asked in 2014 by CNN's S.E. Cupp if he'd consider running, Cuban replied: "Hell f---ing no."
Cuban, a native of Pittsburgh with an estimated net worth of $3.3 billion, appears to have since warmed to the notion. The 59-year-old has stepped up his criticism of Trump while also flirting with similar White House aspirations.
At a March panel at South by Southwest in Austin, Texas, Cuban told the crowd that he has "a lot of time to decide" about a presidential run and that "we'll see what happens." He talked with sports broadcaster Rich Eisen in August and echoed a similar sentiment about a potential presidential bid.
"I wouldn't put it high on my list of probabilities, but we'll see what happens," Cuban said. "I've got a lot of time to decide. I mean, it's flattering that people ask me, and I appreciate it and there's definitely a leadership void in this country. But I'm not jumping in.
"I'm a big believer that you don't just (run for president) to try to pretend to be a politician. You have to have solutions, and I'm working on some projects that if I think they can turn into solutions, then yeah, I'll do it. If I don't think I have the right answers, then I won't."
However, Cuban has looked more and more like a potential candidate in recent weeks. At a business conference in Atlanta on Oct. 12, he said he was "seriously considering" running.
Though Cuban's resume lacks the perceived qualifications for president, the political climate may have forever changed when Trump shook up the establishment by winning the Republican nomination.
"The truth is that (Trump) is a political independent, and he obviously won the nomination and the presidency by disrupting a lot of norms that Republicans had assumed about their own party and their own voters," Ben Domenech, publisher of conservative website The Federalist, told the New York Times in September.
Having initially gained recognition for founding internet radio company Broadcast.com in the mid-1990s, Cuban later became a highly visible entrepreneur who was often seen arguing with NBA referees as the owner of the Dallas Mavericks. Like Trump, Cuban was not shy about starring on reality television programs, as he headlined one season of "The Benefactor" and still appears on "Shark Tank."
Though Cuban has the name recognition to mount a meaningful campaign in 2020, it remains unclear what type of candidate he would be or how he would distinguish himself from what will likely be a crowded field. Trump is expected to be challenged in the primaries, and there is a long list of Democrats looking to take back the White House after winning the popular vote in seven of the last eight presidential elections.
Cuban's possible candidacy is clouded by inconsistent viewpoints and sometimes blase interest in the political process. Over the years, he has vacillated on issues in a similar manner to Trump. Should Cuban mount a serious campaign, many voters may feel ambivalent over what type of president he would be, especially considering he doesn't neatly fit into either major party's platform.
While first openly espousing libertarian viewpoints in the 1990s, Cuban still gave campaign contributions to both Republican Sen. Orrin Hatch of Utah as well as the Republican National Committee, according to Relationship Science and OpenSecrets.org.
As early as August 2015, Cuban showed half-hearted interest in Republican fiscal ideals, even openly claiming that he "would prefer to be a Republican" in a post on his social media app Cyber Dust. Cuban added that he supports smaller government, just like Republicans, but disagreed with the party on social issues.
He also said "the Republican Party requires that all their Presidential candidates Conform to Consensus," while adding that it's an issue that also plagues Democrats. Cuban made sure to throw in: "but I don't want to be a Democrat."
In recent years, Cuban's shift from conservative policy stances has coincided with his personal feud with Trump. On Monday, the Washington Post published an article describing Cuban and Trump as "longtime frenemies," while detailing their long and contentious relationship. After Trump slammed him for "The Benefactor," Cuban became a growing vocal Trump critic, even going as far as to ask in an endorsement speech for Hillary Clinton: "Is there any bigger 'jagoff' in the world than Donald Trump?"
But on Nov. 22, 2016, two weeks after Trump secured his election victory, TMZ posted a picture of Cuban seated at a small table in New York with Trump chief strategist Steve Bannon. In a phone interview in February with CNBC, Cuban said the meeting was about "just saying hi."
On Tuesday, TMZ posted a video in which Bannon is asked if Cuban would be taken seriously as a Republican candidate. In a faintly audible response, Bannon appeared to say, "not as a Republican; as a Democrat."
Bannon may have a point, as Cuban's recent position on taxes might reveal he has more Democratic leanings — a sharp reversal from previously agreeing with the GOP on fiscal issues that have typically included tax cuts for the rich. He once stated that "those of us who have benefited from our way of life here in the United States have also got to be willing to share a little bit more and pay a little bit more." In October 2016, he told CNN, "after military service, the most patriotic thing you can do as a wealthy person is pay your taxes." Cuban has also stated that health care should be a right and has offered thoughts to improve the Affordable Care Act rather than overhaul or repeal it.
Like other rich businessmen lacking public-sector experience, Cuban is not always firm with his stances on social issues — a potential obstacle for him to be fully accepted by loyal Democrat and Republican voters. He has not staked a position on abortion rights or gay marriage, while also admitting to being uninformed on government surveillance.
Meanwhile, there is a strong possibility that if Cuban runs, he doesn't do it as a Democrat or a Republican. At the Atlanta business conference earlier this month, he added that he "maybe" runs as an independent. In February, he flat out said on MSNBC that he is an independent.
It's also possible that Cuban starts his own party. He had once stated, "I don't think anybody identifies with either party any longer. ... I'd love to see a third party form."
© Copyright IBTimes 2023. All rights reserved.
FOLLOW MORE IBT NEWS ON THE BELOW CHANNELS