Will Melania Trump Live In The White House? Maybe A Salary For The First Lady Is The Answer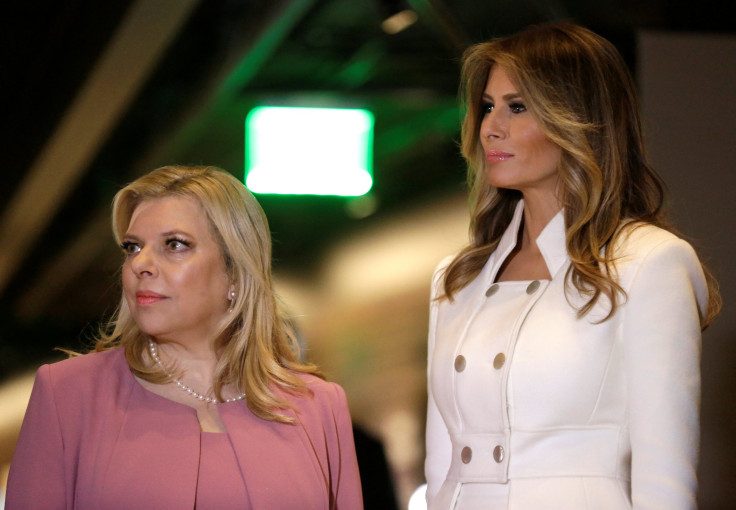 To get Melania Trump to assume the duties of first lady, we just might have to pay her. The former model and third wife of the president has been an infrequent visitor to the White House since her husband's inauguration and reportedly will share an office with her step-daughter, Ivanka.
Ronald Reagan once joked that the government was keeping wife Nancy as busy as he was. During the 2016 campaign, Bill Clinton joked during the 1992 president campaign if he were elected, the nation would be getting two presidents for the price of one.
Even though the job of first lady has no official duties, traditionally she has been the White House hostess, planning state dinners and other social functions. Since Eleanor Roosevelt, she also has championed a cause: Michelle Obama chose fitness, Laura Bush and Barbara Bush chose literacy, Hillary Clinton championed healthcare and women's rights, and Nancy Reagan just said no to drugs.
But Trump, the first foreign-born first lady since Louisa Adams, the wife of John Quincy Adams, a month into her husband's presidency has kept her distance, opting to stay in New York, at least until son Barron finishes the school year.
She did turn up in Washington last week, her first trip since the Jan. 20 inauguration, for the visit Israeli Prime Minister Benjamin Netanyahu and his wife. And the week before, Trump escorted Japanese Prime Minister Shinzo Abe's wife around Palm Beach, Florida.
Maybe she would be taking a more active role if a paycheck were involved. After all, the libel suit she filed against the British newspaper the Daily Mail indicated she planned to monetize her stint in the White House as "one of the most photographed women in the world."
But there's a problem. The president can't appoint the first lady to an official, paid position. That would violate nepotism rules.
Salary.com has estimated the first lady's role is worth an annual salary of $173,500, a job that is part nonprofit executive, communications executive, event director, secretary to the CEO and interior designer.
Though the first lady isn't paid, she does manage a paid staff. Trump made her first hire Feb. 8, appointing Anna Cristina "Rickie" Niceta Lloyd as her social secretary. Niceta Lloyd has been around Washington's power circles for two decades and her husband is the grandson of "Bunny" Mellon, who helped Jacqueline Kennedy Onassis design the White House Rose Garden.
Lisa Kathleen Graddy, curator of the Smithsonian's exhibition on first ladies, told the New York Times it's not unusual for first ladies to take their time to find their footing.
"Each one's had her own adjustment period, and some never really adjusted at all," Graddy said.
Researchers have been comparing Trump's decision to stay in New York to Bess Truman's preference for Independence, Mo. Truman's sentiment was since she was not elected, the public deserved only "a certain amount of [her] time."
FOR FREE to continue reading
✔️ Unlock the full content of International Business Times UK for free
offer available for a limited time only
✔️ Easily manage your Newsletters subscriptions and save your favourite articles
✔️ No payment method required
Already have an account? Log in
© Copyright IBTimes 2023. All rights reserved.