Will Melania Trump Live In The White House? Why Barron, First Lady Won't Be Moving To DC Just Yet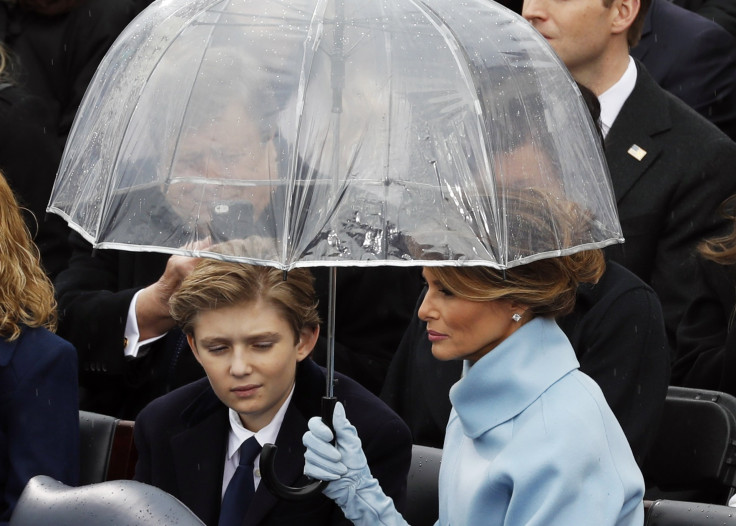 First lady Melania Trump never had any intention of moving into the White House when her husband was elected the 45th president of the United States. The businesswoman, model and mother to 10-year-old Barron Trump had long said she would stay in her $100 million penthouse in New York City as President Donald Trump kicked off his first 100 days in office, cheering him on above the clouds from the 66th floor of the Trump Tower skyscraper.
The first lady has obligations as a mother grounding her in the family's luxurious hometown of Manhattan. Trump's son Barron, who is reportedly attending 4th grade at Columbia Grammar and Preparatory school in New York City, is expected to finish his year of studies before moving to Washington, D.C. to live in the first family's presidential quarters inside the White House. The Trumps dole out $45,000 annually for Barron to attend the private school; this year, parents of his peers are worried over security concerns surrounding a member of the first family studying in New York City, according to reports.
A first lady and her son living outside of Washington creates unprecedented challenges in modern American history for the Secret Service — as well as a contentious debate over who should pay for the billionaires' security as they choose to reside outside of the capital.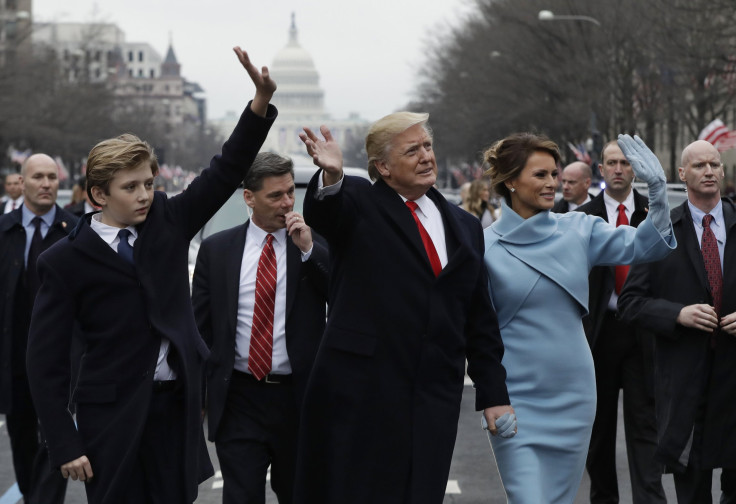 New York Mayor Bill de Blasio requested the federal government foot the $35 million bill for the additional costs of resources it will take local authorities to secure the first family as they travel to and from Trump Tower, Barron's schooling on the upper west side of the city and other frequent activities. The mayor also noted the city has been forced to hire 50 additional police officers after Trump Tower created extensive traffic problems along Fifth Avenue after Trump's successful 2016 presidential election.
"We are particularly concerned about overtime costs, and we think it's a very valid situation to turn to the federal government for the maximum possible reimbursement for those costs," de Blasio told reporters in November. "We owe that to the president-elect, his family, his team, and that is important for all New Yorkers so that will be the most important consideration, but we believe we can balance that with a number of measures to keep traffic — both pedestrian and vehicular traffic — moving as well as possible."
De Blasio added that, until the first family officially moves out of Trump Tower, avoiding that area of the city will simply make "your own life easier and everyone's life easier."
The Trumps have already gotten a head start on redesigning the interior decorations of the White House and the president's Oval Office, replacing former President Barack Obama's crimson red drapes with bright gold ones, as well as a bust of Teddy Roosevelt. As for when the first lady and their son will move into the White House, Trump's former transition spokesperson Jason Miller told CNN that time will likely come once Barron is done with this year of schooling.
"Like any parents, they are concerned about pulling their 10-year-old son out of school in the middle of the year," Miller said. "We would also appreciate the same privacy and security considerations given to previous First Families with regard to minor children be extended to the Trumps as well."
© Copyright IBTimes 2023. All rights reserved.