Will 'Outlander' Stars Appear on Sam Heughan's New Scottish Show 'Clan Lands'?
"Outlander" stars Sam Heughan and Graham McTavish have been teasing fans with the details of their new show "Clan Lands." It sounds like they won't be the only familiar faces on the series.
"I don't want to give too much away but it's safe to say there will be the occasional little visit from some people and hopefully they are nice surprises for viewers," McTavish told the Scottish Sun.
It seems "Clan Lands," announced over the summer as a podcast, has evolved quite a bit over the last few months. It's now a TV show (though it doesn't have a network yet), showcasing Scottish destinations, culture and history.
"It turned into three cameras plus a drone, full crew and locations all over Scotland," the Dougal actor told the outlet. "We have lots of interesting guests, some surprises and it has taken on a life of its own. We are very excited."
McTavish added that the show's subject matter lends itself to a visual medium. "Clan Lands" explores Scottish history, and that means visiting historical sites. Scotland is known for its beautiful castles and Highlands.
"The idea was to do a podcast and then the more we talked we thought, 'Why not film it?'" he explained. "It's visually incredible so it's morphed into something that is so much more."
McTavish and Heughan have been keeping viewers updated on social media. They've been shooting at Loch Ness and other Scottish historical sites. They seem to be having fun, most recently posting a photo of them sharing a tandem bike.
Both McTavish and Heughan just spent the weekend in the states. They each attended New York Comic Con for other projects. McTavish was promoting "Castlevania" Season 3 while Heughan was there for "Outlander" Season 5.
At the panel for the Starz time travel drama, Heughan appeared with Caitriona Balfe, Maria Doyle Kennedy, David Berry and Duncan Lacroix as well as executive producers Ronald D. Moore and Maril Davis along with author Diana Gabaldon. They debuted a new trailer for "Outlander" Season 5, seen at the top of this page.
"Outlander" Season 5 returns Feb. 16. Fans will have to wait for Heughan and McTavish to shop "Clan Lands" to networks before the series gets an air date.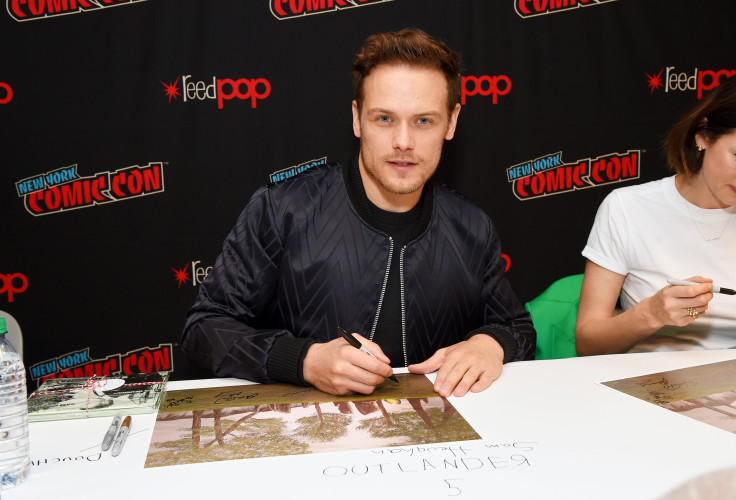 © Copyright IBTimes 2023. All rights reserved.