Will Paul Ryan Endorse Donald Trump? GOP Leaders Hold Washington Meetings To Unite Fractured Republican Party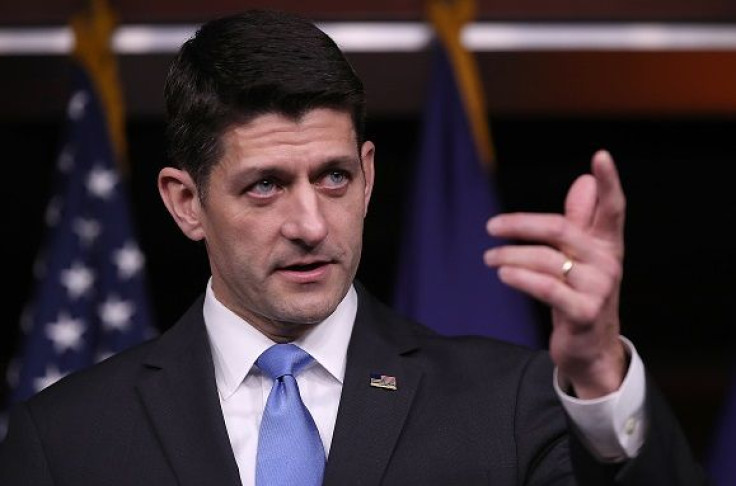 UPDATE: 11:50 a.m. EDT — House Speaker Paul Ryan told reporters Thursday that he was "very encouraged" by his meeting with Donald Trump but did not endorse the New York real estate magnate.
"I think we had a very encouraging meeting," Ryan said during his weekly media briefing, adding that he expected this meeting to be the first in an evolving process. "This is our first meeting. I was very encouraged with this meeting, but this is a process. It takes some time; you don't put it together in 45 minutes," he said.
Ryan said he and Trump discussed both their differences and areas where they agree, such as wanting to prevent Hillary Clinton from becoming president. "We are now planting the seeds to get ourselves unified, to bridge the policy differences," Ryan said.
Trump Endorsements from Political Figures | InsideGov
UPDATE: 11:12 a.m. EDT — House Speaker Paul Ryan and Donald Trump released a joint statement about their meeting Thursday morning, saying they had "a great conversation," and the meeting represented a "very positive step toward unification."
"While we were honest about our few differences, we recognize that there are also many important areas of common ground. We will be having additional discussions but remain confident there's a great opportunity to unify our party and win this fall, and we are totally committed to working together to achieve that goal," the statement said.
Around the same time Ryan and Trump were wrapping up their meeting, Sarah Palin posted a statement on Facebook criticizing Ryan for failing to back Trump.
"Trump has a pow-wow with unsupportive GOPe [sic] House leader Paul Ryan today. Anticipate Ryan, after following crucifiers of our conservative front-runner and all of his early supporters, to now position himself as the leader of those politico wussies to the cool kids' table. Typical politics. Makes me ill. DJT can't capitulate," Palin wrote.
"The holier-than-thou GOP that sees elections as merely a moneymaking business has stomped all over We the People for the last time. They got us into the mess we're in with their failed, capitulating agenda that's gone along with Obama's fundamental transformation of America that includes devastating debt increase, deadly open borders, failed foreign nation building, exporting jobs, dividing the country and quashing American exceptionalism... while laughing all the way to their personal bank accounts," she wrote.
After Ryan's comments last week saying that he was not ready to support Trump, Palin announced she would work to defeat Ryan in his primary election this year. Trump disavowed her remarks, noting she was "very much a free agent."
Original story:
Donald Trump and House Speaker Paul Ryan met Thursday morning as Republicans remain deeply divided over their presidential nominee and the future of their party. The meeting comes at a critical point in the 2016 election and aimed at soothing tensions as Republican leaders battle over control of the GOP.
Republican National Committee Chair Reince Priebus, who also attended the meeting with Ryan and Trump, said on Twitter Thursday that the huddle was "a very positive step toward party unity."
The New York real estate magnate was also huddling with other House Republican leaders in a show of reconciliation and as a get-to-know-you meeting. Thursday was only the second time Trump and Ryan have met face-to-face, ABC News reported. The first occasion was a 2012 fundraising event for Mitt Romney, who is now a vocal critic of Trump's candidacy.
Ryan sent shockwaves through conservatives last week when he said he was "not ready" to support Trump, emphasizing that Trump had not proved he could be "a standard-bearer who bears our standard." He told CNN's Jake Tapper that the New York real estate magnate needed to tone down his rhetoric before Ryan would feel comfortable backing him.
Of course, Trump did not let this slide. He responded defiantly by saying he had a mandate from the American people but did not resort to his usual personal insults. "I am not ready to support Speaker Ryan's agenda," Trump said in a statement last week.
As the nation's highest-ranking GOP official, Ryan had previously pledged to support whoever became his party's nominee, and his decision to hold off on an endorsement was seen as evidence of how controversial a candidate Trump has become. Ryan disagrees with Trump on far more than his bombastic personality and offensive comments; the House speaker has built his career on championing conservative economic policies, including entitlement reform, which Trump has abandoned.
Ryan has repeatedly said he hopes to unify the party, but he has also spent the past several months pushing his own policy agenda, which he has branded as his vision for a "Confident America." Earlier in the 2016 primary season, many establishment Republicans wanted to stop Trump by nominating a white knight candidate at the party's national convention this summer, and some hoped that savior would be Ryan. The speaker denied he was interested in seeking the nation's top office and eventually ruled out a 2016 presidential run, but many see his actions as setting up a 2020 bid for the White House.
For now, many of Ryan's colleagues in the House and Senate are still uncomfortable with Trump as their nominee and have seemed grateful that Ryan is buying them some time to figure out how to handle what many see as a politically dangerous situation.
Ryan has said he would step down as chair of the Republican National Convention if Trump asks but told reporters Wednesday that he hoped Thursday's meetings would result in real healing so the Republican Party could move forward together, NBC News reported.
"What we are trying to do is to be as constructive as possible, to have a real unification," he said.
"To pretend we're unified without actually unifying, then we go into the fall at half-strength," Ryan added. "This election is too important to go into an election at half-strength."
FOR FREE to continue reading
✔️ Unlock the full content of International Business Times UK for free
offer available for a limited time only
✔️ Easily manage your Newsletters subscriptions and save your favourite articles
✔️ No payment method required
Already have an account? Log in
© Copyright IBTimes 2023. All rights reserved.