Will Steve Bannon Testify Before Jan 6 Committee?
Former U.S. President Donald Trump reportedly will allow his former White House Chief Strategist Steve Bannon to testify before the Jan. 6 committee by waiving his executive privilege.
Trump would have to send a letter to Bannon, letting him know that he no longer has the executive privilege Trump granted him while in office, according to the Washington Post. The letter would allow Bannon to testify before the Select Committee to Investigate the Jan. 6 Attack on the U.S. Capitol. The Committee will hold its next public hearing on Thursday.
However, Bannon would have to reach a deal with the Committee, which already referred him for criminal charges, with two counts of contempt of Congress. Bannon claimed his executive privilege prevents him from testifying or turning over documents and pled not guilty to the charges in November. His trial will start later this month, according to CNN.
Still, Trump would not need to claim executive privilege if Bannon never had such privileges. Notably, Bannon left his position at the White House before Jan. 6, 2021. He resigned in Aug. 2017.
Committee chair Bennie Thompson wrote to Bannon's attorney in Oct. 2021 that even if Bannon was still at the White House on Jan. 6, he is "hiding behind the former president's insufficient, blanket and vague statements regarding privileges he has purported to invoke. We reject his position entirely."
Certain lines of questioning by members of the Committee may fall under executive privilege depending on when the events in question occurred. It is likely many of the questions would not encroach on executive privilege. Bannon and Trump remained close, even after Bannon left the White House, though it is unclear where their relationship currently stands.
Federal judges repeatedly rejected claims by Trump loyalists that their lack of cooperation with the Committee is because their line of questioning falls under executive privilege. Recently, according to court documents, Bannon's lawyer Robert Costello also asked if he could withdraw from representing him as he could be a witness at the trial.
Costello claimed that he was the "sole basis of information about the facts and the law concerning this matter" for Bannon.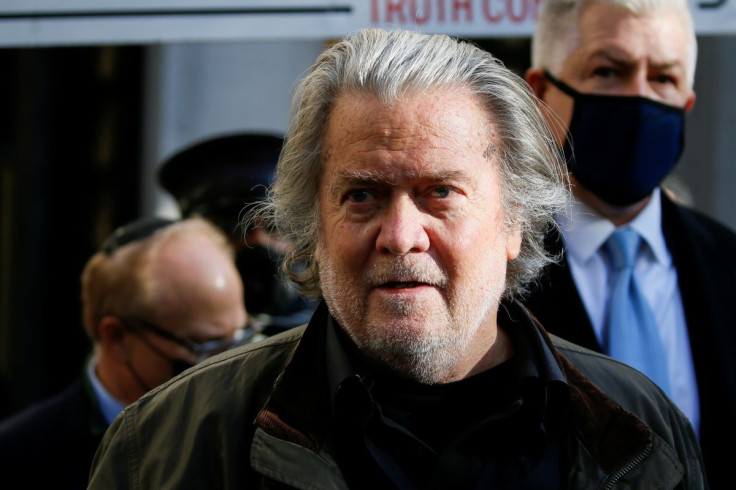 © Copyright IBTimes 2023. All rights reserved.
FOLLOW MORE IBT NEWS ON THE BELOW CHANNELS