Will There Be A 'Girls Next Door' Reunion? Kendra Wilkinson Teases Plans For 2016 Special With Holly Madison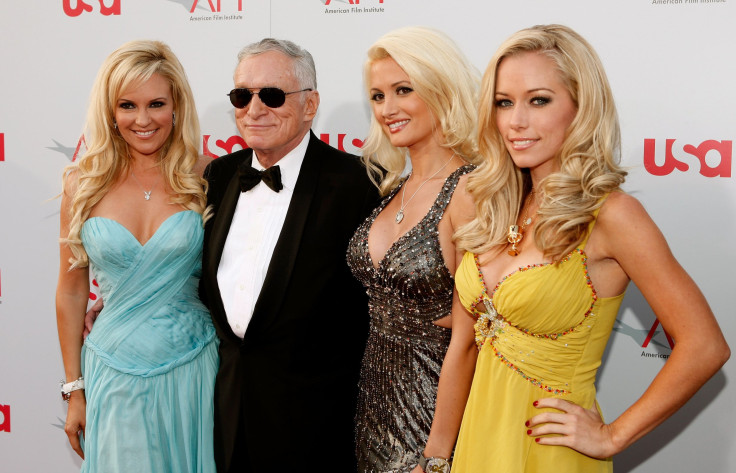 Could some of Hugh Hefner's ex-girlfriends be getting together for a "Girls Next Door" reunion? In the Season 5 premiere of WE tv's "Kendra On Top," Kendra Wilkinson teases the idea of reuniting with her former co-stars.
During episode 1, Kendra meets with her new manager Troy and publicist Cindy, whom she worked with during her "Girls Next Door" days. During their sit-down, her reps reveal that they've been pitched a "Girls Next Door" special.
"We have to find, while still expressing who you are, different roads to go down," Troy says. Kendra is taken aback by the idea and shares her concern about meeting with Holly Madison, whom she's been at odds with since Holly released a controversial tell-all book in 2015 about her Playboy Mansion days.
"Putting me and Holly in a close situation together. Are you kidding me? It's not a really good idea," Kendra tells the cameras.
"I can already picture the moment," Kendra tells her manager, saying she expects that out of the three stars, the other being Bridget Marquardt, she would be the only one to show up. "Holly obviously won't do it. She's an unappreciative w----. Bridget, she's friends with Holly, so I don't know about her."
Kendra's manager says they have to explore every opportunity presented to them, even though the producers probably just want to see a "catfight."
Kendra's reps continued the reunion talk in episode 2, titled "Snowblinded." After enjoying a girls' trip at Sundance Film Festival, Troy tells Kendra he received a call from producer John Zaring, who pushed the reunion idea. "It looks like it's really happening," he says.
"I know people would love to see you show up, but everybody wants to see you and you-know-who show up," Kendra's husband, Hank Baskett, says, calling the idea a "disaster."
"Just when I thought I was out, they pull me back in," Kendra says, echoing Michael Corleone from "The Godfather."
Kendra rose to fame in 2005 starring alongside Hefner, Madison and Marquardt on the E! reality series. The cast disbanded after five seasons in 2009. Hefner has since married model and DJ Crystal Harris.
While a "Girls Next Door" reunion may never come to be, you can catch up with Kendra, Bridget and Holly HERE. "Kendra On Top" airs Fridays at 9 p.m. EDT on WE tv.
© Copyright IBTimes 2023. All rights reserved.