Will Trump Be Impeached? Legal Watchdog Accuses President Of Violating Constitution By Accepting Foreign Payments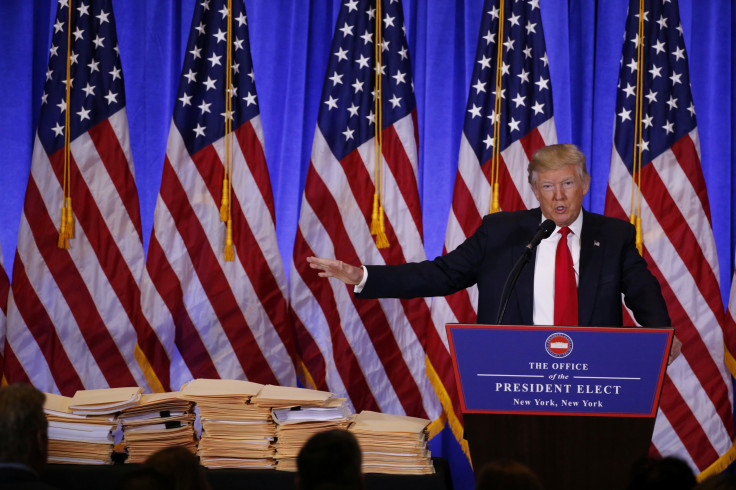 A liberal legal watchdog will file a federal lawsuit Monday against President Donald Trump, accusing him of violating the U.S. Constitution by allowing his businesses to accept payments from foreign governments.
According to the constitution's Emoluments Clause, federal officials are banned from receiving anything of value from foreign governments or foreign government-owned businesses without Congress' approval.
"We did not want to get to this point. It was our hope that President Trump would take the necessary steps to avoid violating the Constitution before he took office. He did not," Citizens for Responsibility and Ethics in Washington (CREW) executive director Noah Bookbinder said in a statement Sunday.
"His constitutional violations are immediate and serious, so we were forced to take legal action," he added.
CREW — a group of prominent lawyers, researchers and communicators, including former White House ethics lawyers — alleged the president was receiving cash and favors from foreign governments through guests and events at his various hotels, leases in his buildings and real estate deals worldwide.
"When Trump the president sits down to negotiate trade deals with these countries, the American people will have no way of knowing whether he will also be thinking about the profits of Trump the businessman," the group said in its statement.
"President Trump has made his slogan 'America First'," Bookbinder said. "So you would think he would want to strictly follow the Constitution's foreign emoluments clause, since it was written to ensure our government officials are thinking of Americans first, and not foreign governments."
The president's son Eric Trump, an executive vice-president of the Trump Organization, criticized the move Sunday, telling the New York Times: "This is purely harassment for political gains. I find it very, very sad."
He added that Trump Organization had taken steps beyond what is mandated by law to avoid any legal exposure. It reportedly agreed to donate any profits made at its hotels from guests of foreign governments to the U.S. State Treasury, Eric Trump said.
Law firm Morgan Lewis & Bockius, which represents the president on matters of ethics, declined to comment.
"We do not comment on our clients or the work we do for them," a representative reportedly said.
© Copyright IBTimes 2023. All rights reserved.