Winter Storm Jonas Snowfall Totals: 2016 Blizzard Buries New York, New Jersey, Connecticut, Washington, DC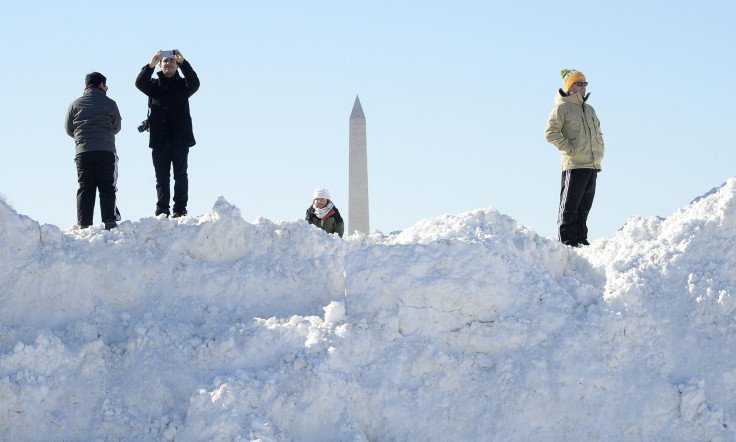 The first major winter storm of the season pounded the northeast and parts of the mid-Atlantic states and killed at least 30 people over the weekend, according to the Associated Press. The storm, dubbed Jonas by the Weather Channel, dumped significant amounts of snow across New York, New Jersey, Connecticut and Washington starting Friday.
The blizzard was the second-largest snowstorm on record in New York City's history, bringing 26.8 inches to Central Park in Manhattan. The Bronx saw up to 27.6 inches of snow, while Brooklyn had 29, and Staten Island was buried in 31.3 inches. Hicksville had the most snow in Nassau County, with 29.6 inches. Orange and Putnam counties each had as much as 12 inches of snow. Rockland County was blanketed in 17 inches. Commack had the highest snowfall in Suffolk County, with 26.5 inches, while Yonkers had the most in Westchester County, with 20.5 inches, according to local WABC-TV.
A 66-year-old man died Sunday in front of his home on Long Island after he was struck by a snowplow. Three others died while shoveling snow in New York City, police told AP.
Deadliest Winter Storms Since 1996 | Graphiq
In New Jersey, Bernards Township, Long Valley, Succasunna and Wharton each were buried in 30 inches of snow this weekend, representing the highest snowfall accumulations across the Garden State, according to NJ.com. Franklin Lakes had the most snow in Bergen County, with 25.3 inches. Newark Airport in Essex County was blanketed with 28.1 inches, while Hudson County saw as much as 26.5 inches. Bloomingdale had the highest snowfall in Passaic County, with 22.6 inches, and Union County saw as much as 27.9 inches, WABC reported.
A 23-year-old New Jersey woman and her 1-year-old son died of carbon monoxide poisoning while sitting in a running car that had its tailpipe blocked as the father shoveled the vehicle out from snow. The woman's 3-year-old daughter was hospitalized in "very critical condition," police told AP.
In Connecticut, the mammoth storm dumped more than a foot of snow in the southern half of Connecticut. Norwalk and Greenwich had highest snowfall in Fairfield County, with 16 inches, while Guilford in New Haven County saw up to 16 inches. Middlesex County had as much as 15.5 inches, and Hadlyme had the most snow in New London County, with 13.5 inches, according to WABC.
Washington, D.C., saw at least 17.8 inches of snow at Reagan National Airport as of 8 p.m. EST Saturday. Snow continued to fall for another four hours, but 17.8 was the final measurement submitted to the National Weather Service. The device used by a team of weather observers to measure snow at the airport was buried in the blizzard and could not be immediately located, which means they were unable to record the true amount of snow for hours, the Washington Post reported.
An 82-year-old man died Sunday night after going into cardiac arrest while shoveling snow in front of his home in Washington, local authorities told AP. At least 23 other people died from the snowstorm in other states, including Delaware, Kentucky, Maryland, North Carolina, Ohio, Pennsylvania, South Carolina, Tennessee and Virginia.
While other parts of the country began to emerge, Washington was struggling to rebound from its largest snowstorm in decades. Federal government offices in the area remained closed Monday, along with local government offices and public schools in the district and its Maryland and Virginia suburbs. Metro trains were scheduled to begin limited service starting at 7 a.m. Monday, after being shut down all Sunday.
© Copyright IBTimes 2023. All rights reserved.
FOLLOW MORE IBT NEWS ON THE BELOW CHANNELS