Wiz Khalifa's 'ONIFC' Album Cover Draws Hendrix Comparison, Positive And Negative Reaction From Fans [PHOTO]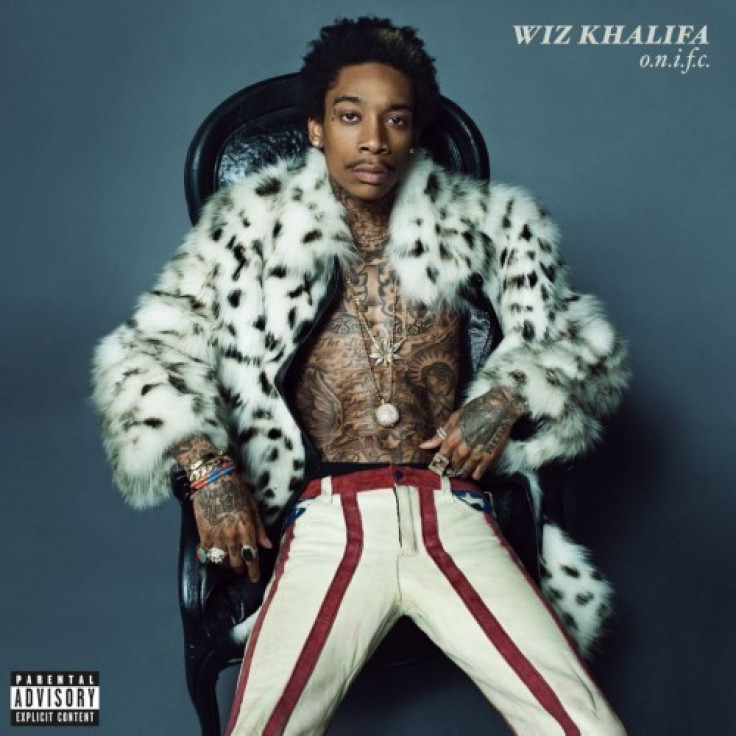 In the cover artwork for his second album, rapper Wiz Khalifa appears in a leather chair wearing tight American flag pants and a fur coat over his tattoo-covered chest. Khalifa said the album, which is titled "O.N.I.F.C.," will be a more personal record than his first batch of songs.
While that remains to be seen, fan reaction to the cover has been decidedly split. The cover art was released Wednesday while the album itself won't be available until Sept. 18.
According to MTV, the album title is an abbreviation for "Only N****s In First Class" and was chosen to sum up the success Khalifa has had since he started showing up on mix tapes a few years ago. Hip Hop Lead reports that Khalifa's first official album "Rolling Papers" sold almost 200,000 copies in its first week on the shelves, thanks at least in part to the hit single "Black and Yellow." The first single off "O.N.I.F.C." is called "Work Hard Play Hard," and while it hasn't had the same success of "Black and Yellow" it's almost certain the song will receive much more radio airplay as the album release date draws nearer.
"The artwork, it relates to the title," Khalifa told MTV. "It relates to what I've been portraying and what I've been bringing to the game for the past couple of months because like I say, in my music, and like I've been saying recently, 'They stole the swag, and I don't want it back.' I had to change up things; I had to turn it up. So it's like the album artwork is just another step in the turning up."
"The cover art should give you confidence and let you know you can fully be yourself in front of people no matter what they say or think," Khalifa tweeted on Wednesday. It was a message that was quickly retweeted more than 2,000 times.
"That album cover is epic as f**k," tweeted Odd Future leader Tyler the Creator.
Not all reaction has been positive, though, and many hip hop fans found Khalifa's resemblance to guitar hero Jimi Hendrix too close. It's easy to see a similar look between the two artists, in part because of they both sport a short afro. Some saw the influence as a positive for Khalifa while others, well, not so much.
"Wiz Khalifa mimicking Hendrix's style is funny, too bad it's without the abilities," one fan tweeted.
"The cover art is still sus and you are not Jimi Hendrix cuz, you've changed for the worst @RealWizKhalifa," someone else wrote to the rapper.
© Copyright IBTimes 2023. All rights reserved.