Woman Who Came In Contact With Lab Monkeys Says She Has Cough, Pink Eye
KEY POINTS
The woman received the first of four rabies shots and antiviral drugs
She is being monitored for rabies and monkey herpesvirus symptoms
She has been in contact with the Centers for Disease Control and Prevention
A woman, who came into contact with lab monkeys last week after a vehicle carrying the animals overturned, has reportedly fallen sick.
Michele Fallon of Pennsylvania is being treated for pink-eye symptoms after a monkey spit at her. The Friday's crash involved a pick-up towing a trailer transporting 100 cynomolgus macaque monkeys from Mauritius to a lab in Florida and a dump truck near the Danville exit on Interstate 80, reported USA Today.
After the pick-up overturned, a few animals escaped from the crates. Except for three, all of them were rounded up and transported to their destination. The three who managed to escape were later captured and euthanized.
Fallon, from Danville, was driving directly behind the truck when the accident happened. She and another motorist stopped to help, assuming the animals were cats. However, she quickly realized that was not the case.
Lisa Jones-Engel, a senior science advisor for primate experimentation at PETA, told USA Today that Fallon "poked her finger in there, and a monkey popped up.
Jones-Engel added that she spoke to Fallon, who told her that "she had gotten a face full of respiratory droplets."
Just after the incident, Fallon told WOLF-TV that she grew concerned as she had an open-cut on her hand. "Because the monkey did hiss at me and there were feces around, and I did have an open cut, they just want to be precautious," she said.
However, she later posted on Facebook that she got sick with a runny nose, cough and pink eye so severe that she had to go to the emergency room where she received the first of four rabies shots and antiviral drugs. She is being monitored for symptoms of rabies and monkey herpesvirus B.
Fallon added that she has been in contact with the Centers for Disease Control and Prevention (CDC) and was informed that she'd be getting a letter and that she's at a "very low risk for I don't know what yet. But symptoms are covid symptoms."
According to the CDC, anybody scratched or bitten by a macaque monkey is at risk for the Herpes B Virus, as well as other diseases including salmonella, the Ebola virus, tuberculosis, yellow fever, and other illnesses.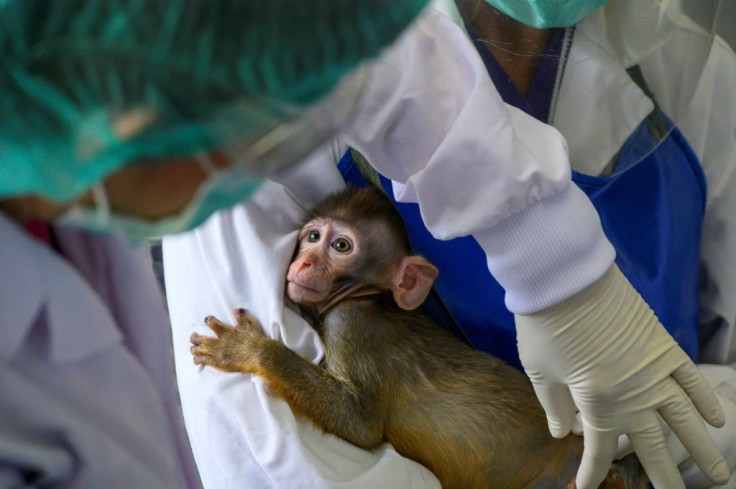 © Copyright IBTimes 2023. All rights reserved.