World Cup 2014 Live Stream: As Free Univision Video Shuts Down, Piracy Expected To Rise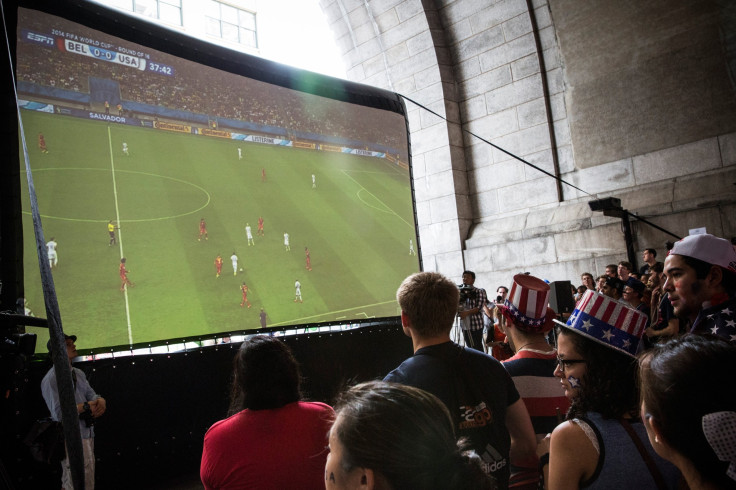 The international broadcasters that have worked to keep pirated streams of World Cup matches offline will now have to climb an even steeper hill now that Univision, which has provided video for free throughout the tournament so far, has sealed its doors.
The end of free Univision World Cup streams, which goes into effect Friday, comes after Viaccess-Orca, one of the many firms that comb the Internet for illegal World Cup streams, said that it sent takedown notices to thousands of illegal streaming sites.
Viaccess-Orca told TorrentFreak earlier this week that from the start of the tournament on July 12 through June 28, it sent 2,000 requests to sites like First Row Sports and Rojadirecta, and that it received a respectable rate of compliance.
"The success rate varies per content platform, but overall, we manage to get 35 percent of the streaming links disabled before the game ends," David Leporini, Viaccess-Orca's executive vice president of marketing, products and security, told the piracy news site. "For the first 10 days, we have sent around 150 takedown notices to Facebook and Twitter pages. Among all content platforms notified, we measured a success rate of about 51 percent for link removals on Facebook pages."
The myriad of platforms is a reflection of just how far piracy has come since the days of Napster downloading. Along with the aforementioned Front Row Sports and other aggregated streaming sites, free video streaming offers are ubiquitous on social media.
The peak number of takedown notices was sent on June 16, when Viaccess-Orca sent out 644 letters advising recipients that their sites were violating copyrights. Though there may have been a higher total number of notices sent on a single day since then, June 16 featured a bevy of high-profile games, including Germany vs. Portugal, Iran vs. Nigeria and Ghana vs. the U.S.
Russia's loss to Belgium was the most pirated game, Viaccess-Orca said, with an estimated 471,541 tuning in to illegal streams. While that number may seem large, it's relatively small when compared to the home-viewing audiences who legally watched the games on TV.
ESPN's broadcast of Mexico's match against Brazil, for instance, drew an audience of 4.2 million, and another 6.8 million tuned in to Univision to watch the same game.
The number of sites that stream legally has also grown: ESPN's WatchESPN app peaked during the U.S. game against Germany at 1.7 concurrent viewers, an audience so massive that the feed was briefly dropped because of overwhelming traffic.
Univision shelled out $325 million for the Spanish-language broadcast rights to the 2010 and 2014 World Cup tournaments (Telemundo paid $600 million for the broadcast rights in 2018 and 2022). ESPN paid only $100 million for the 2010 and 2014 World Cup English broadcasts, whereas Fox Sports signed a check for $425 million for the next two tournaments, according to Forbes.
Graham Kill, CEO of the antipiracy firm Irdeto, told the BBC that its "probably impossible" to stop piracy. He estimated that as many as 9 million people (many of whom live in Asia) streamed the U.S.-Germany match illegally.
That number is likely to increase when affordable legal ways to watch the games become harder to come by, which will occur when Univision begins requiring viewers to enter their cable provider's information to watch their streams of the games. Instead of sending out hundreds of takedown notices, though, Kill said Irdeto has sought to frustrate viewers by knocking pirated streams offline, giving them no choice but to turn to more reputable sites if they want to keep streaming.
"No one wants to miss that crucial goal in a World Cup game because we disrupt the service, and that causes people to drift toward the legitimate service," he told the BBC.
© Copyright IBTimes 2022. All rights reserved.
FOLLOW MORE IBT NEWS ON THE BELOW CHANNELS