World Cup Group Predictions: Can The US, Mexico And England Advance?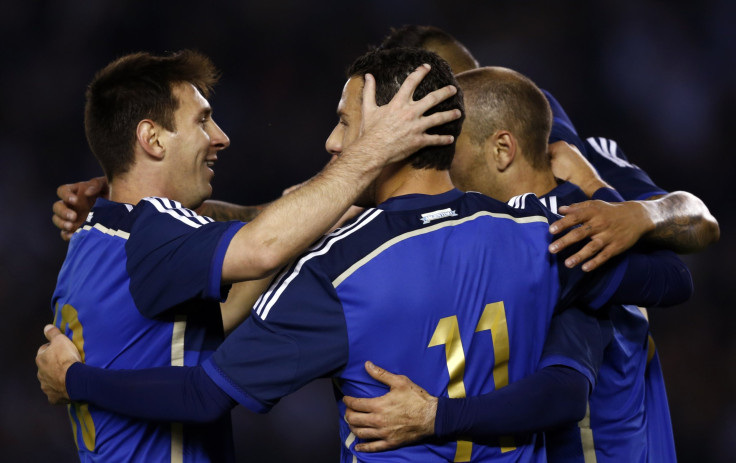 Group A: Brazil, Croatia, Mexico And Cameroon
Brazil got a flying start to last year's Confederations Cup and should do likewise against Croatia to kick-start their campaign and qualify for the knockout phase with something to spare. As to who joins the host nation in the second round, much will depend on the meeting between Mexico and Croatia. After a dismal qualifying campaign, Mexico have shown signs of life under the attacking approach of Miguel Herrera. Despite the brilliance of Luka Modric and Ivan Rakitic, that could be enough to see El Tri past a Croatia side that have defensive issues. Lacking creativity and with a vulnerable defense, Cameroon could struggle.
Prediction: 1. Brazil 2. Mexico 3. Croatia 4. Cameroon
Group B: Spain, Netherlands, Chile And Australia
Despite a squad that perhaps has not been refreshed as much as it could have been, particularly up front, Spain still have an outstanding selection of players. It won't be straightforward in a tough group, but the holders should safely progress. Joining them in the round of 16 could well be Chile. With the same adventurous tactics as 2010 but with players like Arturo Vidal and Alexis Sanchez in their prime, Chile could go far in Brazil. That means the runners-up from four years ago, the Netherlands, could be on the first flight home. The side still has quality in Arjen Robben and Robin van Persie, but the young players Van Gaal has brought into the squad do not yet look good enough for the top level. Australia will be content with avoiding humiliation and giving experience to a young squad.
Prediction: 1. Spain 2. Chile 3. Netherlands 4. Australia
Group C: Colombia, Greece, Ivory Coast And Japan
In their first World Cup since 1998, Colombia have suffered a major psychological blow with talismanic striker Radamel Falcao confirmed to miss the tournament through injury. The good news is that the one area where Colombia could afford to lose a key player is up front. Their strength in depth in that area, coupled with the creativity of James Rodriguez should be enough to cover for an aging backline. The battle will then be on for second place. Greece will again look to sit back and frustrate teams but are ultimately limited. In the final hurrah for their golden generation, Ivory Coast could disappoint with a team largely reliant on individual brilliance from the likes of Yaya Toure. The possession-based game of Japan, aided by Shinji Kagawa and Keisuke Honda, could see them prosper in the hot and humid conditions to take Alberto Zaccheroni's side through.
Prediction: 1. Colombia 2. Japan 3. Greece 4. Ivory Coast
Group D: Uruguay, Costa Rica, England, Italy
A major nation will be going home early after being drawn into a horribly tough Group D. On their home continent, Uruguay have the experience of largely the same squad that reached the semifinals in 2010. Although they have an aging team elsewhere, Luis Suarez (if fit) and Edinson Cavani are now at their peak and two of their best forwards in the world. Opening their campaign against a defensive-centric Costa Rica team gives Uruguay the chance to get off to a vital good start, while their rivals slog it out. England's hopes have been lifted by an injection of youthful, attacking exuberance, despite a squad that lacks the talent of recent tournaments. The opening game for Roy Hodgson's team against Italy will be key, with the stifling conditions in Manaus more suited to the possession strategy of the Italians. But can Italy cope with playing three games back-to-back in such conditions as well as having to travel long distances from their base near Rio de Janeiro? It's highly possible that Uruguay, Italy and England could draw all the games between them, with the top two coming down to who beats Costa Rica by the bigger margins. This group is that tight.
Prediction: 1. Uruguay 2. Italy 3. England 4. Costa Rica
Group E: Switzerland, Ecuador, France, Honduras
A group that provides each team with hopes of advancing. Despite their struggles to qualify and in recent tournaments, France have the most talent in the group and should progress. Switzerland were derided for their status as one of the World Cup's top seeds, yet also have a fine generation of young players -- including Xherdan Shaqiri, Josip Drmic and Granit Xhaka. Ecuador will pose a big threat, especially with their strengths down the flanks, but a porous defense could cost the South Americans. Lacking the required quality, Honduras will likely make an early exit for the second-straight World Cup.
Prediction: 1. France 2. Switzerland 3. Ecuador 4. Honduras
Group F: Argentina, Bosnia-Herzegovina, Iran and Nigeria
Argentina's incredible attacking talent will be enough to see them cruise through the group stage, without their defensive vulnerabilities being overly exposed. Their opening game against Bosnia should be full of thrills, though, with the World Cup debutants even more lopsided in terms of their talent. Miralem Pjanic is capable of providing the ammunition for Edin Džeko to score plenty of goals, but their vulnerability in transition and a lack of depth means that Nigeria will give them a tough battle for second place. Under Stephen Keshi, Nigeria have become a united team and won the African Cup of Nations last year. While they have not looked good in buildup to the World Cup, they will benefit from the experience of last year's Confederations Cup and have the pace to hurt Bosnia down the flanks. A defensively minded Iran could frustrate and earn a point or two, but it won't be enough for a whole lot more.
Prediction: 1. Argentina 2. Bosnia 3. Nigeria 4. Iran
Group G: Germany, Portugal, Ghana And USA
This is the tournament's legitimate "Group of Death," with four teams of quality who will be looking to progress. After back-to-back semifinals in major tournaments and the young side from 2010 now in its peak, Germany are rated as one of the favorites to take home the trophy. Injuries and fitness concerns have dampened those expectations, but they still have enough quality to progress. The identity of the other qualifier really is hard to call. Portugal have the most talent of the other three teams, yet going forward are heavily reliant on Cristiano Ronaldo. Doubts about his fitness then are a major concern. Both Ghana and the United States can be dangerous in transition, but need to get their balance right.
Prediction: 1. Germany 2. Portugal 3. USA 4. Ghana
Group H: Belgium, Algeria, Russia, South Korea
So much has been talked about Belgium and their golden generation that their once dark horse has taken on a considerably lighter shade. Especially without the injured Christian Benteke, they will struggle so fulfill such lofty expectations but will be good enough to navigate a kind group. Joining them should be Russia. Fabio Capello has predictably made the team more solid, although they lack the flair of past sides. The loss of key midfielder and captain Roman Shirokov to injury right before the tournament is a massive loss. South Korea struggled in qualifying and their weaknesses in both penalty areas have been shown up in pre-World Cup friendlies. Algeria could be the team that pushes Russia hardest for second place. A less dour side than four years ago will feature several France-born players, led by the talents of Valencia attacking midfielder Sofiane Feghouli.
Prediction: 1. Belgium 2. Russia 3. Algeria 4. South Korea
© Copyright IBTimes 2023. All rights reserved.