WWE News And Rumors: WrestleMania 34 Plans For Seth Rollins, Charlotte, Rousey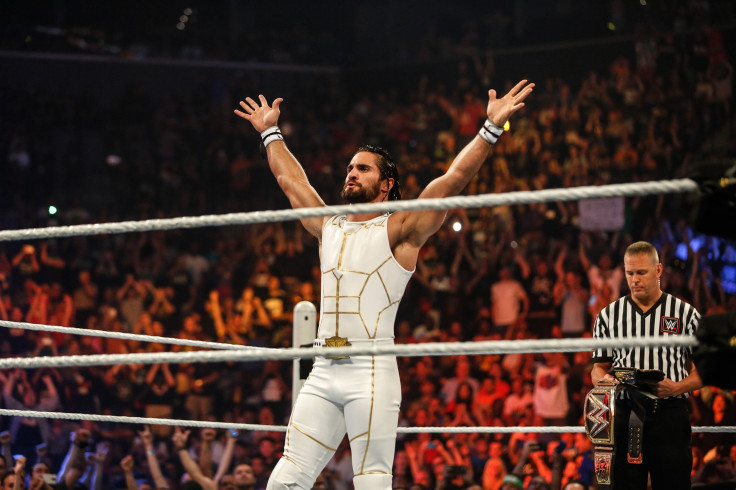 A couple of WrestleMania 34 matches have seemingly been set in stone for weeks. Shinsuke Nakamura vs. AJ Styles for the WWE Championship will almost certainly be on the card, and Roman Reigns vs. Brock Lesnar for the Universal Championship has seemingly been in the works for a year.
What about the rest of the card? A new report from Sports Illustrated's Justin Barrasso sheds some light on the WWE's women's division, Seth Rollins and Kurt Angle. There have been various rumors regarding what will happen on April 8 in New Orleans, and the card should shape up with two more pay-per-views scheduled over the next few weeks.
Ronda Rousey will make her first official appearance as a member of the WWE roster when she signs her "Monday Night Raw" contract at Elimination Chamber on Feb. 25. Plans could be set in motion for Rousey's WrestleMania match, as well as other women's matches, at the PPV.
Alexa Bliss will defend her Raw Women's Championship against Bayley, Mandy Rose, Mickie James, Sasha Banks and Sonya Deville. Royal Rumble winner Asuka will face Nia Jax, and a victory for Jax would give her a shot at the Raw Women's Championship at WrestleMania.
According to Sports Illustrated, the plan is to have Jax challenge Bliss at WWE's biggest PPV of 2018. Does that mean Jax will be the first woman in WWE to defeat Asuka? Not necessarily, because the undefeated wrestler is expected to challenge Charlotte Flair for her SmackDown Women's Championship.
There's been speculation that maybe Rousey could face Charlotte in her first match, though a mixed tag match is more likely. Shortly after Rousey appeared at the Royal Rumble, Dave Meltzer reported for MMA Fighting that WWE had hopes of pairing Rousey with The Rock against Stephanie McMahon and Triple H.
Securing The Rock for a WrestleMania match could be difficult because of filmmaking commitments. Barrasso has reported that Kurt Angle, Shane McMahon or Seth Rollins are candidates to fill The Rock's role.
Angle would make the most sense, considering he's already butted heads with Stephanie and Triple H as the Raw general manager. He's wrestled twice since coming back to WWE, both in tag team matches, replacing Roman Reigns as the third Shield member at TLC and fighting for Team Raw at Survivor Series.
Shane would only make sense because of his past feud with Stephanie, though he's currently involved in his own storyline as the commissioner of "SmackDown Live." He could have some involvement in a match with Kevin Owens and Sami Zayn at WrestleMania.
There really is no reason to have Rollins team up with Rousey, except for the fact that he doesn't seem to have a direction heading into WrestleMania. It looked like he might feud with either Dean Ambrose or Jason Jordan, but both superstars are expected to miss WrestleMania with injuries.
Maybe Rollins and Angle could have a WrestleMania match against one another since the Raw commissioner is Jordan's biological father in WWE's storyline. That might require one of them to turn heel.
© Copyright IBTimes 2023. All rights reserved.