WWE Rumors: Royal Rumble 2018 Surprise Entrants Could Include UFC, TNA, NJPW Stars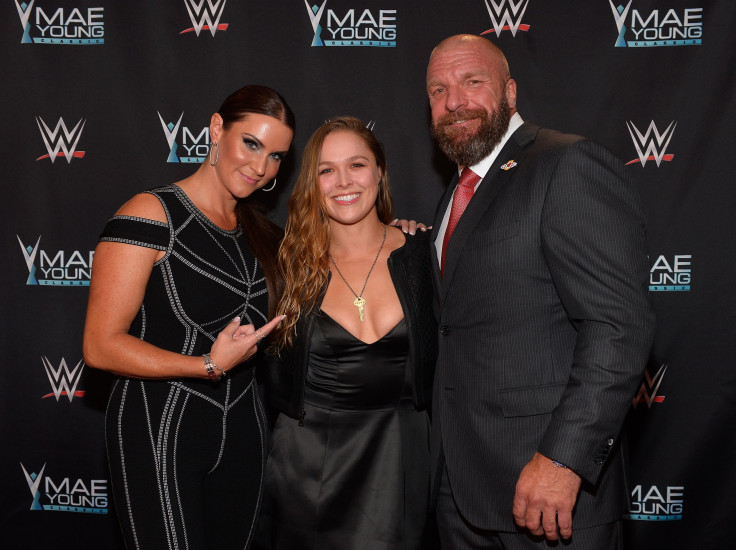 The surprise entrants in each year's WWE Royal Rumble are often more exciting than the match itself. There are usually only a handful of wrestlers that have an actual chance to win the battle royal and earn a world title match at WrestleMania, and that appears to be the case again in 2018.
The last major surprise entrance came two years ago when AJ Styles made his debut with the company. According to the latest rumors, former WWE, UFC, TNA and NJPW champions are among the possible unadvertised wrestlers that could show up Sunday night in Philadelphia.
Let's take a look at five possible surprise entrants at the 2018 WWE Royal Rumble pay-per-view.
Ricochet
It makes all the sense in the world that Ricochet would be an entrant in the Royal Rumble. WWE has announced that they've signed the former New Japan Pro-Wrestling star, along with former IWGP Tag Team Champions War Machine. The high-flyer might start his WWE career in NXT like most new signees, but don't be surprised to see him on "205 Live" in the near future. The Royal Rumble could feature one or two cruiserweights, and this might be the best way to introduce WWE's latest addition to their audience.
Ronda Rousey
The former UFC women's bantamweight champion told TMZ that she won't be in the first-ever women's royal rumble, though her comments should be taken with a grain of salt. Just because Rousey is filming a movie doesn't mean she can't fly into Philadelphia for a night, and she obviously won't confirm her spot in the Royal Rumble if WWE wants to keep it a secret. Rousey might be telling the truth, but we do know that she's been in discussions with WWE, possibly meaning that she'll show up at some point before WrestleMania 34 to set up a match.
Dolph Ziggler
The former United States Champion hasn't been seen on WWE TV since he left his belt in the ring on the Dec. 19 edition of "SmackDown Live" and indicated that he was leaving the company. Ziggler's return feels imminent, and the Royal Rumble might be the best place to have him come back. He might not have a great shot to win the battle royal, but Ziggler could go on to face current U.S. Champion Bobby Roode in a match at WrestleMania 34.
EC3
There are too many signs pointing toward EC3 joining WWE to believe that it won't happen. He's already left TNA, and he's supposedly canceled a date with an independent wrestling promotion on Sunday. How WWE might introduce the wrestler is still up in the air. It makes more sense for him to start in NXT, so perhaps he'll make his debut Saturday night at NXT TakeOver. He gained popularity as Ethan Carter III in TNA, but he was known as Derrick Bateman when he was in NXT five years ago. No matter where or under what name EC3 finally appears, expect to see him in a WWE ring sooner rather than later.
Daniel Bryan
Bryan is the most unlikely entrant on the list. As far as anyone knows, Bryan still hasn't been cleared to wrestle by WWE. That hasn't stopped speculation that the former WWE Champion could be in the match, which has resulted in Bryan being ranked among the favorites to win the battle royal at online sportsbooks. The "SmackDown Live" general manager continues to insist that he wants to wrestle again and that doctors outside of WWE have told him he's healthy enough to do so. Bryan would easily get the loudest pop of any entrant.
© Copyright IBTimes 2023. All rights reserved.