'The X-Files' Network President Would 'Love' More New Installments In The Future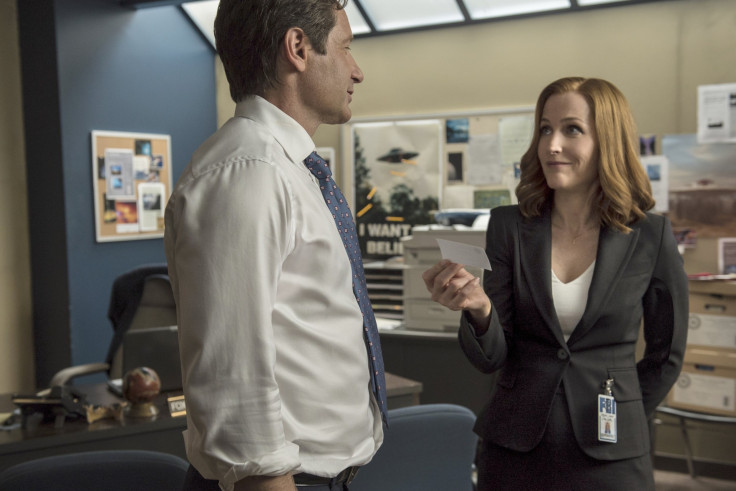 The truth might finally be revealed on "The X-Files" miniseries finale, which could open up more doors for Mulder (David Duchovny) and Scully (Gillian Anderson) in the future. Fans have embraced the return of the sci-fi show and it appears that Fox wants to see more installments made.
In an interview with Variety, Fox entertainment president David Madden said he would "love" to see more episodes of "The X-Files" in the future, but the network hasn't talked to the talent (most likely meaning Duchovny and Anderson) about the possibility of a second season yet.
"We said before it aired that we would love to do more, and we are over the moon with the performance. So far, the response has been really encouraging," Madden explained.
The ratings for "The X-Files" miniseries have been high since the show returned in January. According to Variety, the miniseries is averaging a 3.3 rating in adults 18-49 and 9.9 million total viewers in same-day averages in the five episodes that have aired so far. Over 50 million people around the world tuned in for the show's two night premiere in January.
While Fox is open to making more "X-Files," show creator Chris Carter has also echoed that idea. In an interview with International Business Times, he said it's likely there will be new "X-Files" stories, but there haven't been any formal discussions up to this point. Carter was also pleased with the ratings and believes because they were high, it will allow for more in the future.
Carter and Fox are onboard about continuing"The X-Files," but it's unknown exactly what format that will be. In January, Carter told E! Online that he had written a third film before the miniseries, but he wouldn't confirm or deny that there would eventually be another movie. If he were to do one, it sounds like he'd want Mulder and Scully back.
"This is a Fox enterprise and while they've been extremely respectful and inclusive of me and of course the actors, because it wouldn't be 'The X-Files' without Mulder and Scully in my mind, it's theirs to do with what they please," Carter said. "Do I have an idea for a third movie? Yes. Has someone from the features department over there been in contact with me? Surprisingly, yes. But that is a long way from saying there will be a third film."
What do you want to see next from "The X-Files"? Take the poll below!
© Copyright IBTimes 2023. All rights reserved.