Yang Eyes Yahoo Buyout with Private Equity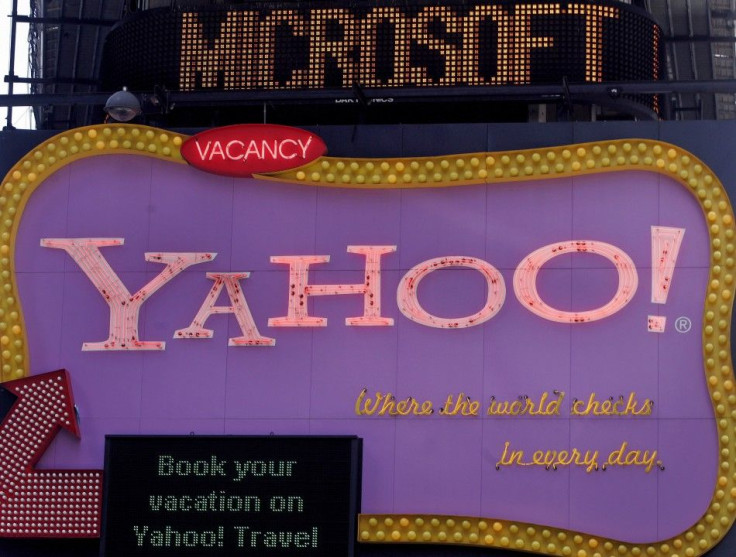 For the last few years, a widely circulated joke about Jerry Yang was that he had the best tan in Silicon Valley from all the time he spent on Stanford University's golf course.
But the jests stopped about six months ago, when the Yahoo Inc co-founder and former CEO put away his golf clubs and began showing up on a daily basis at the Internet company's headquarters in Sunnyvale, California, according to a high-ranking Yahoo executive.
Now, Yang is interested in a deal with private equity firms that would take the $20 billion company off public markets, according to people familiar with the situation.
Such a deal would involve rolling over Yang's stake in Yahoo, which stood at 3.63 percent as of April 2. Yahoo's other co-founder, David Filo, would likely follow Yang's lead and roll over his stake, said other sources close to Yahoo. Filo held 5.90 percent of Yahoo's shares as of May 11.
Shortly after firing Carol Bartz as CEO in September, Yahoo and its longtime advisers at Allen & Co and Goldman Sachs began working on a strategic review, which could include a sale of the Internet pioneer, after receiving unsolicited expressions of interest.
Jack Ma, CEO of Chinese e-commerce giant Alibaba, said last month that he would be very interested in buying Yahoo, a deal that could help the former English school teacher expand into the U.S. Alibaba is being advised by UBS.
Microsoft Corp is also considering bidding for Yahoo, as is Silver Lake Partners, Providence Equity Partners and Hellman & Friedman, Reuters reported last week.
Another private firm that has expressed interest in Yahoo is Bain Capital, a source said. Bain has invested heavily in several media companies including Clear Channel Communications and The Weather Channel in recent years. A Bain spokesman declined to comment.
Yahoo declined to detail Yang's current role other than to say, The entire Board, including Jerry, is fully aligned and unanimous in support of the comprehensive scope of the ongoing strategic review. As always, Jerry's singular focus remains to serve the best interests of Yahoo -- its shareholders, employees, users and advertisers.
THE GOING PRIVATE PLAY
Three years ago, Microsoft offered $33 per share, or $47.5 billion, to acquire Yahoo. Yang and the board turned down that bid, to the regret of many shareholders. Yahoo's shares closed at $15.47 on Friday.
Now Yang, who turns 43 in November, finds himself in essentially the same spot -- trying to resuscitate an organization where a lack of operational vision and clear leadership has made it susceptible to a takeover.
Yahoo's share of the U.S. Internet search market stood at 16 percent in August, compared with 19 percent two years ago, according to ComScore, despite a deal to outsource search technology to Microsoft. In contrast, Google Inc's search share has been steady at 65 percent, while Microsoft's share rose to 15 percent from 9 percent two years ago.
Yahoo's U.S. display ad impressions fell to 10.2 percent in June, and time spent by users on its site increased just 1.6 percent for the 12 months ended July 2011, according to ComScore. By comparison, Facebook's ad impressions swelled to 32.4 percent in June 2011 and time spent by users on its site jumped 58 percent for the 12 months ended July 2011.
Yahoo's advisors are expected to send financial information this week to interested parties, said a person familiar with the matter. Talks so far have been informal and have not firmed up on terms that would compel Yahoo to enter into direct negotiations, said another source.
There are several reasons why Yang might want to take Yahoo private. For starters, Yahoo is punished by Wall Street for not being a growth company and its low stock price prevents shares from being used as currency for acquisitions.
A buyer could sell off Yahoo's international assets, which include a partnership with Softbank in Yahoo Japan as well as about 40 percent stake in Alibaba.
The buyer could then use the cash -- estimated to be upward of $12 billion -- to pay off debt. That would pare down Yahoo to its U.S. operations, which has deteriorated to the point that they are being valued at just $5 billion and $6 billion, according to two sources close to the situation.
YANG'S WANING INFLUENCE
Whether Yang will succeed in taking Yahoo private remains to be seen -- it depends on the terms he manages to negotiate, as well as what other offers are on the table.
Yang still exerts influence over the board, but he has less clout with Yahoo management and staff now than he did during the talks with Microsoft, according to current and former employees.
Executives most loyal to Yang have matriculated out of the company over the years, replaced by a younger generation. Moreover, some detractors hold Yang responsible for refusing Microsoft in 2008, saying his decision was influenced by his personal attachment to Yahoo, rather than financial considerations.
The Microsoft decision really split the company, with many feeling that Jerry's decision was bad for them personally because he left a lot of money on the table, said a former executive who worked at Yahoo at the time of the offer.
Nevertheless, Yang still retains pockets of support inside the company. His supporters say he has a deep concern for the direction and culture of the business he founded with Filo in 1995. They praised Yang for stepping in again to try to lift Yahoo's fortunes at a difficult juncture, just as he did in 2007 when he assumed the CEO role from Terry Semel.
Yang also has a deep network of contacts in the industry and a reputation for actively working behind the scenes.
He'd be in the office, the door would be closed, he'd be working the phones, but you wouldn't know who he'd be working them with, said another former Yahoo executive who worked closely with Yang.
The Business Insider blog reported in September that Yang was trying to buy Yahoo.
Yang, whose quiet speech and calm demeanor belie a fiercely competitive streak, has a better chance of remaining involved with Yahoo in a management-led buyout than an outright sale. But private equity firms also like to install their own management at companies they acquire.
In pushing a go-private agenda, Yang appears to be hoping that his knowledge of Yahoo will be enough to convince a buyer to allow him to stay on and try to restore the company to its former glory, away from the harsh eyes of Wall Street.
© Copyright Thomson Reuters 2023. All rights reserved.