Yao Ming's Wine Company Sets Sights On China's Growing Middle Class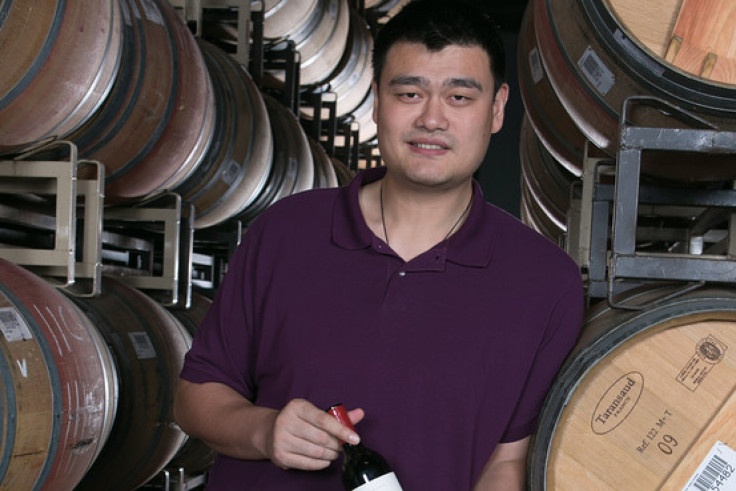 Yao Ming may be synonymous with basketball for most Chinese, but he's hoping the Yao name will soon become a household name as a winemaker as well. Yao Family Wines, the Napa Valley winery owned by the former NBA player and national hero in China, has announced it will lower its prices to suit the Chinese market's growing middle class.
The 2-year-old winery, located in Northern California's renowned wine country, has announced a new selection of cheaper wines to be marketed to China's rising middle class. But the wines, which officially launched in China this week, aren't exactly bargain bottles. According to the Wall Street Journal, a 2010 Cabernet Sauvignon is retailing for 535 yuan, or roughly $87. It's a significant discount from Yao's higher-end wines, all of which are reds ranging from 1,775 yuan ($290) to 6,125 yuan ($1,000) per bottle, but the 535-yuan price tag will still likely be a bit steep for many Chinese buyers.
Though Yao is the face of the company and its primary investor, Yao Family Wines is run by old industry pros. Tom Hinde is the winemaker, and he created the newest midmarket addition, a red wine with rich plum notes. "This is [Yao's] new house wine," Hinde said in the report, noting the former Houston Rockets center's seal of approval. "He tasted it, gave his feedback and he likes this one a lot."
Yao's new venture into the wine industry mirrors the interest brewing back in his home country, with a growing number of Chinese discovering the pleasures of wine. According to figures from International Wine & Spirit Research, China has quickly become the world's fourth-largest wine market by value and the world's fifth-largest by volume. The research group expects a 40 percent increase in consumption in three years.
For now, however, Yao's wines have become popular only in smaller cities. "We do much better in the second- and third-tier cities outside of Shanghai and Beijing," Jay Behmke, the winery's managing director, said, adding that people in Yao's hometown Shanghai "seem to be cynical of Yao using his name on a wine label, but those in other cities look at it and think it's cool."
© Copyright IBTimes 2023. All rights reserved.