'Young And The Restless' Spoilers: Ashley And Abby Learn The Shocking Truth
They became concerned after Dina revealed that Jack was not John Abbott's son. Now, after getting the results of a DNA test, Ashley and Abby will finally know whether or not he is still the true Abbott family heir on the Monday, April 2 episode of "The Young and the Restless."
While trying to record Dina's (Marla Adams) memories before the Alzheimer's takes all of them away from her for good, Abby (Melissa Ordway) was stunned when her grandmother indicated that Ashley (Eileen Davidson) wasn't the only child she had who wasn't John's. In fact, Dina admitted on the CBS soap that Jack (Peter Bergmann) was also another man's son. After learning from Jill (Jess Walton) that Dina had bragged about her many affairs during her marriage, the two women decided to investigate the claim to see if it was true.
Now, they have the results and have learned that Dina wasn't lying or remembering things incorrectly, and Jack genuinely is not a blood Abbott any more than Ashley is.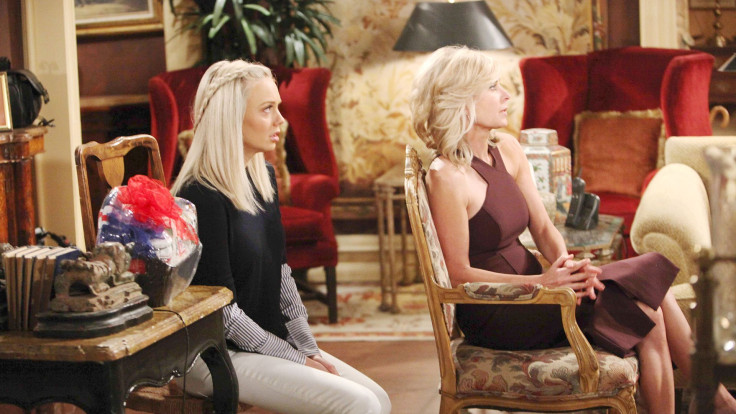 With that information in hand, the two women will have to decide what to do with that information, because it is something that will damage Jack to his core. While there will be some temptation to wave it in his face because of the clause he had put into the bylaws at Jabot that allowed him to remain as CEO—and not Ashley—his sister will decide that doing that would cause too much damage to their already fractured family.
In addition, they also have to figure out if they will keep the truth to themselves forever or eventually share it with Jack—though now won't be the best time, since he is sitting in a jail cell after he was arrested for the assault on Victor (Eric Braden) that put his enemy in the hospital and clinging to life.
Though no one believes Jack did it, the fact that he took Victor's hard drive from his computer before calling 911 when he discovered him hasn't helped his case—and he could be facing a long prison sentence if the truth isn't revealed soon. With that looming over him, his family may not want to add to his problems by revealing the truth about his paternity just yet.
"The Young and the Restless" airs weekdays at 12:30 p.m. EDT on CBS.
© Copyright IBTimes 2023. All rights reserved.