'Young And The Restless' Spoilers: Billy And Phyllis' Affair Is Exposed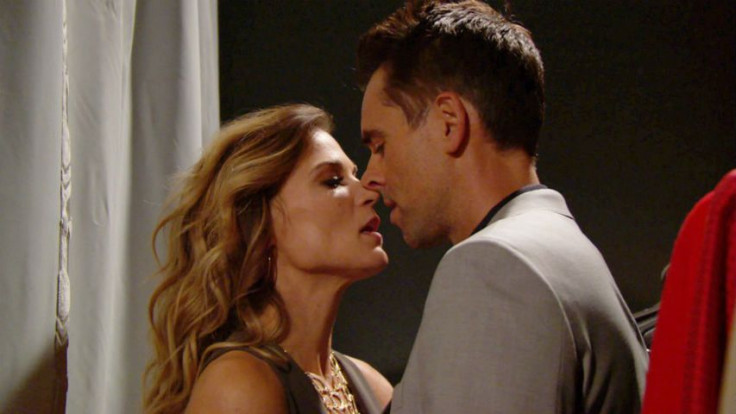 After a long time apart and attempts they both made to reunite with their former significant others, Phyllis and Billy rekindled their romance on "The Young and the Restless." However, after she assumes he might still have feelings for Victoria, Phyllis will confront him on the Tuesday, May 2 episode, unaware that the decision to do so will be the very thing that exposes their secret.
After ending their affair last year, Phyllis (Gina Tognoni) tried to win Jack (Peter Bergmann) back to no avail, and Billy (Jason Thompson) also kept trying to win back Victoria (Amelia Heinle). After finally getting rejected from her again, Billy found himself seeking comfort in Phyllis' arms, and she happily obliged. Since then, the two have been back together, but cautious about going public with the romance. But now, after she becomes suspicious that Billy might be playing her, Phyllis will inadvertently set them both up to be exposed on the CBS soap.
Billy told Phyllis he didn't want to tell Victoria about their being back together again until after her mother Nikki's (Melody Thomas Scott) MS flare-up passed and her health was back to normal. Billy has no idea that the story about Nikki's health was a lie to protect the secret Victoria was keeping from him, and when Phyllis talked to other people and realized that Nikki was perfectly fine, she became furious. Now, she had summoned Billy to the elevator at Jabot to discuss things, and she will angrily tell him that she refuses to be played in a way that makes her look bad again.
"I am not going to be the other woman. You are not going to play me that way," she says in a preview clip.
Read: Nikki Is Enraged By Victor's Latest Attempt To Win Her Over On "The Young And The Restless"
However, Billy will try to soothe her with a kiss, which only infuriates her more and she pushes him away to stop the embrace. Billy will eventually manage to assure her though that she is the only woman he wants to be with, letting them return to the passionate moment and a hot kiss. It will be then that Victoria finds them, and will learn the truth about their affair.
What Billy and Phyllis hadn't realized is that their relationship wasn't as secret as they thought, and when they were both at the Athletic Club the other night, Cane (Daniel Goddard) saw them together and realized what was going on. Always up for torturing Billy and ruining his life, Cane seized on the opportunity to use the information against him. If he successfully orchestrated a reason for Victoria to call for the elevator, which was stopped so Phyllis and Billy could have their talk, then his mission was accomplished, as the doors opened and Victoria was greeted by the sight of Billy and Phyllis making out with one another.
"The Young and the Restless" airs weekdays at 12:30 p.m. EDT on CBS.
© Copyright IBTimes 2023. All rights reserved.