'Young And The Restless' Spoilers: Cane And Lily Finally Renew Their Vows
They've been through a lot in the last year, but Cane and Lily will finally resolve to put their past behind them and celebrate Valentine's Day in the most romantic way they can think of on the Wednesday, Feb. 14 episode of "The Young and the Restless."
Lily (Christel Khalil) and Cane's (Daniel Goddard) marriage went through a lot of turmoil in 2017, after Juliet (Laur Allen) was fired from Brash and Sassy and then claimed Cane sexually harassed her on the CBS soap. The situation got further out of control when Cane was finally forced to admit that he had slept with Juliet in Tokyo when she revealed she was pregnant. After other bad behavior he has committed was revealed, Lily finally decided she had enough of the lies and filed for divorce.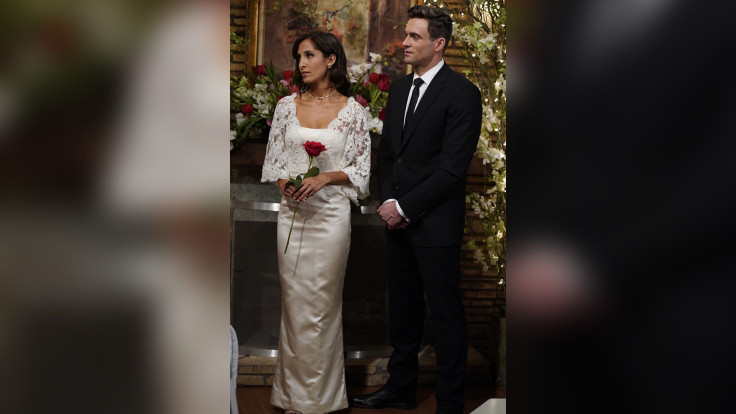 However, after Juliet gave birth to baby Sam prematurely and later died in the process, things slowly began to heal again between the estranged spouses. Not only did Lily donate blood Sam needed, but she also began to accept Cane into her life in small bits. Finally, the two decided to throw caution to the wind recently, and Cane followed her to Paris, where they officially reunited. Upon returning to Genoa City, Cane then moved back into their home.
Of course, the couple's problems have still been at the surface, as Lily has found herself having difficulty adjusting to Sam being a part of their lives, but she has become determined to move past that. She and Cane then agreed to renew their marriage vows, and will now do so on Valentine's Day, which has always been a special day for them. It will mark the end of what has been a tumultuous chapter in their lives, and will hopefully signal a new beginning together once again .
They won't be the only couple in Genoa City with love on the brain of course, as Phyllis (Gina Tognoni) and Billy (Jason Thompson) will both start toying with the idea of marriage, though neither one will opt to propose just yet. However, other couples will have a day that is somewhat more disappointing.
Notably, Nick (Joshua Morrow) and Chelsea (Melissa Clare Egan) have hit an impasse, as he doesn't know if he can believe her or not when it comes to the truth about the fake website selling her designs. Finally, in an effort to not only get Nick to trust her again, but to also potentially get Phyllis to back off, Chelsea will come up with a new lie about who is responsible—in the hopes it finally clears her name.
"The Young and the Restless" airs weekdays at 12:30 p.m. EST on CBS.
© Copyright IBTimes 2023. All rights reserved.
FOLLOW MORE IBT NEWS ON THE BELOW CHANNELS