'Young And The Restless' Spoilers: Chloe Goes On The Run After Being Confronted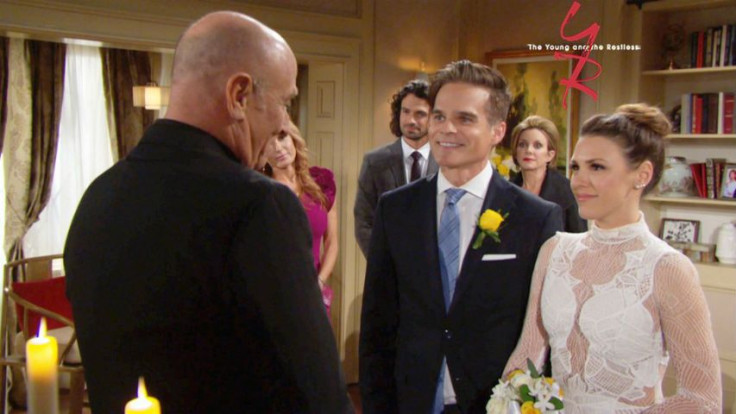 She was forced to come clean with the truth about what she did to Adam, and now, Chloe is on the run in an attempt to escape the consequences on the Friday, April 7 episode of "The Young and the Restless."
After knocking Chelsea (Melissa Clare Egan) out with a lamp following her confession that she killed her best friend's husband, Chloe (Elizabeth Hendrickson) went on the run. Now, in a preview clip for the CBS soap, the groom she left behind, Kevin, (Greg Rikaart) and the priest will be left to try and revive the other woman.
"Chelsea? Are you alright? Chelsea, wake up!" Kevin says in the clip.
Meanwhile, the wedding guests are all wondering what could have possibly caused Chloe to run out of the ceremony, as Gloria (Judith Chapman) expresses joy that her son is no longer marrying the woman she despises.
"For my son's sake, I couldn't have asked for a better outcome," she says.
However, after Chelsea once again comes to and reveals what happened to everyone, even Gloria will be forced to put her contempt for Chloe aside as she consoles Kevin, reminding him that Chloe does love him, but can't let herself be with him because she needs mental help first.
Read: Gloria And Nick Each Plan To Stop Chloe's Wedding On "The Young And The Restless"
Outside of the wedding, Nick (Joshua Morrow) decided to finally go and make up with Chelsea, after they fought when he tried to convince her of Chloe's guilt. But when his tracking device on Chloe's car reveals to him that she's driving away from town when she's supposed to be getting married, he will decide instead to follow her. And when he does, he will be stunned when he sees her meeting up with none other than his father, Victor (Eric Braden).
"The Young and the Restless" airs weekdays at 12:30 p.m. EDT on CBS.
© Copyright IBTimes 2023. All rights reserved.